JSC Baltic International Bank is a joint stock company registered in the Republic of Latvia that has been successfully operating in the field of financing since 1993. The Bank's activity is regulated by the Bank of Latvia and the Financial Capital and Market Commission (FCMC).
Baltic International Bank is one of Latvia's most experienced banks in the field of providing individual, tailor-made services, offering high-quality financial products and investment solutions based on the principles of the ESG (Environmental. Social. Governance). 
The Вank's paid-in share capital totals EUR 33,6 millions and is divided into 4 736 112 shares. All of the shares are dematerialised registered voting shares. Each share carries the right to one vote at the meetings of shareholders, a right to receive dividends as declared from time to time and a right to residual assets. Each share has a par value of EUR 7,10. Of the Bank's 92 shareholders, 27 are corporate entities and 65 are private individuals. Shareholders who control more than 10 percent of the shares in the shareholders' equity are Valeri Belokon – 65.47% and Vilori Belokon – 34.48%. 
Find out more about the Bank's shareholders
Find out more about the Bank's management
---
Recent financial results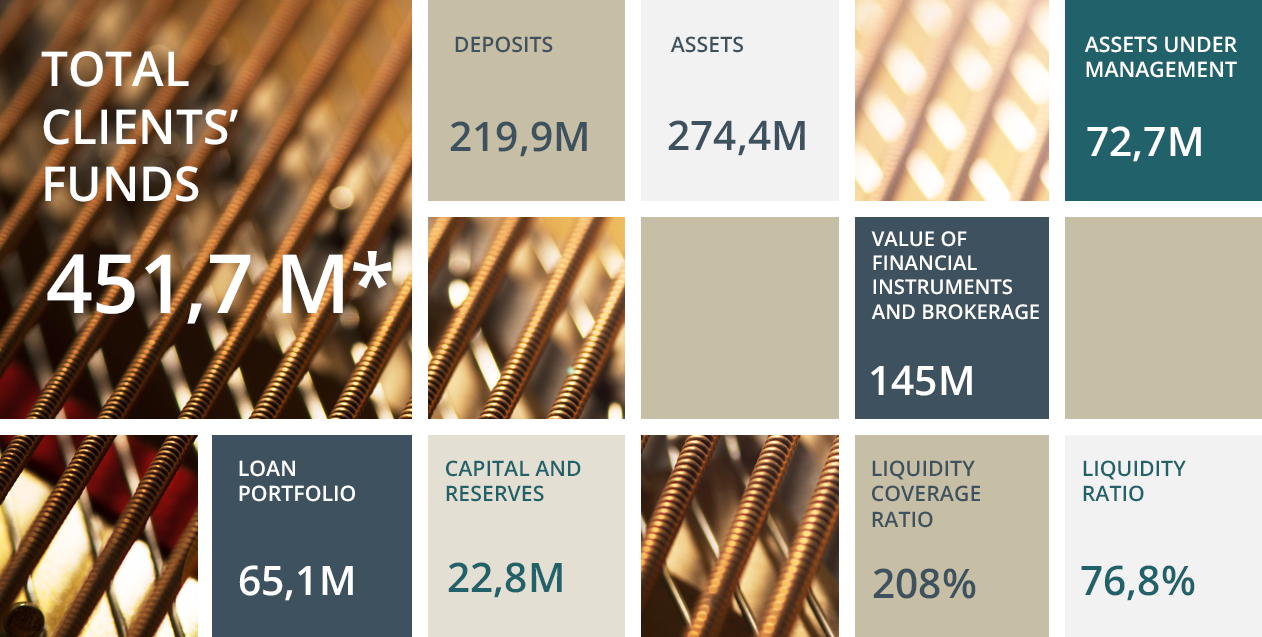 Fnancial data on 30.09.2018
*assets under management, brokerage portfolio, debt securities issued, deposits, subordinated deposits

Find out more about the Bank's financial results
---
INVESTOR CALENDAR
28.02.2018 – unaudited financial report for 12 months of 2017
30.04.2018 - audited consolidated report for 2017
31.05.2018 – 3 months report for 2018
31.08.2018 – 6 months report for 2018
30.11.2018 – 9 months report for 2018
---
ESG APPROACH
In its activity, Baltic International Bank implements the ESG (environmental, social and governance) criteria as well as cares about environmental protection on a day-to-day basis and invests in sustainable and environmentally friendly projects together with its customers. 
Find out more about the ESG approach
---
BALTIC INTERNATIONAL BANK BONDS
Bonds issued by Baltic International Bank are an attractive short-term or medium-term investment vehicle. The bond yield exceeds the rate of interest earned by the standard term deposits. Furthermore, bonds issued by the Bank give a great opportunity for their holders to render support in the implementation of the Bank's strategy!
Under the Bond Offer Programme, bonds issued by Baltic International Bank may be purchased both by the Bank's customers and any interested persons whose financial instruments accounts are opened with other investment companies. 
Find out more about Baltic International Bank bonds
---