Expertise today, services tomorrow - Guntars Reidzāns
Expert opinion: Guntars Reidzāns, Member of the Management Board of Baltic International Bank
In business as well as in the labour market there are more and more people who know their way around modern technologies since childhood. Remote access to services with the help of technology makes their work easier and saves time. People increasingly travel both for business and private affairs, and many people constantly live outside the city; therefore, convenient and accessible management of business and personal finances is becoming increasingly relevant.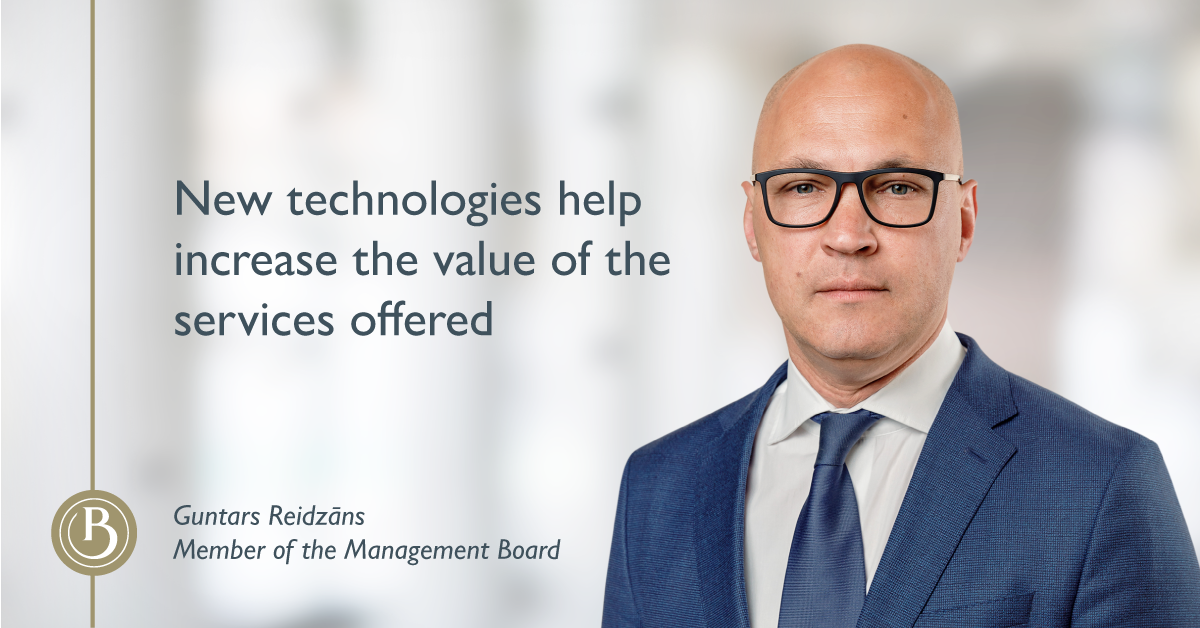 There is no doubt that these trends will become even more pronounced in the nearest future. According to forecasts, in 2025, about 75% of the working-age population will be the so-called 'millennials' born at the end of the last century. The key trait of this generation is the need to receive information and services immediately regardless of time and place. Representatives of this generation also expect immediate feedback, so remote service is an integral part of their daily life.
However, not only this generation continuously studies and uses modern technologies using the Internet and actively communicates via computers and smartphones. The results of the research performed by Kantar TNS Latvia Digital this spring show that, on average, 70% or 1.1 mln residents of Latvia aged 15-74 use smartphones which implies high availability and use of technology in different age groups of the Latvian society.
According to the results of the 'Baltic International Bank Latvian Barometer' survey, today, work of 69% of employed respondents is related to the use of technologies. The largest share of such people (85%) falls on the age group from 35 to 44, i.e. people who have already built their careers. The willingness of people to learn new technologies in their workplace is also very high – 68% of respondents would like to do that.
In accordance with these trends, the banking sector in Latvia is constantly expanding the range of services, adding the remote services, which do not require visiting bank branches. In developing new solutions, the banking sector takes into account not only new technological options and customer wishes but also changes in customer habits when receiving services.
The demand for such services has been also observed in the global financial market where, for instance, robo-advisory or automatic algorithm-based digital platforms for various financial solutions are very popular.
Financial institutions keep up with the times and create modern, convenient and transparent internet banking, develop mobile bank solutions and digital communication channels, allow customers to remotely monitor the deposit portfolio status, convert currency, etc., while providing secure remote identification. This allows customers to open accounts remotely and receive expert advice, including consultations during which confidential information is analysed.
However, new technologies do not imply abandoning face-to-face relationship between customers and service providers. They can rather help increase the value of the services offered. This is especially important for banks, including Baltic International Bank, in the business models of which individual customer service plays an important role.
That is why we intensively adapt our products to the digital environment and introduce new technologies and communication channels, such as audio and video consultations using such applications as Skype which allows getting the required information or advice at the right time and place simultaneously maintaining the necessary direct contact with a specialist.
It is predicted that as the capital market develops in Latvia, the volume of investments in various financial instruments will grow. For instance, in the Scandinavian countries, investments are currently being made by approximately ¾ of bank customers, while in Latvia this proportion is exactly the opposite.
However, it can be said with confidence that only with a significant increase in the understanding of the capital market in Latvia will the people be ready to invest personal funds in complex instruments more actively. This will respectively increase the need for banking specialist consultations and technical solutions such as the aforementioned remote consultations.
In fact, we are talking about a significant change in the habits of the population not only in the field of investment but also in the financial sector as a whole, and impressive changes are expected in the future. The Latvian Barometer, for instance, has measured the attitude of the Latvian population on one important issue – the option of being given advice by artificial intelligence. Currently, 78% of respondents in Latvia prefer that a decision is made by a human financial advisor rather than by software – this is the current reality that needs to be taken into account. But reality is changing before our eyes, and in order to maintain and develop competitiveness, the banking industry must keep this in mind in its daily work and decision-making.
There are few cases in history when discoveries and radical innovations were lapped up. It takes time for people to realise that new technologies help save time and simplify service. In addition, each customer's problem with which he or she turns for expert advice is special and very individual; therefore, customers prefer communicating with a human being to receiving a standard reply via digital channels.
That is why, strategically thought out and balanced decisions in the field of personal finance are of paramount importance. At the moment, the bank is the main expert in financial innovations for customers, and they know that it has the experience and knowledge to help them make the right decisions quickly. In this regard, financial institutions should at least sometimes provide expertise to today's customers as well as actively work on the services that tomorrow's customers will need.
Nowadays, universal banks motivate their customers to receive advice mainly remotely or automatically. Similar opportunities are also offered by financial institutions focused on individual financial services but customers are still at liberty to either contact their private bankers through digital solutions or get advice on the spot.
Banks will retain personalised services and customer-friendly solutions while modern technological solutions will make them more accessible in the digital environment, maintaining impeccable quality and improved delivery speed.