We define success stories ourselves
Oto Davidovs, head of Corporate Finance at Baltic International Bank, gives comments to the newspaper Dienas Bizness on the current issues in corporate financing, success stories and other future forecasts.
The work on the National Development Plan for 2021-2027 (NDP2027) is underway. The Plan provides for an increase in bank loans to domestic non-financial companies (A-K sectors according to NACE classification) in proportion to the gross domestic product (GDP) value increasing this figure from 14% in 2018 to 23% in 2027.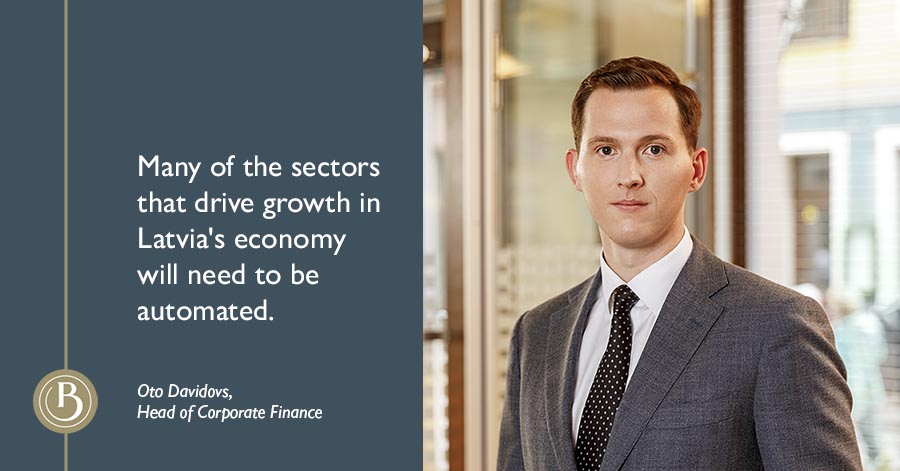 As Latvia's GDP continues to grow, the banks' domestic non-financial corporate loan portfolio is set to grow from 4 billion in 2018 to nearly 9 billion in 2027. The projected increase will force banks to significantly increase their balance sheets. The local capital banks are increasingly active in the small and medium-sized enterprise (SME) lending market showing readiness to issue new loans worth EUR 220 million to the national economy in 2020, but this is not enough to meet the goals set by the NDP2027. To achieve the planned lending growth, significant development of new sectors is needed. From the point of view of the banks, which are the most promising sectors with the greatest growth potential?
The growing role of automation
The types and volumes of SME lending should be considered in the context of our country's economic position in the European and global markets. At the European level, Latvia ranks among the last in terms of the well-being of its citizens. In pursuit of greater well-being, salaries will continue to grow and labour resources will become more expensive. In this situation, the lucky ones will be those optimising their production processes by investing in capital, new technologies thus achieving higher productivity and higher sales.
Overall, the role of automation is growing which simplifies day-to-day work and allows doing more and better with the existing resources. In order to compete in the international markets, many of the sectors that drive growth in Latvia's economy will need to be automated.
Businesses will benefit from that since new equipment will be more efficient and cost effective. Companies that will invest in equipment and technology in order to increase their productivity, for instance, manufacturing companies, are one of a group of companies where we see growth in demand for funding. Banks can support companies with financing for the purchase of new equipment across a wide range of industries.
Searching for a new Skype
Long-term wise, the technology segment is one of the most promising sectors. Funds are invested in business accelerators, and opportunities to raise venture capital in several stages to directly finance technology companies are also increasing. Funds are invested, the environment and technology infrastructure are being developed, and the so-called hubs or places where several technology companies operate in one place are created, for instance, New Teika where the innovation movement Vefresh was launched. One of these companies is likely to be the Skype or Nokia of the future. One of the most valuable Latvian companies in 2019 is the technology company Mikrotīkls LLC which is engaged in the production of computer network equipment.
Customers often turn to banks with the aim to get co-financing in technology company purchase transactions. Historically, banks have had to refuse this type of transaction due to insufficient collateral. Because of the Altum's guarantee product in corporate buy and sell transactions, banks can now look into financing such transactions.
Moreover, ICT or information and communication technology companies are highly profitable; in Latvia their average profitability is 4.5%, while in the industry – 10%. Services and solutions using artificial intelligence and cloud technology, data analysis and visualisation tools are increasingly evolving in the industry. Export volumes of ICT companies also continue to grow, so it is essential to keep this sector in the spotlight, and the customer activity is expected to continue to grow.
Replacement of housing stock and office space
Real property financing remains classically stable. Funding is sought by the real property developers looking to buy and develop properties, and refinance. Local capital banks can offer a more flexible approach and nuanced understanding of the local real property market. We see opportunities in the development of the housing stock of the economic segment. There are entrepreneurs who are developing and will continue to develop such structures, and the trend will only increase as the existing housing stock is ageing and its service life is coming to an end. The office segment for companies providing services is also developing. There is a marked migration from Class C office premises to Class B office premises, and from Class B office premises to Class A office premises. In addition, the ability to provide a more comfortable work environment in a modern office will definitely give the company the advantage of attracting qualified employees.
Baltic International Bank is ready to support entrepreneurs by helping them choose the most appropriate financing as well as the conditions that will allow them to continue their successful business and ensure their development. However, enthusiasm, initiative and understanding of growth opportunities of the leader and team of a company are critically important too. This is followed by funding to support the company which can help the next Latvian "success story" develop faster and easier given that such a story has potential.