Baltic International Bank issues a commemorative medal dedicated to historical album Terra Mariana
To continue the tradition started last year of commemorating notable events through the prism of artistic imagination and the works of world-renowned artists, Bank has just issued a commemorative medal devoted to a unique album Terra Mariana.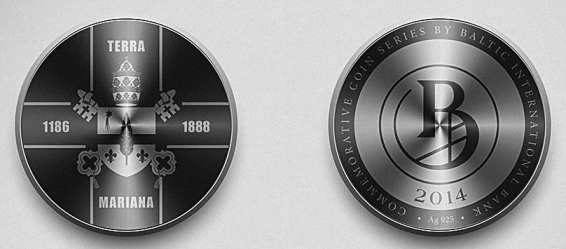 In spring 2014, many-year joint efforts of the National Library of Latvia and the Vatican Apostolic Library have borne fruit: a project intended to republish the historical album Terra Mariana. 1186-1888 was crowned with success. Importantly, the project was sponsored by the Chairperson of Bank's Council and patron of arts Valeri Belokon. The album tells us about the 700-year history of the lands once known as Livonia. Terra Mariana (Land of Mary) was the official name for Medieval Livonia. The issuance of the commemorative medal signifies Bank's never-ending commitment to preserving living- history testimonials.
One original copy of the album was printed in 1888 in Riga and thereafter presented (by polish landlords who resided in the Baltic States) to Pope Leo XIII on the occasion of his 50th anniversary of priesthood. The original is preserved by the Vatican Apostolic Library. Every single page of the album comprises unique works of brilliant Latvian talents and represents a one-piece artwork styled in the same manner as practised in the second half of the 19th century. In spring 2014, Latvia accomplished the activities aimed at producing 10 full-size facsimile copies and 1000 reduced-size facsimile copies of the album (together with scholarly commentaries).
The republication of the facsimile copies (with scholarly commentaries) has made the historical heritage accessible to a wide audience. In the Baltic States, there are no equal-value analogues of the album in terms of concept, content and design. The album focuses on the 700-year history of the people and history of Christianity and contains a wealth of visual and textual material about Livonian castles, castle ruins, churches, the coats of arms used by ancient families of noble descent, seals, historical personalities, and impressions of ancient silver and gold coins.
Last year, Bank started a series of commemorative medals. A medal showing a Bowing Servant, an artwork from an outstanding Latvian artist Ilmars Blumberg, was the first medal in Bank's collection.
Under the banner of Baltic International Bank, we stand proudly as one of Latvia's most experienced providers of private banking services to affluent individuals and businesses.  The advantages we offer include a bespoke approach, solid partnership and top-level service intended to preserve and grow wealth for our customers. Headquartered in Riga, Bank operates its overseas representative offices in London, Moscow and Kyiv.