Baltic International Bank embarks on developing new internet banking facility while implementing new technological solutions
Some of the biggest challenges financial service companies face today are a shift towards modern digital opportunities and implementation of relevant solutions. Committed to providing greater convenience for the users, Baltic International Bank (Bank) has embarked on launching an improved version of its internet banking facility. The users will benefit from functionality and security enhancements and a broader array of services. The upgraded internet banking will represent a platform for launching new products and services in the future.
Bank is developing the new digital infrastructure solution in liaison with ETRONIKA the leading fintech company in the Baltic States. Bank is planning to invest around one million euros in improving the internet banking facility. Bank has already finished the first phase of the project. In June 2019, Bank will give its customers access to test the features of the first version. At the end of summer, Bank will be gradually rolling out the new internet-banking version to all customers. The transition will run until October 2019. In October, Bank will make the new facility available to all customers.
Highly competitive environment in the financial sector spurs us to respond quickly to situations, be innovative and take a strategic approach to decision-making. We therefore continuously develop digital channels and invest in our infrastructure. This is vital to ensure convenient and qualitative services for our customers. New technological solutions are conducive to increasing the value of the services offered by Bank. We will launch the internet banking through combined efforts of the sector professionals and after having explored usage patterns of our customers. The internet banking will enable the customers to obtain only useful and really necessary information, save time and plan finances better and make their investments and other financial deals in a timely manner while being 100-percent sure about safety and security of their data and money.Guntars Reidzāns, Member of the Management Board at Baltic International Bank
The envisaged improvements will also foster preparation of financial statements and execution of transactions in an easy and convenient way that in turn will enhance customer service experience. Bank will also make changes in the internet banking design. As Bank keeps up with and stays on top of emerging technology trends, it specifically focuses on a responsive design created to fit better various digital devices used by the customers. Thus, every user will be able to personalize the main screen by selecting the most current information and to adjust the background of the internet bank according to individual preferences.
We place customer convenience and security at the heart of everything we do. A unified dashboard showing the accounts and products, a convenient internet banking navigation, and an improved OneSpan mobile Digipass solution that will allow authenticate the cardholder and authorise transactions by employing push notification to mobile phone will improve user's experience overall. Bank is also improving already implemented AML system's settings. In an effort to heighten Bank's safety and security and maximise customer convenience, Bank will enable its customers to complete MiFID questionnaires and Know Your Customer (KYC) questionnaires in the Internet-banking environment (customer profile section).Jānis Osis, Head of the Digital Channels Development at Baltic International Bank

ETRONIKA, a Lithuania-based fintech company having almost 20 years of experience in the Baltic financial services sector, is the project's developer. The company developed and offered innovative digital solutions with an emphasis on security and customer convenience.
Regular improvements are very necessary. Developments and opportunities in digital environment come along with new threats. In highly regulated industries, we must also take into consideration ever-changing regulations and legislative updates. By improving digital interaction, we will make the internet banking platform more efficient and more user-friendly. As a result, both Bank and its customers will enjoy new opportunities.Arnoldas Jankūnas, the Chief Executive Officer at "ETRONIKA"
Innovative solutions designed specifically for payment processing will substantially boost the internet banking usage experience and will reduce the amount of time required for carrying out the activities involved. The new internet banking will enable the customers to ensure a multilevel signing of payments and a multilevel approval of applications. Bank has implemented instant payments, and customers can select them from the list of the beneficiaries. To process several payments in a quick and convenient manner, Bank has implemented batch processing functionality (or import of bulk payments) and export related to the generation of account statements, simultaneous approval of several payments, and a smart payment form that adapts itself depending on the customer-posted information. Even better communication with Bank, as provided by private banker, is available for the customers within just a 'clickable distance'.
The development of the new internet banking is only a part of the innovations that are underway. In the near future, Bank will roll out solutions such as instant payments, open banking (a platform-based business approach), investments and investment products available on the investment menu, and other solutions designed to enhance customer service experience.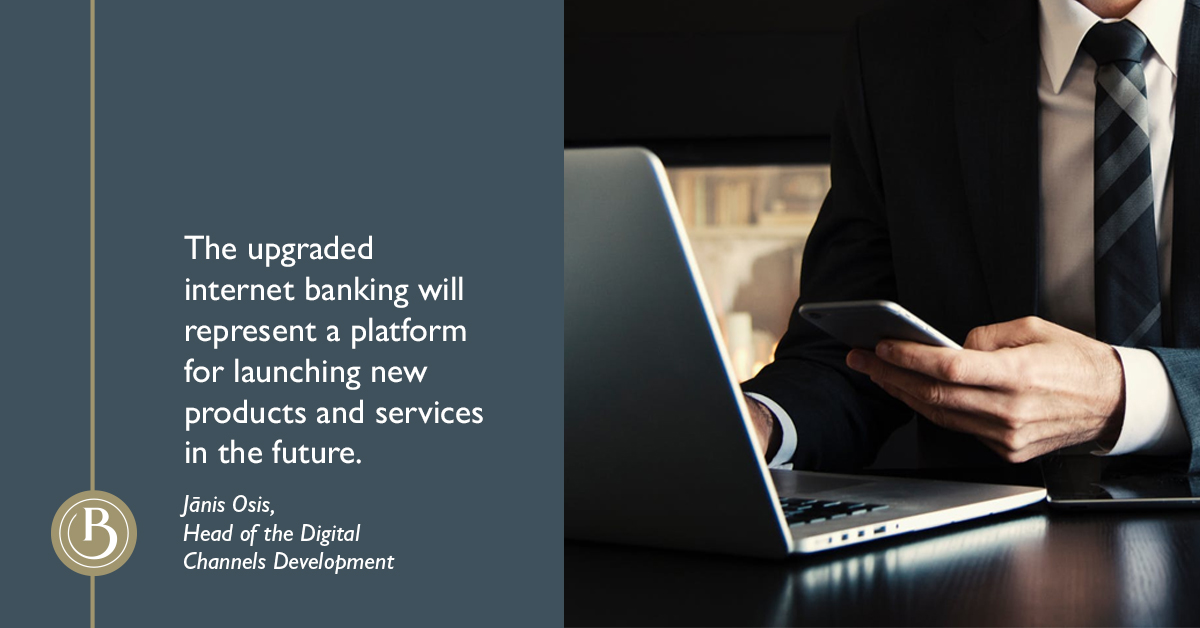 About ETRONIKA
ETRONIKA is award winning Nordic FinTech company, offering digital platforms for finance and retail sectors, digital and mobile signature, mobile payments, digital services for point-of-sales terminals and other services. Company is based in Vilnius, Lithuania and is a part of NRD Companies.
NRD Companies – a global information technology and consulting group of companies specialized in governance and economic digital infrastructure development. NRD Companies are controlled by INVL Technology UTIB – NASDAQ Vilnius listed closed-end investment in IT Businesses Company. INVL Technology managed companies operate as a cluster and implement joint projects in more than 50 countries worldwide.
BANKTRON is award winning smart e-channels platform which enables financial institutions to deliver seamlessly financial services across various devices.