Plenty of Challenges for Europe -Dr. Hans-Friedrich von Ploetz
In an interview with the newspaper "Dienas Bizness"", Member of the Supervisory Board of Baltic International Bank - Dr. Hans-Friedrich von Ploetz emphasizes that, given the rapid development of renewable energy resources, our only chance is to become "greener".
Would he currently invest into oil, gas or coal? He would most likely say - no. He would rather invest in new sustainable technologies.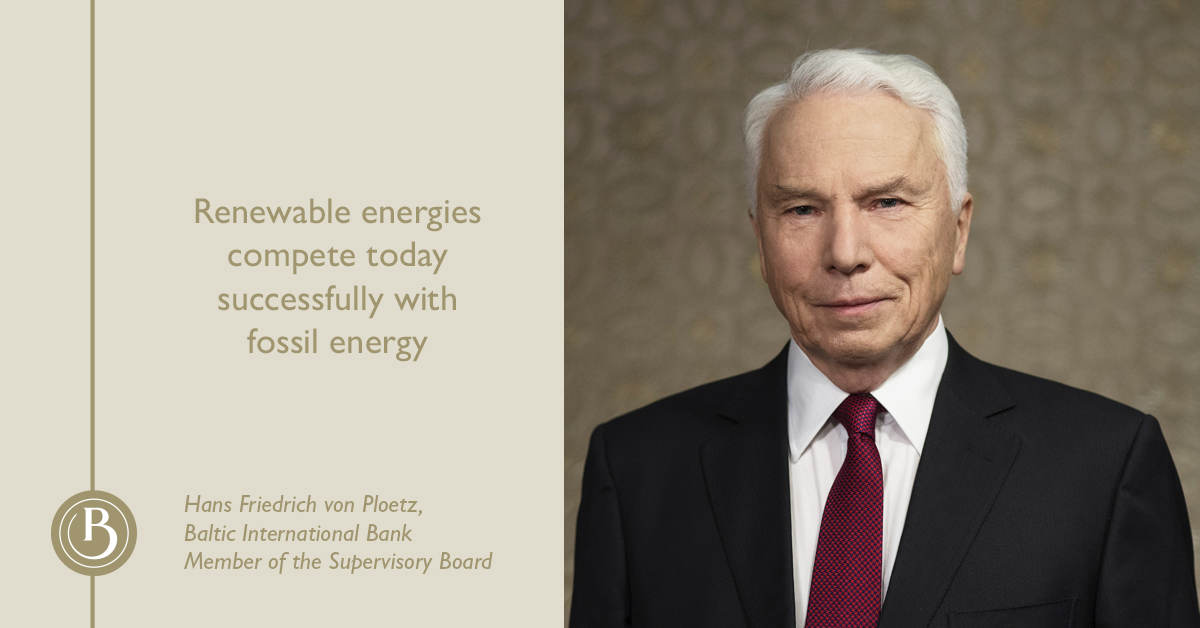 Although significant progress have been achieved in adjusting of the financial sector, industry still has to deal with many problems and risks. Dr. Hans-Friedrich von Ploetz, Baltic International Bank Member of the Supervisory Board, former State Secretary of the Federal Foreign Office and German Ambassador to NATO, the UK and to Russia in an interview with business paper Dienas Bizness. He tells that attempts to adjust this industry on the European level are highly supported, emphasizing that various future challenges and risks await the industry players also further.
How do you evaluate ongoing processes in Latvian financial sector – does society need to worry about stability of this sector?
Banking industry is operating under stressful conditions all around the world. I can't name a single country where people would not follow updates in banking sector due to various risks, for example, money laundering and terrorism financing. These risks are very challenging. I think that progress have been achieved in European Union (EU) countries, including Latvia, as to this matter, still it is not yet the time to relax and let our guard down.
In recent years banks working with non-residents have encountered more problems. What is your opinion regarding this issue – have these banks really committed violations?
Everyone can follow latest updates from Russia, Estonia, Finland and other countries. Of course, we can't deny that violations did happen in separate cases but I don't want to highlight any country in particular. It is clear that this issue still requires further efforts and task is not easy. Efforts of Latvia have been evaluated positively; at the same time we have to understand that improved international cooperation matters a lot. One cannot overlook that in this area sometimes good regulatory framework can be an obstacle to such cooperation. I think that banks are doing what it takes to eliminate risks related to non-residents. If I am accurately informed, during recent years dramatic decline of non-resident clients have been observed in Latvian banks.
Regarding non-resident banks the loudest scandal in Latvia, of course, was ABLV Bank. How do you evaluate this situation?
It is very sad that a bank of this size can file for bankruptcy within few days. It has a negative impact not only on clients concerned but also reputation of state and its banking sector.
What should be done to improve Latvian banking system?
In my opinion, the Latvian government, its regulators and the banking sector is trying to improve the Latvian banking system not only on the national but also Eurogroup level. I am afraid these efforts have to continue in all spheres, with special attention to improving the qualification of personal and technical resources. Sadly, those forces who try to break the rules do not give up their efforts to succeed one way or the other with their illegal activities. Both regarding employee qualification and technical equipment, and information exchange between banks, banking sector in every country still encounters very many challenges and risks.
Power industry has become one of European priorities during recent years. What are global trends as to this area – are we becoming greener?
Politically – definitely. Our publics are much better informed and ask for action. Therefore I think that we have no choice but to "greener". Very ambitious goals were set in Paris Climate Conference related to global warming and climate change. Both EU countries and the EU in general are on the right track. For example, Germany reacting to the nuclear accident in Fukushima decided to completely waive use of nuclear power in the next few years. The risks involved in nuclear power plants is considered to be too high and dangerous for both environment and climate. In addition, Germany also wants to stop the use of brown coal – lignite in power plants in the near future and of other coal in the medium term. At the same time it is clear that demand for electrical energy will grow considerably in Europe as we use evermore electrical appliances on daily basis. How we are going to satisfy this dramatically growing demand? Renewable energies are one option and they are rapidly developing. Germany was a front runner and subsidised solar and wind energy at great cost, in particular to its consumers. The effect is impressive: renewable energies compete today successfully with fossil energy. Whether I would continue to invest into oil, gas or coal, I would most likely say - no. I would rather invest in new sustainable technologies.
There are many negotiations related to high RES scenario and energy efficiency but frequently entrepreneurs emphasize high expenses in implementing of these solutions. Can we expect for green technologies to become cheaper in future?
Of course, these technologies are expensive but we have to keep in mind that they were even pricier in recent past. Technological development is enormous, with emerging markets like China in the vanguard. At present, developed countries consume about 40% of energy and the high growth, economies of Asia 20%.  Experts predict that it will be the other way round in 20 or 30 years, but the global volume of energy consumption will be much higher than today!  So we have to act fast: The global train is gaining speed, and European economies occupy no longer the first carriages. Already today China has more electric cars than Europe.
Several European countries have already expressed commitment to completely stop using fossil fuels. In your opinion, is this necessary and actually doable?
When I arrived in London in 1999 as the German Ambassador to the UK, one of the first people I met was the CEO of British Petroleum (BP). We spoke for more than an hour but he hardly mentioned BP's core business, petrol. He spoke about green energy and green technologies. He said it is our future, emphasizing that he as a CEO is responsible for this company to continue operating profitably. He was right, wasn't he?
So, you think that we can really stop using fossil fuels in future?
There are more than meets the eye as to this. We need fossil fuels but it is stupid to burn oil for electricity or mobility. Remember that you can get to a goal in many different ways. Clearly our lifestyle will change in the future and I don't think it is a bad thing. At the same time, I think that in future fossil fuels will be used more efficiently in many other areas. I hope that inefficient and environmentally harmful use of fossil fuels will be reduced but still these resources will find their place on the market.
You mentioned that currently you would decline from investing in the fossil fuels industry. On what resources would you put your money on?
Let me give you one example: There is an innovative company in Latvia specialising in the construction of large concrete floors, for example for large stores, warehouses and industrial buildings. Its new technology allows them to reduce the consumption of cement by 40%. Thus, they not only reduce the use of energy to produce cement, the entire construction process takes up less time. Thanks to a special new mix of raw materials, their floors are almost immune to cracks – which used to be a big problem of the industry. Three advantages in one technology - excellent! Would I invest in this company? My answer is definite - yes! I could give you hundreds of similar examples.
You are the former German Ambassador to the UK. Currently many Europeans are concerned about this country and its further decisions. What should be considered after Brexit?
I have noticed two opposing parties as to this matter. There are people considering Brexit as a relief because it has always been difficult to cooperate with the United Kingdom, the British were not even sure if they wanted to be part of Europe in the first place. The other group, to which I belong, thinks the UK leaving the EU will be a great loss. The future will be very different from the past.  Europe is no longer in the lead. The United Kingdom was large and powerful power in the 19th century. In the 21st century which European country is powerful enough to successfully stand on its own? Not the UK, not Germany, not France! In contrast, the EU is a very powerful organisation – a serious global player – but only in such fields as trade where its members have pooled their sovereignty in the hands of the EU-Commission. If and when Brexit happens, we will have to learn to live with the new situation, yet another challenge, but unfortunately "home-made"!
Armanda Vilcāne, Newspaper Dienas Bizness, 02.04.2019
Expert opinion. Interview Dienas Bizness with Dr. Hans-Friedrich von Ploetz