Baltic International Bank supports Commercialization Reactor Ignition Event currently held in Riga
Magnetic Latvia Technology Conference "Deep Tech Atelier" is held on 13 and 14 April in Riga. As part of this international conference, 12th Commercialization Reactor Ignition Event is also organised and is supported by Baltic International Bank. During the Ignition Event, ten new promising and cutting-edge scientific ideas will be presented to potential investors and start-up founders.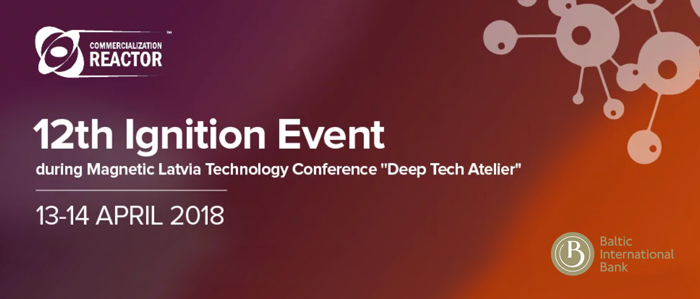 Driven by the conviction that innovative ideas and attraction of investments required to turn the ideas into reality play a vital role in shaping and developing the country's economy, Baltic International Bank has been supporting Commercialization Reactor (international platform founded in Latvia with the aim of promoting technologies and launching start-ups based on scientific and technological achievements) for already more than five years. The purpose of the platform is to combine brilliant innovative scientific ideas and entrepreneurship experience and knowledge into new value, thus establishing a good basis for creation and functioning of successful and knowledge-based hi-techs. We're proud to support the process that is so essential to Latvia's economy!
The new International conference "Deep Tech Atelier" is hosted by the Investment and Development Agency of Latvia (LIAA) in liaison with Commercialization Reactor. The organisers invite businesspeople, scientists, technology developers, industry representatives, investors, and all those enthusiasts, who are interested in technologies, scientific breakthroughs and ground-breaking ideas, to participate in the discussions and acquire the practical knowledge. "Deep Tech Atelier" is a forum and a practical workshop dedicated to the creation and development of start-ups.