Small and medium-sized enterprises can receive support to access capital markets
Baltic International Bank invites small and medium-sized enterprises (SMEs) to apply for the attraction of financing via stock exchange as part of the European Union funds support program "Support for attraction of financing for small and medium-sized enterprises (SMEs) in capital markets".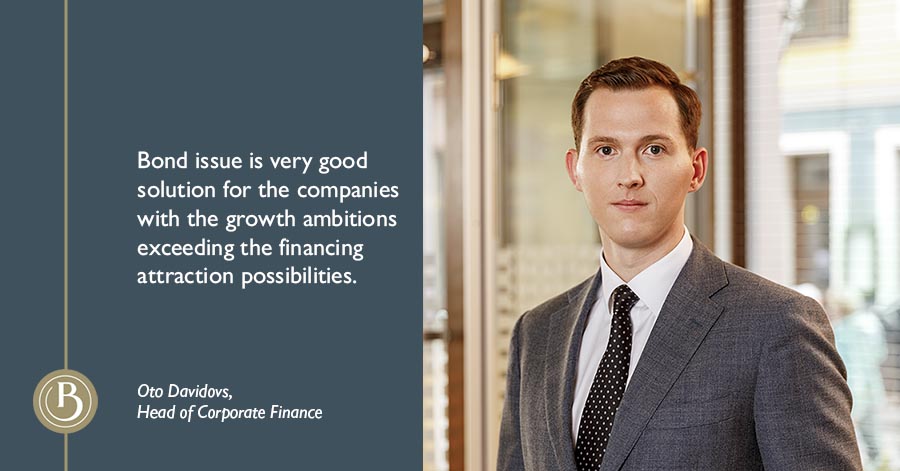 Aim of the program is to help SMEs in Latvia to attract financing for their development via capital markets, allowing the enterprises to boost their international competitiveness and promote capital markets development of Latvia. This is the first program of this type in Baltic region.
Bank offers to provide emission organizer services – develop debt securities provisions, prepare emission prospectus – documents required for the registry of emission in the authorised institutions, organize cooperation of the issuer with the stock exchange, as well as secure technical base for the performance of debt securities transactions. We are offering analytical and informative materials for the attraction of financing as well as maintaining of relations with investors both during the emission preparation period and also after the issuance of bonds in the secondary market.
Baltic International Bank, Head of Corporate Finance Oto Davidovs explains: "Capital market development and bond issue of the enterprise is one of the sources of receiving external financing and for many years already it is used all around the world as an efficient and beneficial alternative to attract financing. It is very good solution for the companies with the growth ambitions exceeding the financing attraction possibilities banks can offer."
In comparison to Western Europe capital market of the Baltic countries is in its early development stage, although I have to emphasize that lately market can be characterized with rapid growth and bond issue as a tool for the receiving of the development financing for the company is growing in popularity.Oto Davidovs
In the frame of the European Union funds development period support program will be implemented as the pilot project and the total initially available financing is planned in the amount of EUR 1' 000' 000, meaning, EUR 800' 000 EUR for the support of issuing of shares and EUR 200' 000 EUR for the support of debt securities (bond issue). It is planned that open tender for the attraction of financing will be organized quarterly. Administrator of the program is Central Finance and Contracting Agency (CFLA).
Support will be provided for the covering of the following preparation costs:
Service costs of the organizer of emission (investment bank);
Costs of preparing the emission prospectus or the securities registration documents;
Costs of Due Diligence;
Consulting costs of legal, financial, taxes, auditors, certified consultants.
Support of SMEs is issued as a form of grants covering 50% from the eligible costs but not more than EUR 100' 000 EUR for one applicant in the event of issuing of shares and not more than EUR 20' 000 in the event of issuing the debt securities (bonds).