Baltic International Bank participates in investment conferences in Moscow and St Petersburg
At the end of April, WealthPro 2015 conferences were held in Moscow and St Petersburg. Wealth management and investment experts from Europe, the CIS, the Mid East and Asia pooled together to exchange experience and hear about the latest trends in the above mentioned areas. Bank's representatives arranged a presentation dedicated to alternative investment solutions.
"The growth of global wealth entails an increase in capital available for new investments. A growing share of alternative investments is symptomatic of a broader trend we've seen over the past few years. During the period 2003 to 2012, the volume of alternative investments globally grew from US$ 2 trillion to US$ 6 trillion. This is indicative of the trend still going strong and of greater investor interest. The elevated interest in alternative investments gets a boost from lower energy prices and lower interest rates on the one hand, and max-heights hit by stock markets of developed countries and the risk of a correction on the other hand", Board member Dinars Kolpakovs emphasised during the presentation.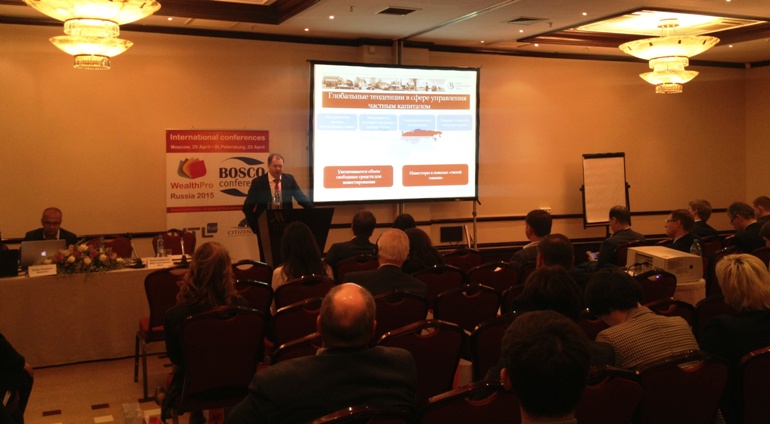 Alternative investments cover both tangible assets, such as artworks, fine wines and luxury items, and business projects offered by Bank to their customers. Currently, residential and commercial real estate development projects in Western Europe, export-prone manufacturing sectors, and bridge financing are the safest investments options and hold biggest investment appeal.
"Before offering our customers alternative investment vehicles, Bank conducts appropriate project due diligence to make investments safe and secure. Alternative investments provide stable income in the short term. Stock market fluctuations do not affect the income. Alternative investments are appropriate for customers looking for ways to diversify their portfolios, such diversification standing apart from banking activities", the Head of Asset Management and Brokerage Services Department Anna Valtere said during the presentation.
The conferences WealthPro Russia 2015 brought together professionals from more than 30 countries. The discussions focused on wealth preservation, wealth management, and investment opportunities under increased pressures arising from mandatory information disclosure regulations.