Is it possible to create world-class companies in Latvia? - Ilona Gulchak
Currently, in Latvia, university graduates who dream of becoming new Elons Musks and look for opportunities to express themselves take their first steps to starting business. Their ambitions are very high and start-ups seem to be a good opportunity to fulfil them. It is the right time for that too because today Latvian start-ups develop more evenly, and the environment is becoming more and more structured. There is also clear public support and a willingness to support start-ups. We have a well-developed start-up ecosystem which is getting better and better offering a solid model of cooperation between its members. A very attractive and supportive environment for scientific ideas is developing in Latvia - Ilona Gulchak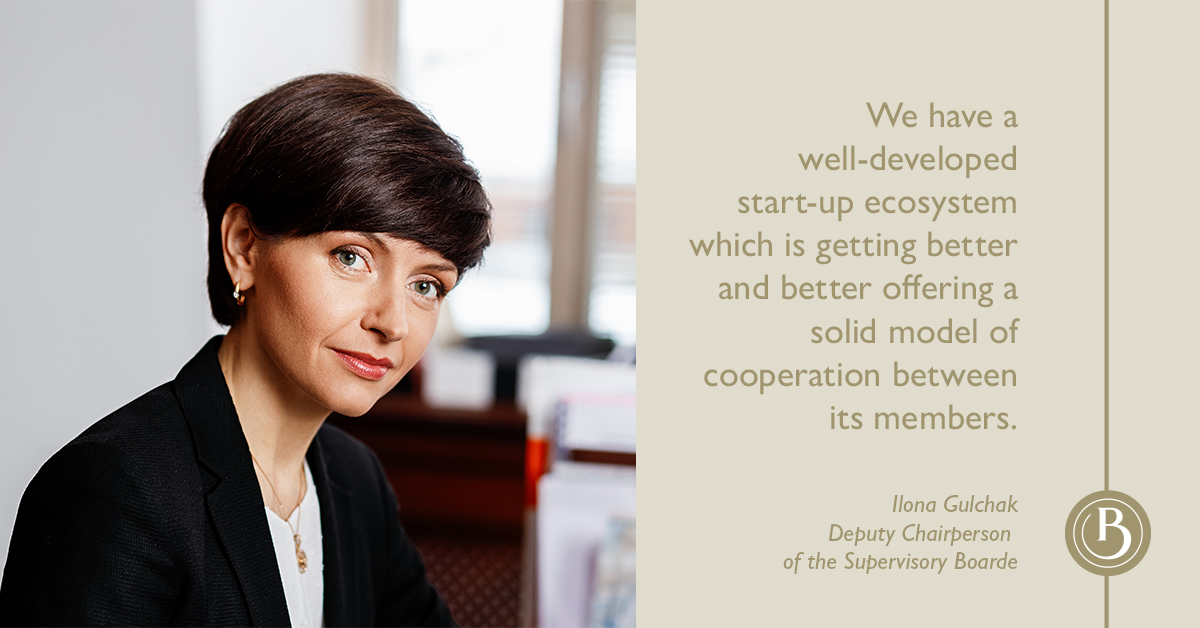 Deep-tech – a newcomer to the exciting start-up world
Many people know that in Latvia start-ups in the field of information technology, software, and fintech, short for financial technology, are quite developed and strong. A new, up-to-date trend – deep-tech, or science-based start-ups, – join this group. These are companies that combine business and science. Deep-tech is developing rapidly, with three to four billion euro annually invested in deep-tech start-ups in Europe. It is noteworthy that the Baltic States, especially Latvia, are formed as a deep-tech start-up centre which has also been noted and noticed by international representatives. Despite the limited industrial base, we have historical experience and historical links that enable deep-tech start-ups to develop in Latvia. In our country there is a scientific base that helps deep-tech companies to flourish. Here are skilled scientists, strong entrepreneurs, and extensive financial support from both European funds and private investors. It is gratifying that Latvia is gradually becoming an international centre where scientists can bring technology to our country to develop and commercialize it offering Latvia the right know-how and competence to implement the plan. Deep-tech companies can represent a variety of areas such as medical technology, chemistry, material science, nanotechnology, Artificial Intelligence (AI). It should be borne in mind that deep-tech start-ups differ from the rest of the start-ups with a longer path, a process to bring a product to the market. Because of the need for multiple tests, prototype development, development, validation, they also need to find the right ways to test the products they create. In the world, all of the above-mentioned deep-tech areas are developing very fast, and the environmental aspects, everything related to energy, clean energy solutions, wastewater treatment and waste management are also important here.
Schaeffler Baltic's success story or deep-tech in action
One of the most prominent domestic deep-tech success stories is Naco Technologies, a powerful, science-based technology company that was created in Latvia and acquired by German giant Schaeffler taking the company under its control and demonstrating its high level. In Latvia, the company's employees at the research centre are commissioned by Schaeffler AG to develop different new product types expanding the Group's inventive portfolio. They are engaged in the development of various technologies, tests, trials to pursue the plan. It is quite clear that their technology and product are innovative, with a high level of research and science.
Commercialisation reactor and other start-up support options
One of the ways in which deep-tech and other start-up companies can start their activity and development is the Commercialisation Reactor which offers the Accelerator Programme and investments in research start-ups. It is a way to combine entrepreneurial talents with scientific competencies, thus developing the science technology business. By bringing together entrepreneurs and creators of scientific innovation, it is possible to introduce significant innovations in different sectors. It is very important and benefits everyone – scientists and entrepreneurs, industries, investors and the country as a whole.
Start-ups can also use a variety of capital attraction mechanisms such as public funding, various grants, and crowdfunding which is also available to start-ups. At the moment, start-ups have a clear-cut fundraising scheme ranging from acceleration funds that offer funding during the acceleration process to shallow fund investments that help companies grow further. At the same time, it is also possible to receive various grants from individual global corporations such as Philips, Merck, Pfizer, Sony and others that support certain accelerators because they are interested in different innovations and, by issuing grants, stimulate innovation in their industry. At global and Latvian level, investors are increasingly investing not only in R&D within companies, but also in start-ups and acceleration programmes.
Banking support for start-up companies
Of course, it is natural that through support to start-ups banks look in the direction of fintech start-ups. For example, Baltic International Bank offers an API Sandbox solution for Open Banking. It is a secure environment where third-party service providers can test ideas and innovations in asset management and finance. It is great that the solution is suitable for both large companies and independent developers, especially for anyone interested in new digital products, services and innovations.
Business spirit and an excellent idea
It should be borne in mind that different types of start-up companies have the opportunity to create their own business with a global view, potential and export ability in addition to expressing themselves and fulfilling their ambitions. Moreover, energetic entrepreneurs can turn to, for instance, innovation centres in different Latvian universities and, together with scientists, develop their business by developing new, unique, world-class products. The technologies developed by scientists are important for Latvian companies and promote product development with high added value. Based on scientific excellence, there is the opportunity to create technologically saturated companies with international growth potential. I wish Latvia to become a hub for high-tech start-ups in Europe!
The author is vice-chairman of the Supervisory Board of Baltic International Bank