Baltic International Bank has issued its own postage stamp commemorating its 20th anniversary
Baltic International Bank celebrated its twentieth anniversary with a First Day cancellation of the exclusive postage stamp issued specially on May 3, the Bank's birthday. The ceremony for the First day cancellation was carried out by Vilory Belokon, the Bank shareholder, and Ilona Gulchak, Chairperson of the Board.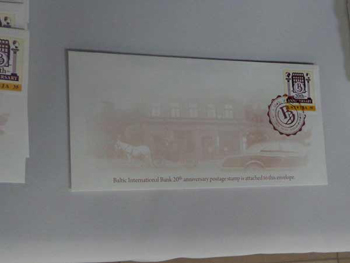 The design of the anniversary postage stamp was developed by Anita Karpinska, a student of the Latvian Art Academy who won the artwork competition announced by the Bank from among Latvian art students.
"We think this unusual stamp was a worthy present for our Bank anniversary. The artist developed a very symbolic design, where the strict lines characterise professionalism and concentration, the pillars symbolise striving for success, while the world map reflects the cooperation between Latvia and a multitude of countries where our clients live and run their businesses", pointed out Ilona Gulchak, Chairperson of the Board of Baltic International Bank during the First Day cancellation ceremony. "We are happy that the competition we organised attracted such great interest among the students. Each of them tried to convey their personal vision of our Bank's philosophy. We are grateful to all of the contestants."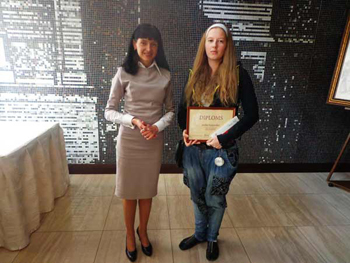 6 projects of Latvian Art Academy students were submitted to the final stage of the competition. According to the competition terms and conditions, the students had to develop a stamp design best symbolising the successful activity of the Bank over the last 20 years. The winner was determined based on the evaluations of the Jury which consisted of both Bank staff members and professional artists. The author of the best project received the grand prize; a gift certificate for a trip to one of the European countries considered to be the cradle of modern art: Italy, France, Austria, Spain or Germany.
The nominal value of the anniversary postage stamp is 35 santims. The stamp is issued in a limited number and can be used for mailing to Baltic International Bank clients and partners. The stamps cancelled with a special seal on the Bank anniversary day will in turn become an interesting souvenir and a collectable item for private collections.
Photograph: Ilona Gulchak, Chairperson of the Board of Baltic International Bank, and Anita Karpinska, the winner of the artwork competition