Chairperson of the Council of Baltic International Bank Supports the Reopening of the Exhibition "Sodums. Ulysses. Travelling Man."
On 3 May, in Latvia, an event was held to celebrate Dzintars Sodum's (Latvia-born writer in exile and translator) 92-year birthday. During the celebration, a special literary award named in Sodums's honour, was given to the Latvian literati.  Also, the exhibition was reopened as supported by Valeri Belokon, the Chairperson of the Council of Baltic International Bank.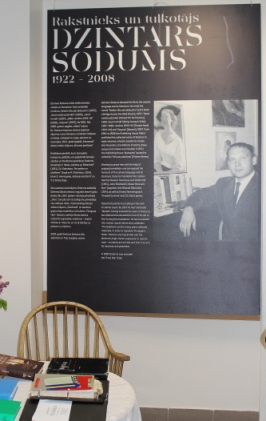 Latvia's Minister for Culture Dace Melbarde attended the event as well. In her welcome speech, she cited a quote from Dzintars Sodums – Words are not enough to create poetry. "The phrase well characterises his attitude towards his work and towards the work of his peer-writers. For him, it was important not only to know how a writer puts words together to create an effect, but also to know how to truly live the writer's life.  Dzintars Sodums was a vivid example of patriotism and heart-based consciousness of his era," Dace Melbarde emphasised.
Nora Ikstena, the Latvian writer and the initiator of the exhibition "Sodums. Ulysses. Travelling Man", said: "The exhibition was organised to unveil a unique and emotional story about the choice, the mystery of the language, and the 'gold purity' of time and history." "Sodums. Ulysses. Travelling Man" is a multifaceted exhibition focusing on environmental art and literature and is based on the authentic archival materials (related to the Latvia-born writer in exile and translator Dzintars Sodums) possessed by the Latvian writer Nora Ikstena and Valeri Belokon.
Opened for the first time in 2012 in Riga, the exhibition was dedicated to celebrate Dzintars Sodums's 90th birthday (1922 – 2008). The Latvian architects Ieva Zibarte and Brigita Bula, an urbanist Evelina Ozola, and a graphic designer Edgars Zvirgzdins were the designers of the exhibition. The reopened exhibition was dedicated to a second-time presentation of the Sodums award to the literati.   
This year, among the 29 books nominated, were "Okeāniskais es" (Andris Zeibots) and "Klūgu mūks" (Inga Abele). According to the jury, the both brilliant and pioneering-nature books best met the main award-giving criteria.     
Dzintars Sodums lived more than 60 years in exile and spent in Latvia only the last two years of his life. While in Latvia, he finished writing his last novel "Viņpuse" (a 'documentary novel') and his magnum opus – the translation of James Joice's epic novel "Ulysses" into Latvian.