Novel published within Bank-sponsored book series is the 2015 winner of the Sodums Award
On Wednesday, 13 May, an annual remembrance event was held in honour of Dzintars Sodums, Latvia-born writer in exile and translator. This was the third consecutive time that the Sodums award was given to the Latvian literati on the writer's birthday. The award presentation ceremony took place at the Community Centre of the Ikshkile Municipality (IIkšķiles tautas nams). Māris Bērziņš received the 2015 Award for his novel "The Taste of Lead" (Svina garša). The novel was published by Dienas Grāmatas Publishing House and sponsored by Baltic International Bank. The novel was included within the series of historical novels "Mēs. Latvija, XX gadsimts" (We. Latvia, 20th Century).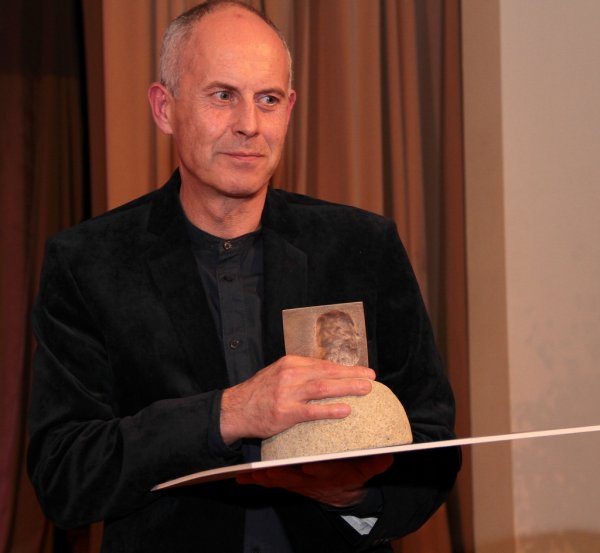 "This award is undoubtedly unique, and there is something special about receiving it. The honorary award not only symbolises our willingness to pay tribute to Dzintars Sodums here in Latvia, but it also takes on a specific mission of revealing the breath of the world in the Latvian literature," Latvia's Minister for Culture Dace Melbārde emphasised.
Dzintars Sodums had lived more than 60 years in exile in Sweden. At that time, he worked hard to preserve the Latvian literature and language. The Sodums Award was introduced by in 2013 by the Ikshkile Municipality (Ikšķiles novads) to enable the community to become more aware of those Latvian writers, poets and translators whose works have undisputable literary value and innovative literary properties.
Baltic International Bank is actively involved in the events aimed to celebrate and to shed the light on the accomplishments of Latvian and international literati. In 2012, Valeri Belokon sponsored the exhibition"Sodums. Ulysses. Travelling Man" held in Riga to mark Dzintars Sodums's 90th birthday. The multifaceted exhibition focused on environmental art and literature and was based on the authentic archival materials (related to Dzintars Sodums) possessed by the Latvian writer Nora Ikstena and Valeri Belokon. 
In 2014 and 2015, on the initiative of a patron of arts and the Chairperson of the Council Valeri Belokon, Baltic International Bank sponsored the series of historical novels "Mēs. Latvija, XX gadsimts" (We. Latvia, 20th Century) published by Dienas Grāmatas Publishing House. The series also comprises this year's winning novel by Māris Bērziņš.