Sustainability Index Bronze Award for Baltic International Bank
The annual Sustainability Index closing event was held on 5th June where awards were presented to those Latvian companies that had demonstrated a responsible and far-sighted approach to business and were bold enough to have their performance assessed publicly. Baltic International Bank took part in the Sustainability Index assessment for the first time and received the bronze award at the official award ceremony.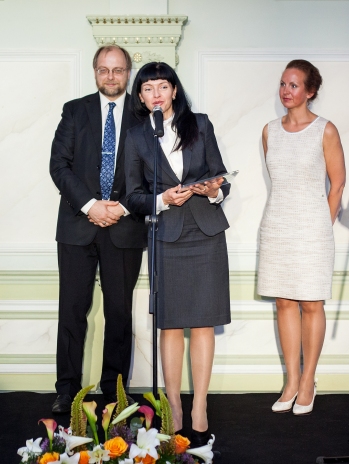 Commenting the award, Ilona Guļčaka, Chairperson of the Board of Baltic International Bank, noted as follows: 'The importance of a responsible and sustainable approach can be measured best from a time perspective. A bank is a long-term business based on trust, therefore it is particularly important for us that each decision that is made today serves for the common good in the long term. This year Baltic International Bank took part in the Sustainability Index assessment for the first time, and we are satisfied with the result we have achieved. This experience has enabled us to assess our performance in terms of corporate responsibility and sustainability in areas we excel in and has pointed at things that still need to be improved.'
This year the Sustainability Index assessment was completed by 42 Latvian companies: they assessed their performance in terms of strategic planning, market relations, work environment, ecology and local community. The highest performance was noted in the public sector reaching 81.2 per cent, while the assessment of work environment remained, for the second year in a row, at the lowest rating of 69.0 per cent. This year special attention was paid to equal opportunities for women and men in business companies as one of the principles of good governance.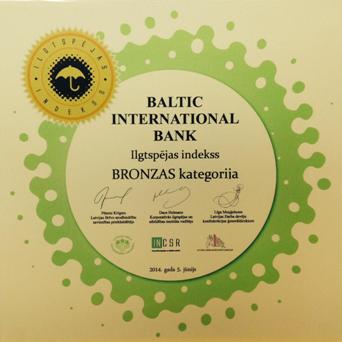 The Sustainability Index is a strategic management tool based on internationally recognised methodology that helps companies to assess their business sustainability and level of corporate responsibility in five areas: strategy, market relations, work environment, ecology, and society. It is organised by the Institute of Corporate Sustainability and Responsibility in cooperation with the Latvian Employers' Confederation (LDDK) and the Latvian Free Trade Unions (LBAS). Since 2010 when the Sustainability Index pilot project was first successfully implemented, the possibility of self-assessment provided by the index has been used by more than 200 companies.
The methodology for assessing the Sustainability Index of Latvian companies is based on the expertise of the most influential global indexes, Dow Jones Sustainability Index and Business in the Community CR Index, by taking into account the bar raised by the Corporate Responsibility Standard ISO 26000 and the GRI (Global Reporting Initiative) G3 guidelines. This localised index is used to assess corporate performance by taking account of the specific economic, social and environmental issues that are actual in Latvia at present as well as the index represents an internationally recognised understanding of the criteria of corporate responsibility and sustainability.