Bank-Supported Exhibition "Sodums. Ulysses. Travelling Man" To Open In Riga
On 16 June, the international Bloomsday, the exhibition titled "Sodums. Ulysses. Travelling Man" will be opened in Bastejkalns Park (overlooking the Old Riga), the Museum of the Riga State Gymnasium No 1 and Capital, a computer- service office. "Sodums. Ulysses. Travelling Man" is a multifaceted exhibition focusing on environmental art and literature and based on archival materials (related to the Latvia-born writer in exile and translator Dzintars Sodums) possessed by the Latvian writer Nora Ikstena and the founder and major shareholder of Baltic International Bank Valeri Belokon. The project is patronised by Valeri Belokon and funded by Baltic International Bank.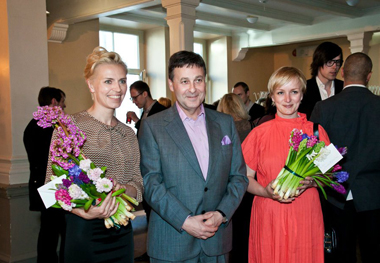 "We sincerely appreciate the opportunity to contribute to preserving Latvia's and global cultural heritage and passing it on to future generations. Guided by concern about the country's cultural values, we are committed to building a better, a noble-minded and a more cohesive society. And this is really a great honour to have this opportunity," Valeri Belokon says.
The exhibition is timed to celebrate Dzintars Sodums's 90th birthday (1922 – 2008). He had lived abroad for over 60 years, had finally returned to Latvia, his ethic homeland, where he had spent the last two years of his life. While in Latvia, he finished writing his last novel Viņpuse (a 'documentary novel', the writer's narration about his life in America during the years 1963-2006) and his magnum opus – the translation of James Joice's epic novel "Ulysses" into Latvian.   
To make Sodums's life and literary legacy available for public viewing in this exhibition, the organisers resorted to the language of modern architecture, urbanism and graphic design. The exhibition comprises three parts, namely the urban environment (Bastejkalns Park), the collection of authentic archival materials (the Museum of the Riga State Gymnasium No 1), and a video demonstration about Dz. Sodums (Capital).   
Entry is free-of-charge, and the exhibition will be open to the public till 16 July.
Photo: Baltic International Bank's shareholder and Council Chairperson Valeri Belokon, exhibition curator Ieva Zībarte and architect Brigita Bula.