Make profit investing in the co-financing of bank's projects!
Alternative investment product: in partnership with Baltic International Bank you have the opportunity to co-finance (credit) business projects of private persons or legal entities and companies of the Bank's choice to which the Bank has granted or is considering granting a loan.
Using these services:
You will receive fixed income in the medium and long-term;
Your investments will not be subjected to the fluctuations of the financial markets;
Be ready to bear the credit risks related to the implementation of business projects.
Advantages:
You participate in the development of sustainable business projects co-financed by the Bank and thoroughly assessed by the specialists of Baltic International Bank;
Specialists of the Bank control and monitor development of the business project throughout its entire course of implementation;
Investments are guaranteed with a material value (real estate, land, assets of the borrower);
After entering into the trust agreement the assets are segregated from the assets of the Bank;
Twice a year you will receive information about the status of Business project (credit) – financial situation of the borrower and fulfilment of the borrower's obligations in frame of the loan agreement, main changes during the reporting period, trends in the operating area of the borrower, analysis of the market situation in the borrower's area of activity.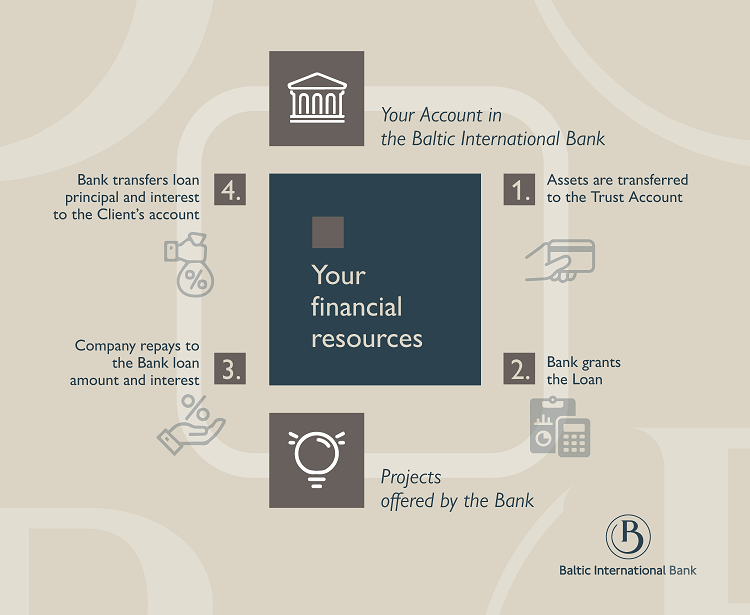 Bank can offer solutions and support, if you are efficiently planning the cash flow of your company, want to fund related enterprises or companies in the holding structure.
Investment opportunities
 
Baltic International Bank offers an innovative investment calculator, a tool where you can get acquainted with the Bank's current offer and select and choose different investment products according to your interests, find out the key indicators, i.e. the expected return, terms, possible risks, as well as apply for a consultation with the Bank's investment specialist.
Co-financing of business projects is an alternative investment instrument for investors seeking investment opportunities that are not directly influenced by financial markets fluctuations and are ready to bear increased risks associated with the implementation of the respective business projects.
By investing with the help of this instrument, you participate in the development of long-term business projects co-financed by the Bank and thoroughly assessed by the specialists of Baltic International Bank.
A transaction is done on the basis of a trust management contract, allowing for additional protection of your capital, as your assets are segregated from those of the Bank's.
You may choose investment projects from the list of business projects offered and co-financed by Baltic International Bank. Before a project is offered, specialists of the Bank conduct a comprehensive analysis of its business plan and financial stability, thus ensuring that the customer's investments are safe.
The Bank ensures the implementation of the loan process and provides comprehensive legal supervision and full further administration until the end of the investment term. This entails analysing the borrower's financial situation, payment discipline, legal position, the eligibility of collateral, and other material aspects of an investment transaction