Viktors Bolbats: "Baltic International Bank on its way to become a strong investment bank"
For the Latvian banking sector, the past year turned into a storm. The Open City [Открытый город] Magazine speaks to Mr Viktors Bolbats, Chairman of the Management Board of Baltic International Bank, one of the oldest Latvian banks, about how the bank is coping with the new challenges.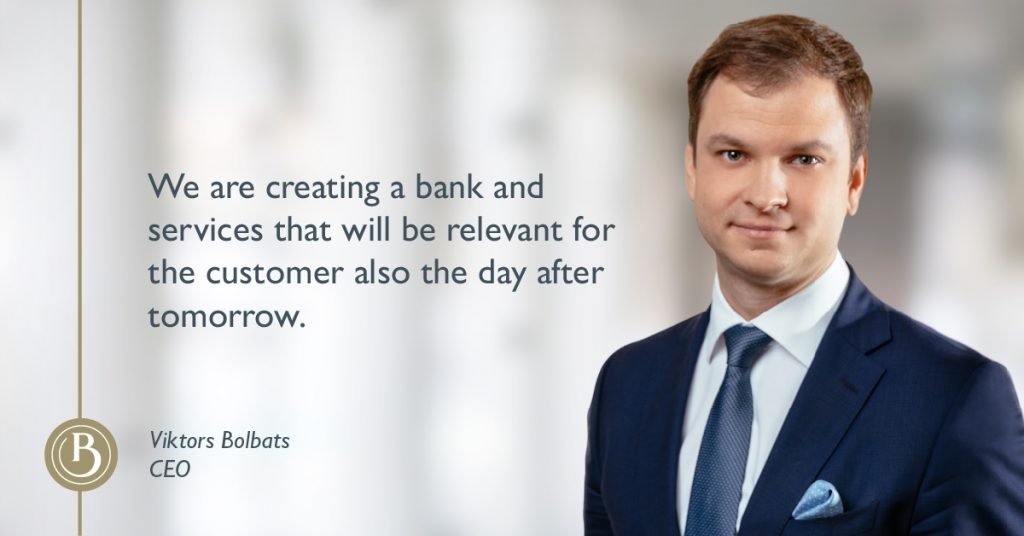 Strategy 2.0
Baltic International Bank ("BIB") started a major transformation in respect of structural changes, business strategy and personnel policy last year. A new term – Strategy 2.0 – was even created. Are there already any first results that we can talk about?
The past year was very intense for the Latvian banking sector, and the intensity still remains. A major sector overhaul is under way as Latvian Prime Minister Krisjanis Karins put it.
Despite the fact that changes require enormous resources, particularly in a small bank, last year our bank has succeeded in many ways.
First of all, it concerns changes to the business model, a modern challenge that I call "the substitution of income".
What does that mean?
Earlier, transaction fees represented a significant category in the income structure of Baltic International Bank. Now our model prioritises income from fees collected by providing services with high added value.
This is how it happens. The bank gains income from commission fees, interest and other types of income (transactions on FX markets etc.). Income from interest represents income from risk exposures, loans issued to borrowers, and guarantees. The extent of risk exposures for a bank largely depends on the size of the bank and on the size of its capital. Income from commission fees is something that a bank can generate almost regardless of its size. It's the bank's field of activity, it's our price list, customer policy, it's the customer interest in the bank. And the challenge for us was to replace the income we earned in transactions on the foreign exchange market in the past with income from commission fees from the provision of services with higher added value: these are brokerage services, transactions in securities, individual customer service. In 2018, Baltic International Bank set a record in this field by collecting nearly EUR 10 million in gross income from commission fees.
Yet another task that we faced was increasing the operational efficiency, since changing the business model also means evaluating the bank's cost components. As a result, during the first months of the year the balance before savings showed that the bank was operating with a profit, which is a good result in the current market conditions.
We saw a record growth in all priority areas: the total amount of customer funds reached half a billion EUR at the end of the year. This is a huge amount for us, and we are very pleased with this.
Why is it important? Servicing customers with such large financial resources at their disposal provides an opportunity to offer services to these customers; these are financially reliable customers matching the level of our commission fees. It is important for us to see dynamics in our total customer assets, and we see it.
Has the customer portfolio changed a lot during this time?
While currently we do not have a record-high number of customers as there are customers whose accounts have been closed as a result of our risk management policy, and there are also customers who are closing accounts by themselves because of our requirements which they are unable to meet, it is important for us to attract new customers, and we are looking for points of relevance on the local market. I would like to stress that we will never be a retail bank: we have no branches, no ATMs, this is not our way of doing business. It is important for us to protect the right to conduct business on an international scale, to structure the grid of our services, our tariffs so as to retain relevance for local customers as a bank. Never before have we opened as many accounts for local customers as we are opening these days. About one half of all new customers of Baltic International Bank are locals. It is a good indicator.
A half? Does this mean that you have not given up on foreign customers?
By no means! Foreign customers are present at our bank in sufficient numbers: we have got customers from Estonia, Lithuania, Germany, Austria, Ukraine, all of which are foreign customers from the viewpoint of the Latvian banking sector.
Managing Capital Properly
Speaking of the local market, Latvian businessmen often complain that getting loans from banks has become much more difficult now. How are you doing in this respect?
We do provide loans to local business. In terms of areas of activity we provide loans for real property, consumer goods industry, food industry, we have experience in supporting initiatives in the service sector, we are also taking our first steps in agriculture, farming sector etc.
What are the common points shared by all of these projects?
They are owned and managed by ambitious entrepreneurs who orientate themselves well in respect of business risks, who need a bank capable of delving into the proposed transaction, a bank that can provide services on an individual level. At our bank, individual attention is paid to each case. Over the last 12-18 months, we have supported local business by loans totalling ca. EUR 15 million, which is not a small amount for us by any means.
At present we are seriously working on improving cooperation with ALTUM, a state-owned development finance institution, which has excellent tools for ambitious entrepreneurs and exporters.
For start-ups?
No, not start-ups, though we are no strangers to this direction in business. We have an investment in the Imprimatur Capital Fund, a venture capital fund, thanks to which funding has been provided to various start-ups, for example, to Sonarworks, a well-known Latvian company working on acoustic calibration, and to Molport, an innovative company operating in the field of chemistry.
ALTUM will help us in providing loans to businesses which already exist but need to expand and develop.
Actually, lending to local businesses is one of the priorities of Baltic International Bank. The situation in the industry has created a large demand for loans from local private businesses, we receive more requests than we can process in a year.
Money management is another important topic for our bank. I have already said that, in total, our customers keep nearly half a billion euros in various forms at the bank. Merely keeping a million that you have earned by honest means at a bank has become more expensive today: this involves both commission fees for services as well as audits. Therefore we offer co-funding projects to our customers with the involvement of the bank. Our experts do a 100% analysis of the project and the customer can, based on our analysis and market knowledge, participate in the project with profit. If the project meets the criteria of profitability and reliability that we have set for ourselves and for our customers, we offer our customers a co-funding scheme for the project together with the bank.
Here we must take into account that such transactions have a 3-5 year horizon as a rule. We understand, however, that it is not profitable to keep funds in the bank account in amounts that can be regarded as long-term capital in terms of their profitability, and it would be a shame not to take advantage of the opportunities offered by the developing Latvian economy and the growing need for financing which exceeds the ability of banks to provide loans. These are the main major prerequisites for large investors and active entrepreneurs to come together for the mutual benefit. The bank acts as a partner, with all parties deriving benefit in these circumstances.
Top-Level Control
You have made large investments in the anti-money laundering (AML) system, both in people and in technology. Is the control mechanism fully developed now as a result of these investments?
Absolutely. The Tonbeller System, with separate modules for sanctions, embargoes, AML, beneficial owners, Dow Jones databases, is a global approach to due diligence in respect of customers and the economic activities they are involved in. We have a great experienced team, real professionals in the international banking sector. It is sufficient to say that the Council of Baltic International Bank includes Mr Joseph Cofer Black, former head of the CIA Anti-terrorism Center, former ambassador-at-large of the US State Department, and coordinator of counterterrorism activities, and Dr. Hans Friedrich von Ploetz, former German ambassador to NATO, UK, and Russia.
In 2018, a colleague of ours from the Management Board of the Bank received a CAMS certificate which is an internationally recognised certificate in the field of AML, and now we have 5 more colleagues at the bank in the middle of the process for obtaining this certificate.
Enormous resources are used for the control mechanism, and the bank is spending from EUR 800,000 to EUR 1 million a year to maintain the IT systems and to keep specialists at the bank. Investments in this area will continue.
For Baltic International Bank, there are three key areas in terms of staff. The first, of course, is compliance with AML regulations. The second is bankers – our face. Requirements for them are growing not only from aspects like "know your customer" and "know the rules of the game in the sector". Being a private banker is more difficult today, one has to be familiar with a variety of topics, legal issues and other issues relating to or faced by customers. Here, I think, we will replenish our staff actively. And the third area, where we compete with the entire market, is IT specialists.
Baltic International Bank has received a positive assessment from the New York rating agency Sigma Ratings in the field of prevention of financial offences recently. What does this mean to you?
Expert opinions are very important in the banking business. And the assessment by Sigma Ratings is a momentous occasion for us. This American company analyses hundreds of banks using a new method. You see, in the area of bank audits, there exists a classic approach, and now there's a new one. The classic approach is when an audit or external assessment is carried out in the direct presence of auditors at the bank where they check and re-check everything during this period of time.
Sigma Ratings uses modern technologies actively. I had an interview with the management of Sigma Ratings in Washington over a special video channel. We communicated with each other, including by remote means; it was, of course, a very economical and efficient way of communication, they didn't need to fly over from America, and there was no need for us to fly to America. Nevertheless, the testing was quite demanding for the bank. For example, the auditor entered prepared payments containing a small element of risk into our system which the system was expected to identify successfully.
This was a unique experience, and the BBB+ rating we got is a good rating the description of which, among other things, includes the following phrasing: the control system is adequate for the model chosen because not every model needs the same control system. It was a wonderful conclusion for us; we shared it with the regulator of the banking sector, our partners and correspondent banks.
However, we are not going to stop at that. Baltic International Bank is currently negotiating with our partners in the USA and major local partners on performing an external evaluation of our systems to show once again that we actually correspond to the level that we're at.
Old Money, New World!
In May, Baltic International Bank held a large investment forum. In contrast to the previous years, it was not only customers of the Bank that were invited, there was also a wide range of guests. What necessitated such changes to the forum format?
This year our prestigious investment forum "Old Money, New World" brought together a range of extraordinary personalities, people famous in the world and in Latvia, and powerful minds of the present time, starting with our honoured guest and main speaker Mr Charles Morgan who shared his heritage, conclusions and far-sighted ideas. The forum provided an opportunity to communicate with more than a hundred customers from the private banking segment, business partners and stakeholders. The central theme of the forum was "Wealth inheritance: the path to financial security and confidence."
This year we selected an open format for the forum, with the participation of customers, both current and potential, of the Bank, partners, institutions located around the bank, representatives of the stock exchange, large consulting companies, and entrepreneurs. It was sort of an experiment.
It is clear that this format is aimed at attracting new customers and projects. How do you see the future of Baltic International Bank?
The message of our forum is clear: we are in motion, we're creating something that should be relevant for the customer also the day after tomorrow. We are very pleased with the outcome of this experiment. One needs to position oneself loud and clear. One must say honestly: Look, colleagues, we are primarily a bank, we open accounts, handle customer questions, grant loans, issue guarantees etc., but we also believe that two large groups – those who need funding for projects and those who own such funds – must come together to derive mutual benefit. We believe in it, we are building this, but we have to do it together with you, we cannot do it in isolation from you.
Of course, ten out of ten potential partners will not necessarily say: Yes, like you, we too believe in, for example, the sector of energy without the CPC (compulsory purchase component) which is developing thanks to technology and not subsidies, which is developing thanks to honest and ambitious investors rather than state support. But if three out of nine potential partners will say: I believe in it, I want to learn more, this will be a success. If three more people will ask: Have you thought about this and this? Have you taken into account this and this, this will be an even greater success. And three more will probably say: I don't know anything about the sector of energy, I can't participate in it, I'm waiting for another offer. And this will be a success, too.
Baltic International Bank remains an investment bank capable of offering classic services as part of our approach to individual services, we have the competence, products and services which allow directing customer funds, including in projects of real economy, in which the bank participates in the role of experts, partners and co-financiers.
We understand what the Latvian economy needs, and we see our natural place as part of this economy. Baltic International Bank does not need to invent a niche for itself; we are a privately owned bank with owners from Latvia, we don't need to look for points of contact with the local business: we have been flesh and blood of this very business for 26 years now, and we're staying. This is a logical choice for us, this is a niche in which we are already present.
Speaking of the industry as a whole, we feel we are a stable player, we have a strategy, and we need time to implement it. We feel steady even if it is chaos that surrounds us. The present time checks and rechecks everyone and everything.
Tatjana Fasta, magazine "Freecity", 07.06.2019