Chairman of the Council Valeri Belokon Attended the 'Liaisons au Louvre' Charity Events
Last week, on 16 and 17 June, the Chairman of the Council of Baltic International Bank Valeri Belokon attended a series of charity events 'Liaisons au Louvre' in France at the invitation of the founder of the American Friends of the Louvre Foundation Christopher Forbes, Vice Chairman of the Forbes Publishing company. The events brought together a number of high-ranking guests from different countries, including political figures and owners of big international companies.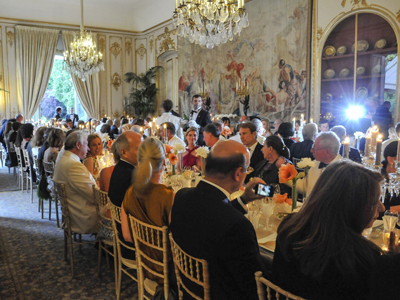 It was opened with a dinner in an ancient Paris castle, which is a residence of the USA Ambassador in France Charles Rivkin. On the next day the guests were invited to an event held in Luxembourg Palace and the grandiose events were completed on 18 June in Louvre with the final gala concert with entertainment by the American singer Diana Ross, which was attended by a number of recognised persons from show business, actors, designers, etc.
Liaisons au Louvre is organised by the American Friends of the Louvre Foundation at the initiative of Becca Cason Thrash, known for her charity activities focused on retaining as many masterpieces of French culture as possible. Funds collected during the auction held within the framework of the event are traditionally forwarded for the retaining and popularising of French cultural heritage, in particular for restoration works of the famous Louvre. This year was the third time the event has been held.
The American Friends of the Louvre Foundation was established in 2002 for the purpose of strengthening the Louvre cooperation with the American public. The activity of the Foundation is focused on increasing the accessibility of Louvre expositions for English-speaking guests, contributing to cultural cooperation by means of arranging exhibitions and international educational programmes, as well as the financing of Louvre projects, such as the renovation and restoration of galleries, grants and educational programmes in France and the USA.