Baltic International Bank issued a loan of EUR 1.2 million for a real estate renovation project
Continuing the development of the lending segment, Baltic International Bank issued a loan in the amount of EUR 1.2 million for a real estate development project at 63 Dzirnavu Street, Riga.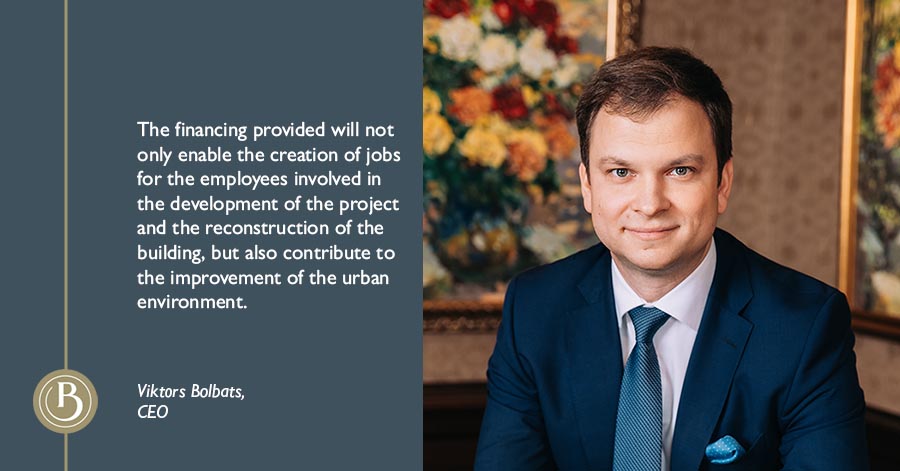 The project provides for the renovation of residential buildings and further income-generating activities through the sales and rental of modern apartments. The Bank's funding will be used to renovate the building's façade and interior decoration, resulting in the development of 59 apartments. This project involves the shaping of apartments for which the developer and the Bank see potential in terms of sales or rental under the current real estate market conditions.
"The financing provided will not only enable the creation of jobs for the employees involved in the development of the project and the reconstruction of the building, but also contribute to the improvement of the urban environment as well as increase the supply of the rental market in the capital. Crediting support for the segment of small and medium-sized enterprises is one of the priorities of Baltic International Bank's operating strategy, and 5 million euro was approved for the issuing of loans in the first half of the year," Viktors Bolbats, Chairman of the Management Board of Baltic International Bank, points out.
Commenting on the transaction, Mārcis Dobrājs, real estate developer and representative of D63 SIA, emphasises: "It is gratifying that even under the current market conditions there are banks that see the opportunity of implementing promising projects and are ready for strategic cooperation with entrepreneurs".
As previously reported, Baltic International Bank closed the first half of this year with a profit of 273 thousand euro.