Doctor of Economics Edgars Voļskis takes office on the Management Board of Baltic International Bank
Doctor of Economics Edgars Voļskis took office on the Management Board of Baltic International Bank as of 1 August this year. As a Member of the Management Board, Dr. E. Voļskis will be in charge of the Bank's financial activities and related matters as well as the development of business and information technologies.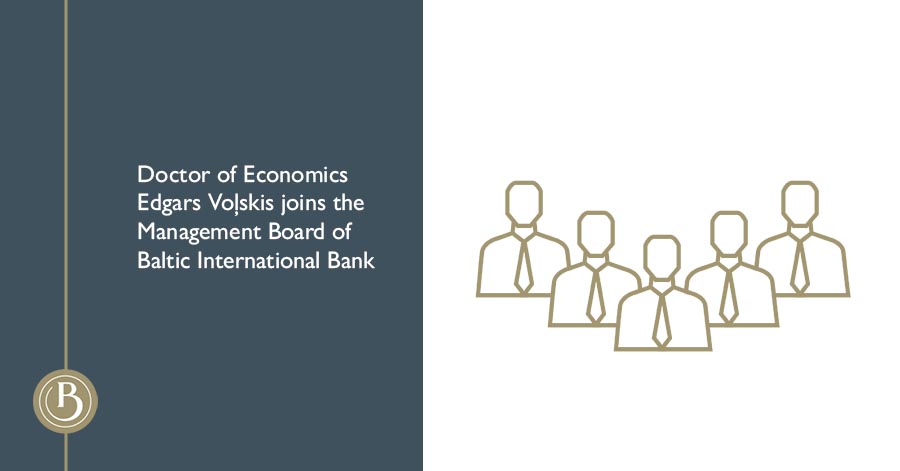 Commenting on the confirmation of Edgars Voļskis in office, Viktors Bolbats, Chairman of the Management Board of Baltic International Bank, points out: "I am pleased that Mr. Voļskis has joined the Bank's management team!"
The professional experience and knowledge of E. Voļskis will make a significant contribution to the further strategic development of the Bank, and I am convinced that his expert point of view will allow the Bank to more decisively and more effectively implement the strategy for the development of its activities, which we have already begun to introduce. The year 2020 is significant for the Bank – we have successfully resumed lending, closing the first half of this year with a profit. Strengthening of the management team and welcoming of new strong professionals is a logical step towards further success!Viktors Bolbats
Edgars Voļskis holds a PhD in Economics from the University of Latvia and is one of the most recognised experts in the field of the pension system in the country. He is the author of the book Guidelines of the Pension System, a board member of the Latvian Association of Economists and the author of a number of scientific publications.
Edgars Voļskis worked for the auditing company KPMG for 13 years, of which the last two years he was involved in the establishment and management of the KPMG office in Minsk (Belarus), where he also worked before joining the management team of Baltic International Bank. In the period from 2009 to 2011, he was an advisor to the Minister of Welfare, while being employed in audit companies. His 14 years of professional experience is also associated with work in Croatia, Slovenia, Belarus, and Bosnia and Herzegovina as an expert on project assignments for the World Bank, UN, EBRD and other international organisations.
He supplemented his education by studying at Harvard University (USA) and also completed the combined online program of Oxford and Princeton Universities.
In addition to his professional knowledge and extensive work experience, Edgars Voļskis has a command of eight languages, including not only Latvian, Russian, English and German, but also Spanish, Slovenian, Bosnian and Serbo-Croatian.