Bond issuance as a first step towards quoted state-owned joint stock companies - Viktors Bolbats
The need to support the increase of competitiveness, development and rapid growth of the Latvian national economy utilising the capital market potential and stock exchange that have been underused so far is becoming increasingly clear. The experience of Latvia's closest neighbours shows that listing state-owned companies is a way for the state to achieve rapid growth in the company value without losing control of the company – both by attracting additional funding for development and by motivating the company to work to the best standards of corporate governance. In addition, the intensification of the national capital market favours foreign direct investment and increases in the amount of taxes paid since the funding raised allows companies to develop faster.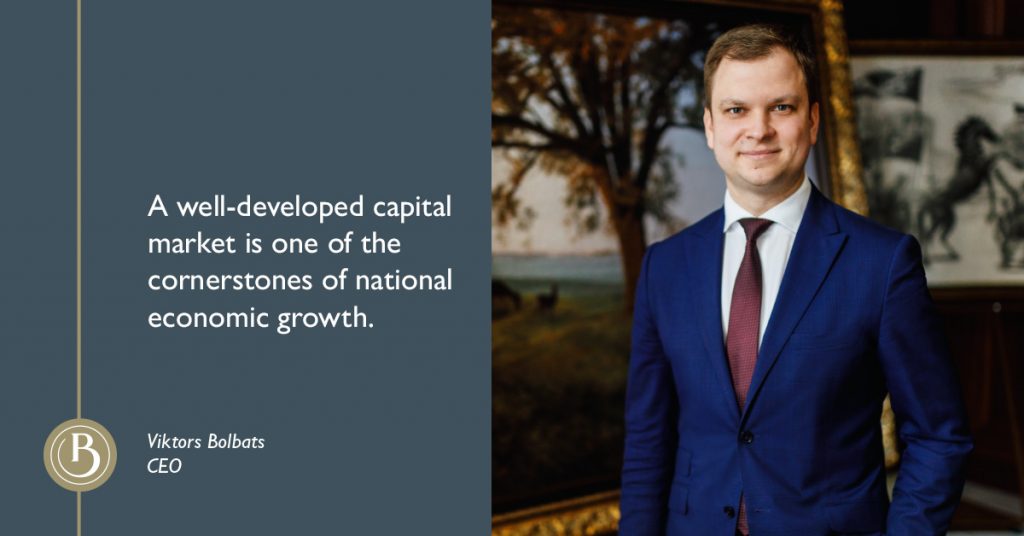 Energy sector and port
In Lithuania, the shares of five state-owned energy companies are successfully listed on the stock exchange with the state retaining a controlling interest or ensuring control over important decisions.
The Estonian government, in turn, has taken the first serious steps to make more effective the use of its capital invested in companies and to increase its value – in June 2018, the Port of Tallinn (Tallinna Sadam), an Estonian port management company, was successfully quoted on the Tallinn Stock Exchange which is considered to be an absolute success story in Estonia since it raised EUR 150 million for development. 14 thousand Estonian individuals became shareholders in said company five thousand of whom opened a securities account for the first time, i.e. started saving up for their future through the stock market for the first time.
Where we are and where we should be
At present, Latvia has the lowest market capitalisation in the Baltics far behind its neighbours. The Latvian capital market is currently characterised by a small number of listed companies (23 in total); stock market capitalisation in Latvia is only EUR 0.8 billion. New members come in slowly, too; for instance, in 2016, the stock exchange was entered by JSC HansaMatrix, the first new company to enter the stock exchange after a 12-year break, and in 2017 it was followed by JSC MADARA COSMETICS. Mention should also be made of the low liquidity, i.e. the low volume of free flow shares. In spite of record private savings, the activity of private investors is relatively low since other types of investments and savings that are not conducive to the development of the capital market are more popular in Latvia.
In order to stimulate capital market development, large companies with a market value of several hundred million euro need to be listed on the stock exchange as such companies attract the initial interest of foreign investors and activate local investors. For instance, state-owned companies, including JSC Latvenergo, JSC Latvia's State Forests, and JSC Latvian Railway, hold the highest positions in the top companies of Latvia's most valuable companies.
Shares or bonds
Shares or IPOs (initial public offers) and bonds can be used to raise new capital and inject financial resources into a company. By acquiring shares, new investors invest in capital and become co-owners of the company; whereas, when buying bonds, investors lend money to a state company without gaining ownership. In the current low interest rate environment, investor demand for government-owned corporate bonds is high. This is evidenced by the successful bond issues of JSC Latvenergo and JSC Altum where demand significantly exceeded supply.
It should be noted that share quotation is a relatively complex and time consuming process: it is necessary to restructure the company into a joint-stock company, implement international financial statements, and prepare a public offer prospectus. Bond issuance is relatively simpler and quicker but brings benefits in terms of corporate transparency, governance, disclosure, and capital market development. Through bonds, the state retains control while sharing business risk with the private sector. Bond issuance is an optimal first step towards quoting state-owned company shares.
Latvia's successful examples in the bond market
Latvia can also boast successful examples of raising new capital for state-owned companies. Here we can mention the green bonds traded by JSC Latvenergo where the record high interest of investors and the fixed low end yield of bonds was proof of successful performance as well as of the investors' interest in investing in green projects as asset management funds, insurance companies and banks showed interest in bonds not only in Latvia, Lithuania, Estonia, but also in France, Austria and Finland. In total, green bonds worth EUR 100 million were issued attracting 25 different investors.
Also, the success story of JSC Altum which attracted EUR 45 million on the Nasdaq Baltic bond market is to be highlighted. In May this year, the company issued another EUR 15 million worth bonds where the amount recorded was 13 times the amount issued. Over the next three years, the company plans to raise up to EUR 55 million in additional emissions.
The Latvian airline airBaltic has also recently issued five-year bonds worth EUR 200 million which is one of the largest issues ever in Latvian business attracting more than a hundred investors from 25 countries. Although the main airBaltic's shareholder is the Latvian state, it is interesting that the bonds will be quoted exclusively on the Euronext Dublin Stock Exchange without listing on the Nasdaq Baltic which would facilitate the development of the local capital market and allow increasing market capitalisation.
Latvian people intend to participate
Very important positive news is the intention of Latvian people to get involved and participate in capital market development in our country. According to a survey conducted by the research centre SKDS in December 2017, 67% of people surveyed support quoting of the shares of large Latvian state-owned companies on the stock exchange so that they can be freely purchased by all citizens. 49% of the population would like to invest their free cash in the shares of well-managed Latvian state-owned companies on the stock exchange.
By making state-owned companies public and quoting on the stock exchange, or by issuing corporate bonds, any resident of Latvia has the opportunity to become an investor in these companies. This allows receiving regular and important information about the company's operations and, in the case of shares, to participate in the taking of decisions important for the company. It would also build and develop an active civil society and foster dialogue between large, prominent state-owned companies and society. The FCMC's data shows that 9 billion euro in Latvia are invested in household deposits, and some of these funds could certainly be invested so that people could raise  capital, increase their well-being and look into the future more safely.
A well-developed capital market is one of the cornerstones of national economic growth. As in other areas, the best practice principle applies here, namely, state-owned joint-stock companies planning to take the first steps in raising capital on the capital market through bond issues should follow the experience of JSC Latvenergo and finance institution Altum in adapting what they have achieved and adjusting it to own sector. In addition, the company will be a winner in any case since capital market operations streamline the company's processes making it more transparent, more efficient in management and more attractive to investors. While the economic benefit of public listing of state companies is obvious, it is essentially a political decision in the first place. Therefore, the government's decisions over the next few years will show whether Latvian state-owned companies will be able to take advantage of the free capital market, ensure that growth of the value of state companies and, at the same time, long-term economic development in Latvia. 
Opinion article for portal DELFI.lv, 11.08.2019