Baltic International Bank has for the first time in Latvia immortalised the works of the Latvian artist on its payment cards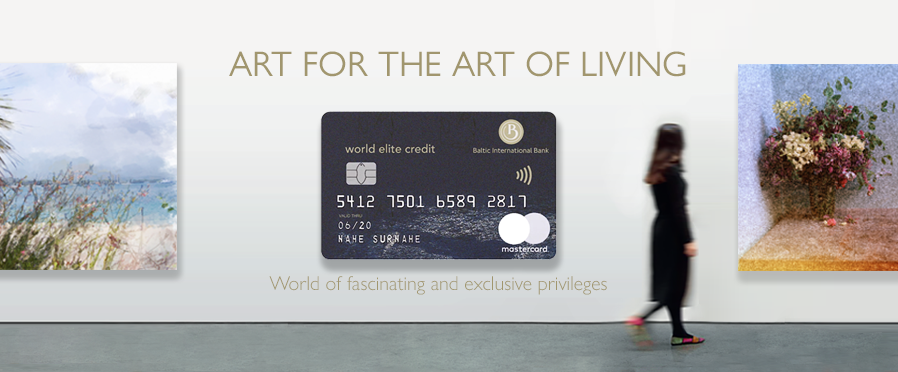 Baltic International Bank has issued new, exclusive payment cards having become the first bank in Latvia whose credit cards feature fragments of works by the famous Latvian artist and stage designer Ilmārs Blumbergs. 
"When creating new credit cards of Baltic International Bank, it was important for us not only to provide the functionality of modern cards but also to create an exclusive and unique design for them. By selecting I. Blumbergs' works, we wanted to honour the memory of the great artist and allow his works to continue living not only in exhibition halls but also in everyday life," says Viktors Bolbats, Chairman of the Management Board of Baltic International Bank. 
"Issue of new payment cards of Baltic International Bank with the inspirational design of I. Blumbergs is not accidental – in partnership with the legendary artist during his lifetime a number of I. Blumbergs' ambitious projects were implemented, i.e. staging of the opera "Aida" at the Latvian National Opera, exhibition, book and film "I Will not Die", the Bank's commemorative medal showing a Bowing Servant, etc. I am glad that the release of new payment cards with the fragments of I. Blumbergs' works will allow our clients worldwide to get acquainted with the artistic wealth created in Latvia!", continues V. Bolbat. 
Ilmārs Blumbergs' works decorate three exclusive credit cards of Baltic International Bank. Mastercard Platinum and Mastercard Amber cards are decorated with the fragments of works created by I. Blumbergs within the framework of the Venetian cycle, while the most prestigious Mastercard card, i.e. the World Elite card, is decorated with a piece of artwork created within the series of works "Logi/Windows".

Ilmārs Blumbergs (1943-2016) is a world-renowned Latvian artist and stage designer, winner of many Latvian and international awards, the Order of the Three Stars knight. I. Blumbergs is considered to be one of the strongest and most inspirational personalities in the arena of Latvian art, and each of his exhibitions, the appearance and expression of any work in the artistic space is called the event with a capital E.
---
Explore the world of fascinating and exclusive privileges
with Baltic International Bank payment cards!