Classic Banks and Fintech – Competitors or Allies - Viktors Bolbats
Fintech companies, i.e. startups working in the field of financial services, are currently gaining popularity. There are various assumptions that over time Fintech companies will be able to compete with classic banks as they are available to a wider range of people, able to adapt more quickly to market fluctuations and vary the offer. There are also questions about how banks should behave in the context of the growing popularity of Fintech – try to imitate them, compete, collaborate with them or just take a wait-and-see attitude to see how Fintech will work in the full economic cycle realising that many of them are still very young and did not survive the financial crisis; in addition, there are economists who point out that most modern Fintech companies have not yet gone through the full economic cycle. But let's not be jealous because there's a time and a place for everything; moreover, the key to successful future activities of both banks and Fintech is "cooperation" not confrontation.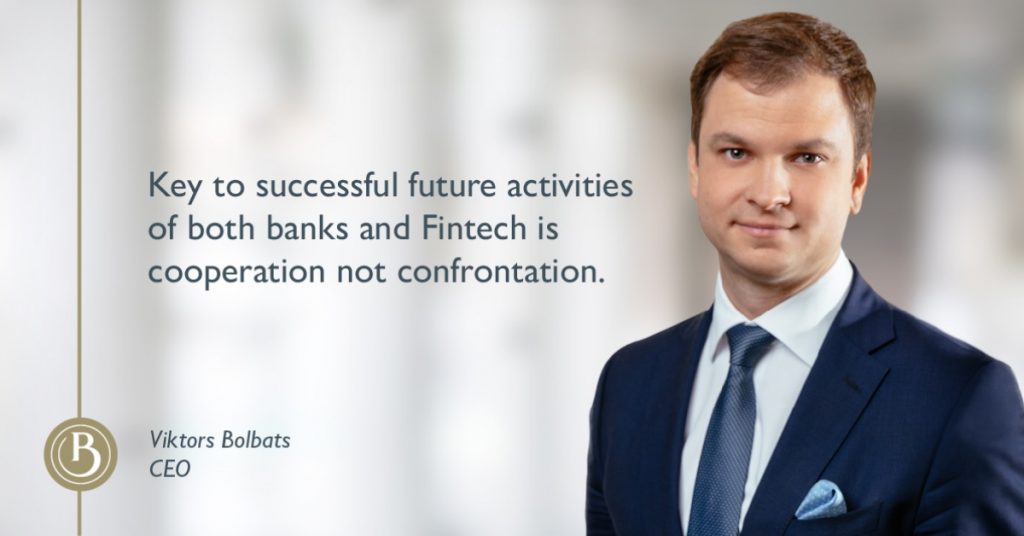 Change as a driving force
While the debate about the role of classic banks and Fintech in the financial industry is currently very relevant, it must be remembered that the financial industry is changing, and these changes are welcome and inevitable. For instance, in the 60s and 70s of the 20th century, the use of aviation services was very expensive, unsafe, and also less effective. Just imagine that the aviation industry could remain at the level of the 70s! Currently, such airlines as Ryanair provide low-cost flights, the fact to which we have already got accustomed and which in its time could be called Fintech of aviation; there are still world-class airlines such as Lufthansa and British Airways whose classic and proven service has a large number of supporters. There is enough space for everyone, and consumers with their choice and purchase will dot the i's and cross the t's and show what exactly they need and what is most useful for them. The same goes in the financial sector. I am absolutely not one of those who speak of an imaginary war between people and robots, the human brain and artificial intelligence, banks and Fintech because, in the end, everything is decided by the consumer, the customer who chooses a particular service.
I sincerely believe that the market is large enough for traditional banks with a large capital base, financing and solutions for many people as well as for private banks without call centres, and private players that can think though the problems and questions of each individual customer. Likewise, there is a place for Fintech with its democratic and affordable financial solutions. It is for customers to decide with whom to collaborate.
Banks' strengths are customer knowledge, compliance with requirements, trust, security and experience of credit organisations, while the advantages of technological companies are their flexibility, technological solutions, social networks, the ability to quickly adapt to changes and speed.
More affordable investment opportunities and the future of Fintech
Many Fintech companies have already entered the market and work as startups. It is not yet known whether they will grow and eventually occupy a large share of the financial sector, or they will rather occupy niches and provide specialised services to larger institutions. Large traditional banks also invest in financial innovation and have created Fintech units in organisations. Some of them adopted Fintech companies or established partnerships with them to provide specialised services. The decisive role of technology distinguishes Fintech from traditional banks, but many traditional banks also implement Fintech solutions and, in some cases, enter into partnerships or even acquire Fintech companies to increase their innovative potential.
It cannot be denied that Fintech companies make investments more affordable, provide free capital flow, stimulate change, and provide comprehensive financial services that are accessible to more people, better serve people's daily needs and act in accordance with the new generation of investors. In 2018, Fintech deals and financing set new records in the Fintech world reaching over $ 39 billion worldwide (CB Insights data for 2018).
Stricter regulation
It should be noted that Fintech' success is partly due to rather weak regulation in this industry as companies can manifest themselves more freely, adapt more quickly and modify services easier. Until now, the Fintech industry has not been strictly regulated, for instance, in comparison with classical banking services, where regulation is very strict. As a result, Fintech now has some advantages, but it also undermines customer confidence. I believe that in the near future the Fintech industry will also undergo stricter regulation which may affect the future prospects of some market players and their ability to develop in the fast-growing Fintech industry. Regulation increases confidence in the business, you can rely on it more. Strict regulation is already being introduced throughout Europe. I predict that the regulatory environment will change for both non-bank lenders and investment platforms.
Collaboration between banks and Fintech
If a few years ago Fintech positioned themselves as eccentric rebels, the smartest Fintech companies and the smartest banks are currently moving towards partnerships in the service sector at various degrees and at different levels.
In general, there are various forms of cooperation between classic banks and Fintech in the industry. If some time ago Fintech was considered as a potential threat to banks and the banking industry as a whole, now they are talking about cooperation and mutual benefit. Fintech companies can support banks by providing specific services, solutions, such as risk analysis services. Baltic International Bank also uses Fintech companies as service providers. Currently, the Bank is in the process of change successfully introducing a new business model; therefore, it is necessary to adapt many new ideas and methods. We work with Fintech and sometimes choose Fintech companies in Latvia and the Baltic countries to offer classic banking services. Here is one example of how a classic bank can work with Fintech. We are a client of the American rating agency Sigma Ratings which uses an advanced technological approach to assessing management effectiveness and the risk of financial crime at the organisational level. At the beginning of this year, the company also conducted an independent assessment of Baltic International Bank assessing the risks of organisations related to the prevention of financial crimes, management, sanctions, corruption and reputation. The company did all of that online using a methodology based on best practices of the industry.
Fintech perfectly complements classical banking making it possible, for instance, to make use of available data and offer data analysis services more reasonable since today data is more valuable than gold and oil. The term Insight Driven Organisation (IDO), an organisation that uses analytics, data and its contribution to all decision-making processes, is gaining popularity.
Stable banks and flexible, adaptable Fintech
We can enthusiastically introduce innovations trying to catch and test every new trend, technological innovation and offer, but it's worthwhile to return to the basics and realise that stable, boring, predictable banks with large managed capital are needed in order to develop prosperous society. Banks that have survived both financial crises and boom times. Banks that understand business cycles and their associated volatility. Fintech companies are amazing, but only time and a full economic cycle will crystallise the strongest players in the industry.
Fintech companies are flexible and adaptable, but traditional banks also invest in technology and expand their digital banking services and offers. In general, we can conclude that financial technologies are developing and becoming more effective. This is caused by competition between Fintech companies and the traditional banking sector. The good news is that Fintech challenges traditional banks to grow and improve which is very convenient for consumers as new solutions and ideas help meet customer needs more effectively.