ACBL Officials Meet with Prime Minister
News
- September 12, 2014
On September 12, senior officials of the Association of Commercial Banks of Latvia (ACBL), including the Chairperson of the Bank's Board and a member of the ACBL Council Ilona Gulchak, met with Latvian Prime Minister Laimdota Straujuma. During the meeting, they talked about the overall impact of Russia's sanctions on Latvia's economy and discussed other lending industry issues of vital importance.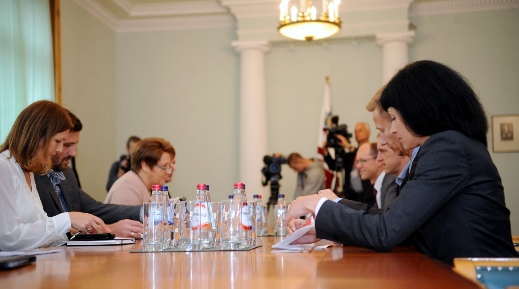 The participants agreed that, in light of the current developments and possible new sanctions, Latvia's economy in general and businesspeople in particular could be facing a potentially difficult period ahead. To tide over the difficulties, we should work closely together. Communication should be directed towards constructive cooperation rather than towards making populist statements.
The meeting participants also discussed the situation in the agricultural sector and its development prospects in the context of new sanctions. The representatives of the banks once again have drawn the Prime Minister's attention to the amendments in Latvian Insolvency Act which can adversely affect the country's lending legislation and reduce the access to credit not only for new families but also for small and medium enterprises (SMEs).
The ACBL was represented by President of ACBL Martins Bicevskis; Chairman of the ACBL Council and Chairman of the Board of Swedbank Maris Mancinskis; members of the ACBL Council: Chairperson of the Board of Baltic International Bank Ilona Gulchak; Chairman of the Board of SEB Bank Ainars Ozols; Chairman of the Board of ABLV Bank Ernests Bernis; Chairman of the Board of Citadele Bank Guntis Beļavskis, and Chairman of the Board of Rietumu Banka Aleksandrs Pankovs.