Aleksandrs Čaks Poems Released in Ukrainian
News
- September 13, 2012
A new Ukrainian translation of the poetry book "Heart on the Pavement" by the Latvian poet Aleksandrs Čaks* will be presented in the Ukrainian city of Lvov on Friday, September 14, during the Lvov International Book Exhibition, which is occurring from September 12-16.  Several contemporary Latvian poets will attend the event to celebrate Čaks, as well as Latvian poetry and culture.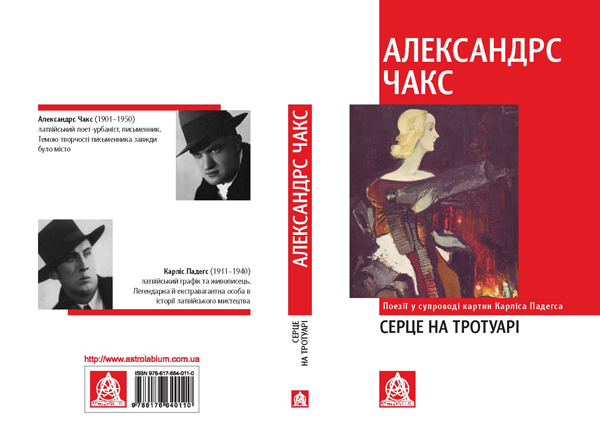 The poetry book, which was illustrated by the Latvian artist Kārlis Padegs, was translated into Ukrainian by Professor Jurijs Sadlovskis, who is an active supporter of Latvian and Ukrainian culture in both countries.  The book has been published with the financial support of the Baltic International Bank, and 1,000 copies were released by the Astrolabe publishing house in Ukraine.
"We are very proud that we can support this project and thus make an investment in the popularisation of Latvia's outstanding cultural values beyond our country's borders," says the Deputy Chairperson of the Board of Baltic International Bank, Natalya Tkachenko.  "Čaks wrote poems which celebrated his love for Riga, and I hope that everyone who opens this book will get a sense of that and see that the book is a wonderful present for readers in Ukraine."
Also present at the book forum in Lvov will be the director of the Latvian Literature Centre, Jānis Oga, poet and translator Uldis Bērziņš, and poet Pēteris Cedriņš.
"The release of the Čaks book is a beautiful event which will attract attention to the Latvian cultural heritage in Ukraine, also facilitating already successful partnerships between the two countries in the area of culture," says the book's translator, Sadlovskis.
Oga, for his part, says that he is delighted about the release of a new translation of Latvian literature in Ukraine.  "Aleksandrs Čaks was a great master of poetry, and yet he is always modern and close to every generation," he says.  "I very much hope that the translation by Jurijs Sadlovskis will attract the attention of readers in Ukraine, as has happened over the past few years with translations of Čaks' works that have been released in Sweden, Denmark, Georgia and Bulgaria."
Literary links between Latvians and Ukrainians are long-standing and full of tradition, with people in Latvia regularly getting a chance to learn about Ukrainian literature, and vice versa.  A few months ago, for instance, a translation of the Ukrainian poet Oleksiy Dovgy, "Touched by Lightning," as translated by Imants Auziņš.  Oga says that this was made possible only because of the hard work and love for Latvia and Latvian culture which are possessed by people such as Sadlovskis, the late Jurijs Zavgorodnijs, and other poets and translators.
Sadlovskis has helped Ukrainians to learn about many Latvian works of poetry and prose.  Last year he released the first translation of Latvian folk songs in the Ukrainian language.  In 2010, he published fragments of the epic Edvards Virza poem Straumēni in Ukrainian in the Ukrainian foreign literature journal Vesvit (The Whole World).  Sadlovskis has also translated a compendium of poetry by Klāvs and Jānis Elsbergs, as well as poems by Hermanis Marģers Majevskis, Knuts Skujenieks, Uldis Bērziņš, and other Latvian authors.
Two presentations will be held in honour of the presentation of the Čaks book in Lvov.  On September 14, a small reception will be held for special guests from the Ukrainian intelligentsia, representatives of Ukrainian government institutions, and other fans of poetry.  A larger event for all interested visitors will be held on September 15.
*Aleksandrs Čaks (1901-1950) was a poet known for his focus on various aspects of urban life, including nightlife, homelessness, poverty and even sewage systems.