Bank Supported Ukrainian Translation of Aleksandrs Čaks Poetry Book Attracts Much Interest
News
- September 20, 2012
A Ukrainian translation of the Aleksandrs Čaks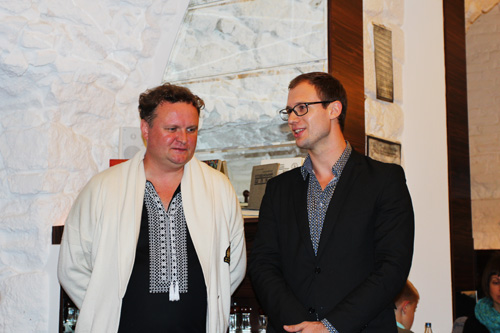 book "Heart on the Pavement" was presented in Lviv over the last weekend, and it attracted a great deal of attention from the audience.  The presentation was attended by many poets, artists, representatives of the local mayor's office and the district administration, as well as local politicians.
"Heart on the Pavement" was illustrated by Kārlis Padegs and translated by philology professor Jurijs Sadlovskis, who is an active supporter of Latvian and Ukrainian culture in the two countries.
"Aleksandrs Čaks was a distinctly urban poet, and his very unusual imagination was a surprise in the Latvian literature of the 1920s," says the director of the Latvian literature centre, Jānis Oga.  "I am sure that because Jurijs Sadlovskis is himself a poet, he has produced the most precise and appropriate translation of Čaks' poems in the Ukrainian language."
The book was published thanks to the support of the Baltic International Bank and printed by the Astrolabe publishing house in Ukraine at a print run of 1,000 copies.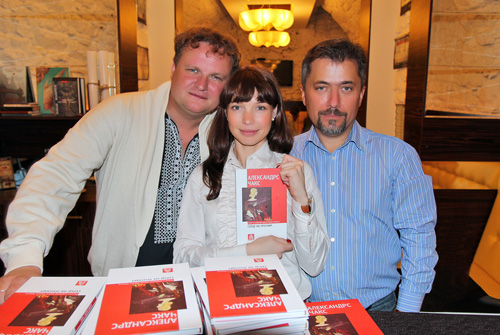 Representing Latvia at the event were Oga, poet and translator Uldis Bērziņš, and poet Pēteris Cedriņš.
The book was presented at the Lviv International Book Exhibition, nearly simultaneously with the Song Days festival that has been traditionally held in Latvia in honour of the centennial of the birth of Rainis.  The festival was held for the 48th time in September.  In Ukraine, Latvian poets talked about this lovely tradition, about generations of poets, and about countless poetry readings all around Latvia.  They also talked about new aspects of Latvian prose and dramaturgy.
"Translators are our greatest value, because they are unofficial ambassadors for culture," says Oga.  "We hope that in future there will be new translations not just of poems, but also of prose works and plays.  It would be so nice and logical to read a new Ukrainian novel each year.  We should see presentations of Ukrainian plays at Latvian theatres, and we should allow people in Ukraine to enjoy Latvian culture.  We are really hoping for new projects, and I am sure that many new ideas were created at the Lviv Literary Festival and Publishers Forum."
Translator Sadlovskis confirmed that other masterpieces from Latvian heritage will soon see the light in Ukraine.  He is currently translating Rainis' play "Joseph and his Brothers," and there are hopes that the play might be presented by one of Ukraine's theatres.
The deputy head of the Baltic International Bank office in Kyiv, Anna Molotskaya, said that she was pleased about the successful organised and widely visited cultural event.  "Supporting the publication of the book was sacred work which will leave ongoing tracks in the cultural life of Latvia and Ukraine," she said.
Photos: 1) philology professor Jurijs Sadlovskis, Head of Ivan Franko National University of Lviv "Centre of Baltistics" (on the left), director of the Latvian literature centre, Jānis Oga (on the right); 2) J.Sadlovskis (on the left), Deputy Head of Representative Office in Kyiv, Anna Molotskaya,  (in the middle), Lviv Military Institute president, director of publishing house Astrolabe, PhD, Oleg Feshovets (on the right)