Creating the Future Environment: Discussion on the business involvement in cultural processes
News
- September 22, 2019
Baltic International Bank is one of the most prominent and long-standing supporters of the cultural processes, science and sustainable entrepreneurship in Latvia. Bank has always supported various and versatile initiatives – from the Latvian original literature, Annual Latvian Literature Award and historical novel series "Mēs. Latvija. XX gadsimts (We. Latvia. The 20th Century)" to the Latvian National Museum of Art, new start-ups platform Commercialization Reactor, support of outstanding theatrical performances and art processes. One of the current support projects initiated last year and implemented in cooperation with the Ministry of Culture is a unique, heraldic edition "Dzimtu ģerboņi mūsdienu Latvijā (Family Coats of Arms in Contemporary Latvia)".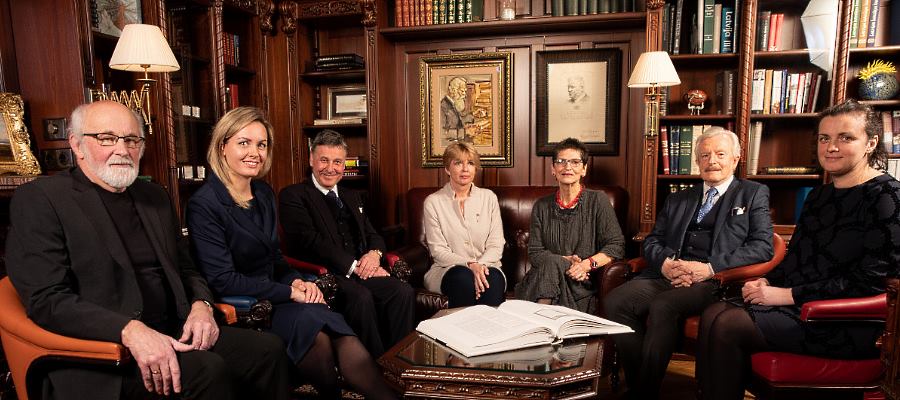 We invited the Art Historian Ramona Umblija; D. Phil., professor Daina Teters; Art Historian, Painter and Public Figure Imants Lancmanis; Artist, Head of the Latvian State Heraldry Committee Laimonis Šēnbergs  and Chairperson of the Baltic International Bank Supervisory Board, the Bank's shareholder Valeri Belokon to discuss the involvement of entrepreneurs in the promoting of cultural processes in Latvia.
How could you explain the concept of responsibility in regards to the business involvement in sponsoring and what could be the role of the state in promotion of this process?
Daina Teters:
Cultural policy in Latvia is not always developed and supervised responsibly enough. Neither allocation of resources, nor principles related to the distribution of financial resources are clear enough and their allocation process – transparent enough. This is because the management of cultural processes are frequently detached from the actual, current processes of the society and can be more characterised as reaction to events. Therefore it is great that entrepreneurs step in the cultural life and social sector not only in terms of finances but also knowledge and experience – as these people are clearly aware not only how the money is distributed and spent but also how it is made. It significantly changes the perspective in regards to the distribution of financial resources. Besides entrepreneurs are part of the society. It would be valuable to transfer their experience and perspective in regards to responsible allocation of finances also to the public sector frequently lacking forward-looking perspective directed towards not some specific events but evaluation of the cultural processes and in-depth understanding of the vital needs of society.
Valeri Belokon:
First though in the mind of everyone who thinks about the future of Latvia, is formation of the future environment. What will this environment look like? What values will we bring into it, what will be the future human in Latvia? And it is both the issue of separate companies, future interests of banks as we are speaking about our future client and interests of every person who will live and work in this environment. Therefore it is important to invest in the quality of environment to develop our common future.
Our country is comparatively new and still lacking experience in the formation of this environment. Experience is forming gradually, learning from mistakes and understanding what actions on behalf of the public interest truly mean. For example, if I am not satisfied with the fiscal policy, I can implement this allocation of resources through financial of certain areas and initiatives I consider beneficial. In my opinion the notion that entrepreneurs are "voting" with their savings however they regard correct should be promoted. I am not saying politicians are not thinking about our future but they are usually guided by the interests of the particular period mostly not exceeding the current elections cycle. I have to think of the Bank's development at least within 25 years perspective and this is a significant difference into the thinking process of business people and politicians regarding issues crucial to society.
Ramona Umblija:
Of course, when we speak about serious, sustainable business the first responsibility of the business is to secure profitable and efficient operations of the company. Only afterwards we can speak about the possibility to invest, support, help someone. Therefore primarily I would like to emphasize the responsible everyday business activities and we have many companies in Latvia that have proved themselves as to this area successfully operating for 20 and more years. Including also Baltic International Bank. Everything starts with this level of responsibility and all other things follow it naturally.
What should be done to promote understanding that business organisations should actively get involved in the cultural life, public processes?
Ramona Umblija:
One of the most important issues is related to the fiscal system of Latvia. Whether it promotes involvement of businesses into solving of public issues and to what extent. Starting from financing of cultural projects to certain social issues where state is lacking time or capacity. I think that currently our fiscal system is not constructed to promote private investments into publicly important initiatives that are not generating profit. Apparently here we need to educate society and especially politicians into what public processes should be promoted. Here I can praise the bank's initiative, for example, in supporting of historical novel series, – great example of the company involvement in educating of society. It is a public activity not only support provided to culture.
At the same time, also involvement of private sponsors into more elitist, specific processes directed towards professional audience is of high importance. It is significant from the perspective of knowledgeable and open-minded society. If we are willing to live in the society that do more than only googles things, then the depth of knowledge is crucial. Abstract thinking allowing to see things from a higher perspective. And cultural experience is the base of that.
Imants Lancmanis:
I would like to emphasize that fiscal system is only part of the group of issues globally perceived as support of the culture, involvement in the cultural processes. In the so-called old Europe and USA we can see enormous amount of high quality cultural facts the state did not support with financing. Entrepreneurs consider this as the matter of honour, I would even say, – the involvement of large business organisations is a self-evident matter. Successful businesses are standing behind museums, art collections and performances, it is a typical, organic structure of the society. Especially I would like to emphasize the involvement of business in the cultural space as the core mission of the state is performance of social functions. Of course, also financing of culture but we will not be able to provide adequate, versatile and prominent cultural processes without the support of business organisations. How to promote this involvement? I think that it is very important to provide good example. Others can learn from. Baltic International Bank is one of these examples and Bank demonstrates that financing of exquisite, elitist initiatives, support to literature and other areas have promoted the reputation and image of the Bank. We can speak of the return of sponsoring also in this regard. On its turn, within the business organisation key role is played by the management's taste and understanding that we do not live only for this moment. Money becomes meaningful when invested in timeless, everlasting things.
Laimonis Šēnbergs:
I agree to Mr. Lancmanis that promoting of good examples can definitely improve the understanding related to financing of culture. Especially I would like to emphasize support of business to less popular and visible cultural processes. Great example is the edition we are currently working on with the support of Bank and Ministry of Culture. I am talking about the edition "Dzimtu ģerboņi mūsdienu Latvijā (Family Coats of Arms in Contemporary Latvia)", – this will be unique, premium and luxurious edition about the development history of the family coats and heraldry. It is a question about our roots.
I have to express gratitude to all entrepreneurs who have supported these activities in culture, social and other areas, and I would like to invite focusing more attention on the professional initiatives of high quality and value that are not so popular and well-known.
Valeri Belokon:
We have to speak about the change of perception and thinking processes regards to involvement of business organisations in financing of social and cultural processes. Companies and banks will not be able to complete this transformation on their own. One example. If I want to purchase the building for the needs of the Bank, I can do that comparatively easy. If the Bank wants to purchase or construct the building for the needs of the museum, – it is more complicated and expensive as larger taxes are imposed. I think it should be just the opposite as the publicly available and significant place – museum – is built. I will not be able to take it with me abroad even if I decide to change my place of residence! Here the involvement of Latvian intellectuals are vital, people who could express their opinion about these issues, also approaching politicians. As I perfectly understand that not all issues and interrelations are clear to them and explanatory work is required.
But returning to the question of responsibility, why it is important for the Bank to support literature, science, art projects. We are regarding this process from a broader perspective, from the interests of general public, not only opinion of one cultural sector. Technologies reduce area of high quality interest that provides benefits and improvement to the public. I am frightened by the small screens in the modern communication devices requiring us to communicate in short, abrupt sentences and also making our cognitive process as abrupt and shallow as this form of communication. We require an impulse to go on the opposite direction, – people need help to gain education, insight and grow in order they could fully enjoy what the culture can provide. It is our responsibility – help people in this process of growth. Therefore Bank supports and will continue to support high quality, profound and insightful cultural processes.