6 milestones in the development of the Bank - Viktors Bolbats
News
- September 22, 2019
Viktors Bolbats, Chairman of the Management Board, Baltic International Bank, speaks about the current and further changes in the Bank.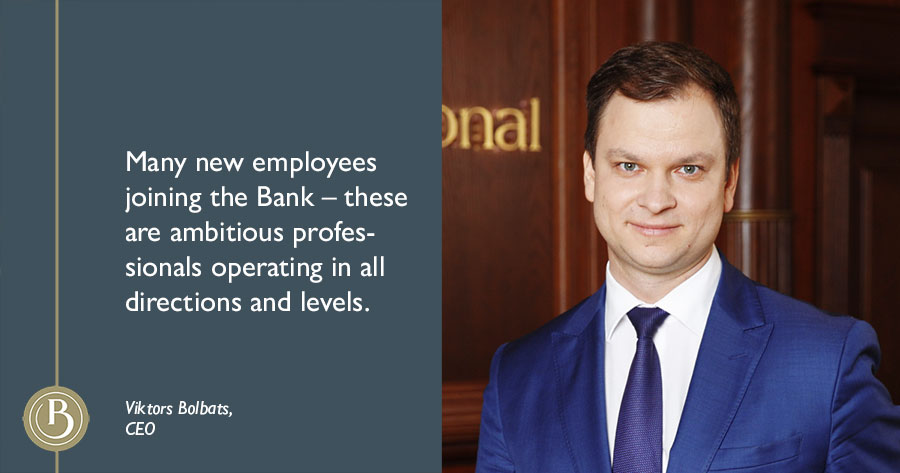 1. New development strategy until 2030
Since 2016 Baltic International Bank has experienced profound and deeply felt changes that can be categorized into three main directions: changes in the structure of the Bank, including Management and Supervisory Board; changes in customer service; changes in internal control systems and processes of the Bank.
Transformation process stems from the development goal we have defined – become a Bank that together with our customers invests in environmentally friendly and sustainable projects and companies with equal significance in regards to environmental values and positive long-term impact on the future. Bank's development strategy until 2030 includes range of activities and procedures important to attain our goal. Values of the Bank remain the same – Expertise, Reliability and Succession.
2. Changes in the structure, management of the Bank
2018 is characteristic with many new employees joining the Bank – these are ambitious professionals operating in all directions and levels of the Bank. Very different people with very different experience, they have worked in various environments but they have some things in common – professionalism, desire to prove themselves and modern worldview. This process is the utmost necessity to embody the new Bank's development model where the modern banker plays the central role. Person able to see the challenges of the customer's business and grant the blank cheque, – sense of security of the customer about his investments or business financing, capital growth.
Structural changes are related also to the Management of the Bank – Management and Supervisory Board. Former Bank's CEO Ilona Guļčaka (currently working in the Supervisory Board of the Bank) started several crucial processes to prepare the Bank for transition period. New management team requires time to implement these changes, as it is not possible to change everything suddenly and in short period of time. Bank continues its daily operations, at the same time preparing for the implementation of changes. Mrs. Guļčaka was the CEO of the Bank for 10 years, – she has invested a lot for the Bank to expand its potential and become the first Bank of choice in its segment.
We have to understand that Baltic International Bank is operating in synergy with Latvian, European and also global financial systems. Changes happening there are also felt here. And Bank is reacting to them, preferably, – in a proactive manner. We invite influential professionals to join our management team, for example, Guntars Reidzāns joined the Bank's Management Board on June 2018, strengthening the customer service area. Also foreign experts are involved in the Supervisory Board of the Bank. All these transformation processes are proactive reaction to changes in the sector.
3. Changes in the customer service
One of the biggest challenges regarding implementation of changes is the change of the structure of income related to different approach in the customer service. We are developing an investment Bank but changes have already occurred in the customer portfolio, including our target markets, also we are changing our product offer and customer service model. Customer service is undertaking a proactive approach. We are placing comparatively larger emphasis on operations in the Latvian, also Baltic, market but in general our main target market is European Economic Area countries having a similar understanding about responsible operations in the financial market.
In this regard I can say that we are building a new Bank on the successfully laid foundations of the former Bank. I can compare this process to our investment project in Old Riga, Kalēju Quarter, where we are building a new, contemporary business, culture and leisure quarter, – very carefully preserving and outlining the values that have developed in the Old Riga for nine centuries.
4. Compliance of Bank's operations
As we are a company deeply integrated into international financial processes, we are carefully following all significant changes related to the compliance of Bank's operations. And we have selected a proactive approach also in this matter. Understanding the direction of the legislature on the national and European level, how the finance regulator operates, we are proactively adapting our activities to this spirit of change. As we are supporting the global vector – become more responsible, more sustainable and more transparent. Therefore compliance is and will be one of our priorities we will invest as many resources as necessary to become one of the market leaders in this area.
5. Introduction of ESG approach
In 2017 we started to introduce the internationally recognized ESG (Environment, Social, Governance) approach into our operations. ESG was selected as a model almost completely corresponding with our perspective. This way we can also place the Bank's development strategy into comprehensive, logical structure. Approach is based on three pillars – environmental sustainability, good governance and social principles – that have always been important to the Bank both as business organisation and educator of our clients and partners. Also the European Banking Federation has recently started its operations into this direction – sustainable financing issues.
Implementation of ESG approach into daily activities of the Bank is quite ambitious aim but very valuable at the same time. Corresponding to our business model and conviction. To put the core of this approach in a nutshell: "So tomorrow you would not be ashamed of the decisions you are making today." Increasingly more business organisations are adopting this viewpoint promoting more deeply felt changes in the society.
6. Higher added value
During the last year Bank purposefully implemented new approach into the offer of products and services. As an investment Bank we are building our know-how and offer to provide services with higher added value. We see that people are demanding that. And we have achieved a lot on our way to this model. Last year Bank received the licence for issuing corporate bonds to become a custodian Bank for licenced asset management companies. In 2018 we started to develop a new internet bank for more efficient customer service.
It should be understood that to successfully manage and grow the capital banker requires knowledge not only about, for example, financial markets, but also long-term perspective regarding current events in economics and society. We are frequently with our customers discussing transfer of capital or other assets to their children and grand-children, – allowing the succession to take place. Also we are speaking about long-term investments. Succession is one of the values of our Bank, allowing us to shape our offer accordingly. When we are starting a successful cooperation with a customer, we know that it will be a long-term cooperation for many years.
And our period of change has been successful, – we see a proof of that in the income structure of the Bank, if we compare 2018 and 2016. Incomes from commissions have increased, incomes from services with lower added value, for example, transactions, have decreased. Bank is on its way to the sustainable development model and becoming one of the leading investment Banks or Bank of choice in this part of the world.