"Yes, I can!" – Viktors Bolbats
News
- September 22, 2019
Several new employees have joined the team of Baltic International Bank during the recent years, – it is connected with determination of the Bank to change the business model. "New" Bank is developed on the basis of the previously established and tested foundations, therefore new colleagues join the team to provide more versatile viewpoint on the Bank's operations and daily challenges.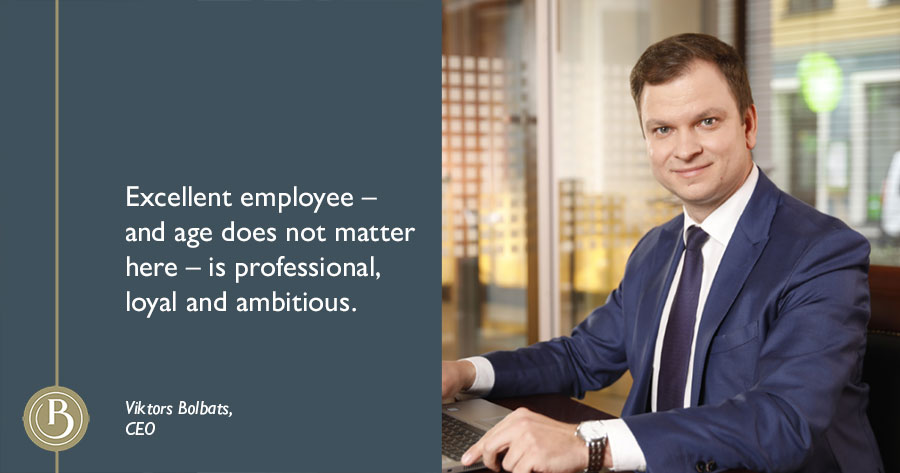 We spoke with Viktors Bolbats, Chairman of the Board of the Baltic International Bank about the values of the Bank's employees – both the ones who joined the team recently and employees with many years of experience.
What are the dream employees of Baltic International Bank? What people are you looking for?
First of all, I would like to use this opportunity to express gratitude to all employees of the Bank both the ones who joined us recently and also the ones working in the Bank for several years already. In regards to good and perspective employees we are competing in the common labour market alongside all other evolving company not only banks. And not only in Latvia. Baltic International Bank is renowned with our personalized approach towards every customer requiring very versatile, skilful and well-informed employee. He or she is not only, for example, a good private banker but also advisor with comprehensive perspective. It relates to every occupation and every its representative in the Bank. Our human capital is our greatest and most unique asset.
Second, – about qualities we are looking for. Excellent employee – and age does not matter here – is professional, loyal and ambitious. Loyalty in this regard stems from the understanding of our Bank and its values, of being able to connect with us. Professionalism is both acquired knowledge and skills and constant professional improvements. As the theoretical knowledge base is becoming outdated, it requires constant updates. Also good banker perfectly knows not only offers and services of its own bank but also the business world of the customers. And our customers are different, therefore our employees can't skip the business routine like reading business literature and magazines, following the current events in various business sectors. It is the absolute necessity in banker's occupation. We need to have our own, proven opinion about the crowd funding, crypto currencies, development of the regulations of financial sector and many other issues. Professional employee must keep him or herself updated all the time.
Yet another thing we expect from our employees and highly evaluate are their ability to address the work from the owner's, employer's perspective. It relates to both large, strategic issues and also mundane things. Being able to evaluate every situation from the perspective of an owner, – what would I do, if I were the owner? To a great extent this is the question of responsibility level of each individual.
About responsibility and also the ability to stand one's ground, defend one's opinion.
Yes, we can speak also about courage but it is the next level. I am talking about basics that person does not leave the work unfinished only because the work day will end soon. That person is searching for solutions, instead of identifying the problem and quickly diverting it to somebody else. Afterwards also the bold and daring attitude follows, courage to do things differently, willingness to take initiative instead of avoiding it, relying on the once popular proverb that initiative is being punished.
Today initiative is not punished anymore?
I think that transformation of the working cultures and values have taken place and initiative is not punished in this culture. Just the opposite, – it is being praised. As the CEO of the Bank I am doing all it takes to support this kind of culture. Because if we look at the initiative from the other perspective, – if you do not take the initiative, you are constantly declining from the responsibility, usually loudly implying on the many problems around. For example, if smoke is seen in the hallway of the residential building, there will be many people who will notice that and scream that fire has started. Only few will try to find out where the smoke is coming from. Probably, only small waste bin is burning and you need a glass of water to cease the fire. But if nobody takes the initiative the small fire can turn into serious danger. This story tells about sense of being owner and responsibility.
Isn't it usually that the middle level managers, not the top management, are the one's promoting or smothering initiative?
I agree, – management and owners of the Bank, and not only of our Bank, understood already 25 years ago that company can excel only if the employees are responsible, loyal and undertake initiative. It isn't anything new. The key is to embody this cultural and way of thinking and here the middle management plays the crucial role. In this regard they are as much in charge as I am.
Generational change is taking place in the Bank and also amongst customer. What characterises this process?
During the last two, three years many young professionals have joined the team of the Bank in line with the Bank's development strategy and our objectives. Although the average age of employees have reduced, most important is to gather different people who have different experience they can share enriching our Bank and adding their value to it. I am certain it is a positive thing. Different perspectives about issues that are important to the Bank are meeting, – it generates positive energy necessary for development. Diversity is part of our power.
Aren't new employees coming with new requirements?
Of course, these people come also with new understanding about the motivation system in the large company, working environment. Here I can say that we have a huge advantage as we are currently developing the new Bank's complex of office premises located in Old Riga, Kalēju Street that will create a unique synergy of old and modern Riga in the comfortable and architectonically vivid form. It will be an office environment for the modern employee, – to allow the person feel as comfortable and pleasant in their work place as possible. As regards to motivation system, – I don't remember that during the last few years we have declined to work with a professional employee we were interested in due to some requirements related to salary or some other extra benefits. Requirements have increased but professional people express their demands in adequate and rational manner.
You mentioned also ambitions as one of the quality. What do you understand with that?
Ambitious person truly believes that he or she can succeed. This person will never quit halfway saying that "I am not capable of moving further." Ambitious person reaches forward, looks for new opportunities at the moment when the pessimist gives up. Therefore ambition is based on optimistic worldview but, of course, – rational optimism.
Are you ambitious?
Yes. The moments when I tell myself that I can't do something are very, very rare. My usual reaction always is, – yes, I can!