We are always one step ahead - Joseph Cofer Black
Bank's Member of the Supervisory Board Joseph Cofer Black is definitely someone whose true calling is fight against money laundering. For several years he served as a Director of Counterterrorism Center in the US Central Intelligence Agency (1972–2002), afterwards fulfilling the duties of Ambassador and Coordinator for Counterterrorism for the Department of State of USA (2002–2005). Financial crimes have been one of the main aspects of his professional career allowing Joseph Cofer Black to become an internationally recognized authority in the combatting of terrorism, cybersecurity, national security and international relations.
Joseph Cofer Black uses his experience in the private sector, – being responsible for guiding the business development strategies of several companies and providing corporate support also to US Government and international customers. Since 2016 he is the Founder and CEO of the company Cofer International, LLC, he joined the Bank's management team on 2016.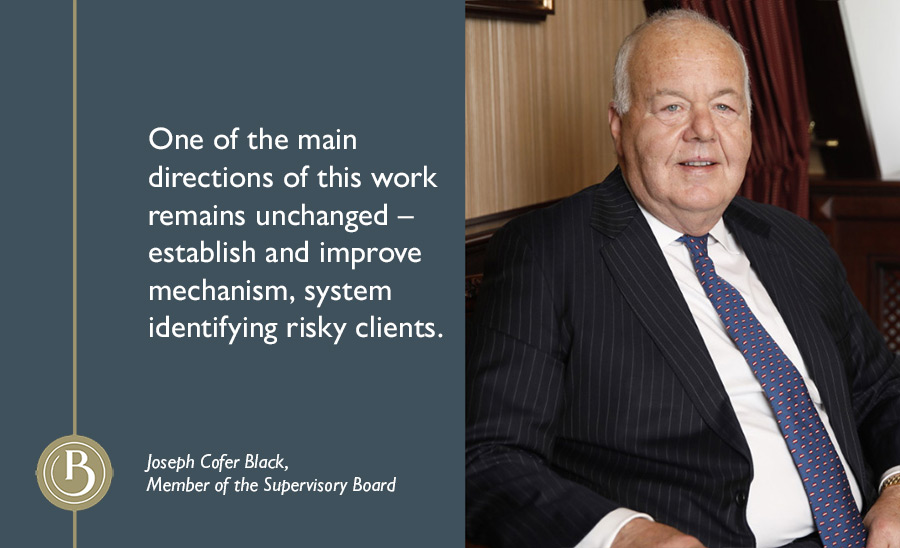 You have been involved in fight against financial crime for many years already. And you are continuing this direction also in private sector, does this issue truly interest you?
I have deep and profound interest in the anti-money laundering issues stemming from my former career managing the Counterterrorism Center in the US Central Intelligence Agency. During my service Center established integrated unit with other state institutions with the purpose to efficiently fight money laundering in all its forms. And also combatting of money laundering is my main task as the Member of the Supervisory Board here in Baltic International Bank. One of the main directions of this work remains unchanged – establish and improve mechanism, system identifying risky clients, and also determining potential risks in this area. And this systemic approach is very important as determining and eliminating of risks even theoretically should not depend on one or few employees. It does not work like that. But, of course, professional employees of this area will always be part of the above-mentioned system as the risk level is changing and requires constant adaptation.
System is still being developed or is it already operating?
System is developed, it operates and demonstrates good results. Amongst them, – in March 2019 we received a very positive evaluation from the New York-based rating agency Sigma Ratings that assigned financial crime compliance rating BBB+ to the Bank. It is a high evaluation of our work as Sigma report covers both already operating procedures of the Bank against financial crimes, including AML/CFL activities and also provides positive outlook for the future development of the Bank. Of course, this is an area that is dynamically developing and improving as some methods that were good yesterday probably can be less effective today. I am truly excited by these changes as here I can use most of my previous work experience.
What are the most important tasks for improving of the system?
Our aim is to continue developing the system, redefining processes in case of necessity, looking for mistakes. As this is the area where information never is and will never be too much, – clients are changing, new clients come to the bank, changes take place in businesses of the existing clients. And these processes are usually quite fast, and we have to act dynamically. Besides you always need to supervise the system as people can make mistakes. You have to keep that in mind. Also the fact that we are dealing with very smart and cunning opponents. People who try to attempt money laundering activities are not like your grandpa or grandma from countryside who are sitting behind their kitchen table and contemplating how they will fool the bank. It is their goal and business, – pass by our control to launder unlawful money. They are seriously preparing for that and planning, therefore we always have to be one step ahead. And we are! It is quite simply to catch an amateur who has never tried to perform fraudulent activities before but protecting bank against experienced, hardened professionals who are dealing with money laundering for many years already can be totally different issue.
Therefore professionals in money laundering issues are in such a great demand. In fact, two most demanded groups of professionals – are bankers who are able to develop and securely manage this business for a long-term and people who are eliminating risks.
Isn't digital currency the biggest challenge in AML?
I think that significance and amount of digital currency have not been completely grasped before. Who are mostly the people interested in using money to hide their identity? People from the criminal world are one of them. I am skeptical also because there are no appropriate control mechanisms for the digital currency yet. And it is also not a good investment object due to astronomic fluctuations of value.
How do you evaluate last year's events in Latvian financial system?
In recent period Latvian financial system have encountered serious challenges in the AML area, especially signals coming from US. One bank was sanctioned because of violations of system nature and it was an important signal for the entire sector. Very determined and purposeful work has been started and continues to adjust the sector, all is developing positively and in the right direction – both from the side of supervisory institutions and market players.
Why has Latvia become such a popular place for money laundering?
Criminal world can be characterized with the same principle that applies to any person – accomplish the task in the simplest way possible. Walk the path of least resistance. It is one thing. Another thing, – maybe I will disappoint Latvia but it is not unique and especially popular amongst money laundering circles. There have been several much popular countries and territories before you. Caribbean region, Cayman Islands, some African countries – for several decades they have been more popular than this area. Still there is another thing distinguishing Baltic countries from Cayman Islands. Location next to Russia with all that it entails. Meaning a system was established here making both honest entrepreneurs and people from the criminal world to feel equally comfortable. And it should be changed. Latvian government have committed to close the gate of money inflow from criminal world and I think this process will be brought to an end.