We are competing on the European level - Ilona Gulchak
News
- September 22, 2019
Please describe the history of the structural changes in the Bank, – how the understanding formed that Bank needs to change?
As in any other business – you can't stay stagnant, you always need to change. There are several factors influencing development of the financial sector, including rapid introduction of new technologies, growing regulation, geopolitical situation, deeper understanding of customers about the financial management and, of course, economy in general. It has always been the priority, – consider what will influence business in the future to be able to timely redirect operations, introduce something new, leave the old behind.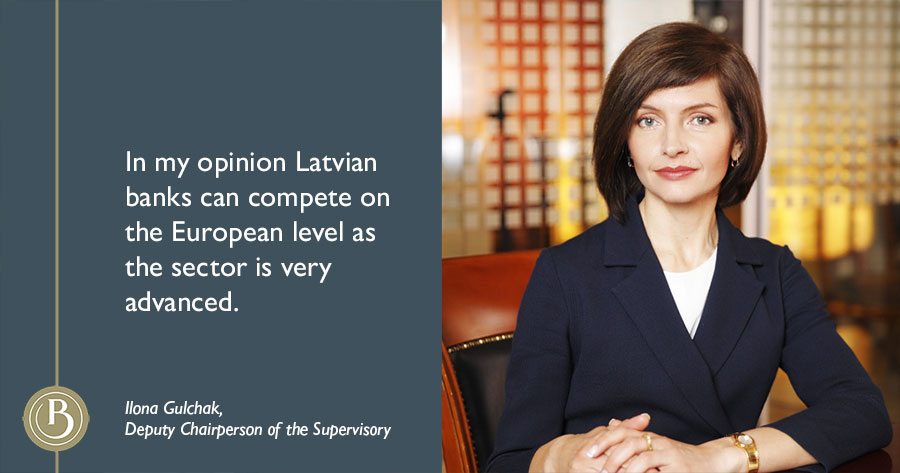 What preliminary works was required to develop new business strategy and vision of the Bank's development?
We had to understand how the customer is changing, anticipate how certain events in geopolitics will influence the market niches of the Bank. We had to study potential risks and think about risk management. And, of course, always find out ways to attract new customers.
We met with partners a lot, asked their opinion about undergoing processes, about the future, discussed with customers. We performed a huge analytical work as the issues related to development of the financial sector was and will be important not only to us but also audit companies, consulting agencies. We studied analytics related to the data of most important customer segments: factors like wealth, investment preferences, social and demographic aspects.
Bank internally organised several discussions, brainstorm sessions that provided the following conclusions:
Issues related to preserving, growing and transferring of the acquired capital to one's children are becoming increasingly important to the existing and potential customers of the Bank.
Customers are not residents of a specific country any more but more like global citizens. They can manage their business from one country, deliver products or services to other countries, live in yet another country and invest in assets all around the world. Here we saw both our strengths, as well as potential and necessity to grow new expertise.
Investment topics are becoming increasingly important to everyone with a capital. And it would be incorrectly to apply unified approach to everyone. Personalized approach is to be implemented here.
Issues related to transfer of capital are very topical as the age of customers are starting (or will start soon) to reach a certain margin and in frame of the demographic trends it will be an important issue for increasingly larger number of potential customers.
Development of new technologies will not allow us to compete in regards to all products of the Bank (we will not be able to compete with large retail banks, for example, with payment or payment card products), therefore we need to choose a focus.
Latest technologies are making many products more accessible but more impersonal at the same time. Nevertheless, people will always value personalized service and it will provide more added value.
Increasing regulation and anti-money laundering issues are main trends influencing the development of future business model of the banks.
How has the Bank changed since you started working here?
We have grown from a very small, closed type of Bank offering comparatively simple products, into a player that has to be able to solve important issues of the customers, that is able to express one's opinion about the issues of the financial sector on the national level, that has a say and specialists highly valued both by customers and regulator. We have introduced new more complicated products, we have developed new very interesting partnerships. We have lost also a lot, this road has not been easy. Technologically we are much more advanced and stronger that several year ago. Bank has also expanded its fields of expertise. And we have to be able to apply this experience in a concentrated and correct manner to be able to work more efficiently now and develop the future of the Bank.
Looking back on your experience as the CEO of the Bank – which moment in the Bank was the most exciting and important for you?
I am always fascinated by the business development topics: attraction of new customers, introduction of new products and services, attraction of partners and development of relationships. First of all, it provides a future perspective for the business and secondly allows all involved parties to acquire new things, step out of the usual routine. I think that you should never stop going forward and always continue looking for new challenges. That will allow to overcome any difficulties on the way.
How would you characterise the development of the banking sector in Latvia – what cycles it had to endure, what is ahead of us?
Today this is a very difficult and painful question to answer. Banking sector is developing rapidly and we have achieved a lot, – both technologically and regarding the provision of services. Still not all operational aspects are balanced enough. Currently the financial sector resembles situation after storm, – the sky is clearing gradually but fog is still around and it is even difficult to see the next turn.
In my opinion Latvian banks can compete on the European level as the sector is very advanced. The next steps should be related to the economic development of the state, with its priorities the banks could also play an important role. It is related with the attracting of investments to the state, creation of new companies and business development, also promoting of sales and export. I clearly see the place of Baltic International Bank in that.