Mission: operations adhering to the letter and essence of legislation - Natalija Boļšakova
News
- September 22, 2019
Natalija Boļšakova is the Head of Compliance at the Bank with more than 10 years of experience in working with compliance procedures in financial sector. Before commencing her career at Baltic International Bank N. Boļšakova worked in several financial organisations where she also provided compliance procedures trainings for employees of various loan institutions and financial companies. She tells that training of Bank's employees is one of the priorities of her work.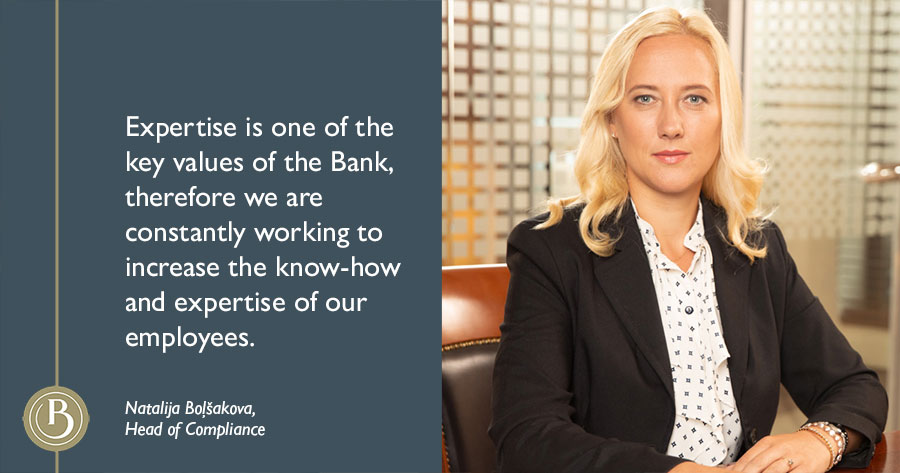 What does the compliance management really means?
As Latvia is a member of important global organisations – EU, FATF - Moneyval, OECD and others – it must bear a certain "load" on our legislation – comprised both of recommendations of these organisations and also quite direct remarks concerning development and application of laws. Frequently these recommendations arise from the willingness to harmonize consumer rights and protection in all EU countries. For example, requirement for all member states to have similar names and descriptions of financial products and services – allowing the customer to compare provisions and prices of these services.
What were the most important changes Bank was required to introduce last year?
Here I can name several very significant changes influencing the Bank's operations in general. First of all, General Data Protection Regulation that demanded enormous preparatory measures, internal data audit to understand all processes the regulation applied. Second, changes in the so-called "Law on Sanctions" that determines for the Latvian financial institutions to comply with all sanctions and limitations applied by all NATO member states. List of sanctions is very long, therefore we require a special mechanism to timely identify all persons indicated in all the lists of sanctions. We should understand that lists of sanctions are constantly changing and we have to be able to follow these changes. As the third and fourth I can name the amendments into the Law on the Financial Instruments Market in connection with EU Directive MiFID and amendments in the Law on the Prevention of Laundering the Proceeds from Criminal Activity and Terrorism Financing.
During the recent years structure of the Bank underwent significant changes, – currently Bank has become more efficient in the decision-making process. This applies also to compliance issues as we can influence the processes in a more rapid and accurate manner.
So your mission in the Bank is basically to monitor changes in legislation and "interpret" them to your colleagues in the Bank?
Not only monitor and "interpret" but also involve people the amendments of the specific rules and regulations concern. Set timelines and delegate responsible employees for implementation of these rules and regulations. As these changes impact all operations and areas of the Bank, – while we are in the process of implementing one thing, we find out about yet another novelty. Fortunately, we find out about the anticipated changes in the timely manner as frequently legislators consult the financial sector – with the help of the Finance Latvia Association before the adoption of laws.
Also all changes need to be described and put in a written form as we can't just simply explain them and hope everything will be correctly interpreted and timely implemented. While everything is going smoothly, it seems like we can operate without procedures but as soon as some questions, contradictions arise, the written document helps to reach the common understanding. Our task is to achieve the timely implementation of laws and regulations with common understanding in all departments and responsibility levels of the Bank.
Who controls if Bank operates according to all requirements of the law?
External institutions, for example, Financial and Capital Market Commission, auditors and Internal Audit service of the Bank controls compliance of the Bank's operations – implementation and application of laws and legislations in everyday activities of the Bank. But my task is to daily control compliance of the operations of all structural units of the Bank. Therefore, we can say that double or even triple control takes place.
How do the Bank's employees find out about the amendments in laws and regulations?
Expertise is one of the key values of the Bank, therefore we are constantly working to increase the know-how and expertise of our employees in all fields of activity of the Bank. In total in 2018 80% of Bank's employees participated in various trainings.  Topics of the trainings was very versatile – 145 different themes in total. Last year specialists of various structures of the Bank participated in workshops, forums and conferences abroad – Lithuania, Ukraine, Estonia, Germany, United Kingdom, Russia, Czech Republic, Ireland, Cyprus, Austria and Spain. Most skilful employees of the Bank also shared their knowledge and experience with younger colleagues, – last year 17 employees of the Bank taught others in trainings.
Why employee training is so important to you?
Reason is simple, – employees are the ones implementing and putting into practice requirements of the law. Every year it is mandatory for all employees to get introduced to the amendments in the Law on the Prevention of Laundering the Proceeds from Criminal Activity and Terrorism Financing. Of course, colleagues dealing with customer service on daily basis are provided with more in-depth studies to be able also to identify red flags and signs concerning suspicious origin of resources. Comparatively new training for us is related to implementation of the ESG (Environment, Social, Governance) that basically concerns all directions of the Bank's operations and therefore also employees. We learn how these principles relate to the operations of the Bank and how we are evaluating our clients and partners through this perspective.
Recently we are also organising specific trainings for separate categories of employees. For example, those providing investment services should be competent not only about the specifics of the product but also novelties in legislation. We improve the know-how of employees in the competence building trainings and classes followed by tests of knowledge.
What is the main difference comparing requirements now and ten years ago?
If we are comparing today with requirements that were put in place ten years ago, we can say that legislation have become heavier, with excessive bureaucracy, more resource intensive. Especially we can apply it to financial sector. But the reason for that is understandable. We are not isolated from the rest of the world, therefore processes taking place in Europe and US, impact also Latvia. Comparing know-how and expertise of Bank's employees, today it is much broader and deeper. First of all it's in the customer's interests, but looking from the long-term business development perspective also in the interests of the Bank itself.