Pillars of development – responsibility towards environment, good governance, involvement in society - Jekaterina Kuzņecova
News
- September 25, 2019
In 2017 Baltic International Bank started to introduce ESG (Environment, Social, Governance) model – business sustainability approach that has become the leitmotiv of the development strategy of the Bank and last year were implemented in the main operational processes of the Bank.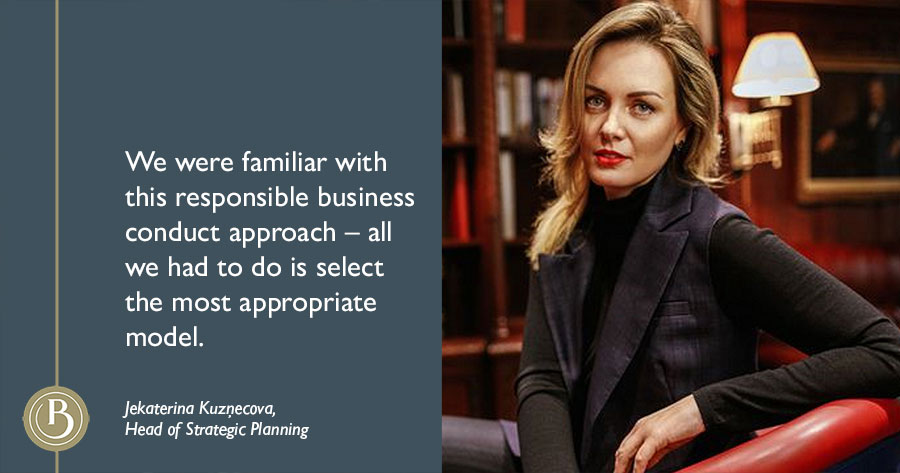 Head of Strategic Planning at the Baltic International Bank Jekaterina Kuzņecova works in the Bank for 10 years already and is one of the integrators of the globally renowned ESG approach in the Bank. She emphasizes, – responsible attitude towards the operations of the Bank, consumption of resources and special focus in the sustainability of projects funded by the Bank is only part of the ESG approach. Greater effect lays in the changing of behaviour patterns and perception of the society where Bank sees a mission in being a good example and educator of the society. 
How did Bank decide to implement ESG standard?
It all started with a strategic perspective on the possible development of the Bank during the next decade. Looking back on the recent past – around four years ago, – I can say that we have made decisions and acted as if knowing what events to expect. You might think the decision makers had a crystal ball to consult. There are several new requirements implemented during these years regarding regulation of financial markets and majority of them affect transparency of banking operations, sustainability topics, good business governance and anti-money laundering activities. We started to focus on these issues in our Bank already several years ago, long before many of them became part of regulatory framework for the financial sector.
It was a proactive approach, in considering the ongoing changes globally and reflecting on the financial services sector and our place amongst it. It was clear that responsible business approach is the sole further development approach for the banks. I would like to emphasize that I am not talking about purely declarative approach to responsibility but real actions, changing specific operational processes, correcting structure, attracting new people. We were familiar with this responsible business conduct approach – all we had to do is select the most appropriate model. ESG approach corresponds to our thinking as it includes all three areas the Bank has already perceived as pillars of its development.
Please explain this ability to forecast the potential development of the banking sector?
Bank has always belonged to and belongs to local entrepreneurs having inestimable know-how and expertise regarding formation and development of the Latvian financial market. I think that this is one of the main factors allowing the Bank to make well-considered and proactive decisions. Second is the attitude of Bank's management toward the company, the customers, the partners and employees. I can characterize it with one word – "responsibility". And it is a historical value always present in every operation of the Bank. Main change is related to prioritising and deep integration of this issue into the banking business.
What has changed in the daily life of the Bank since implementation of ESG approach?
With the integration of ESG approach in its operations, Bank has put special emphasis on three factors: for example, environmental sustainability issues. We are observing the impact of Bank's operations, activities of our cooperation partners, our funded projects on the environment. Second is the involvement of Bank into public activities covering wide range of topics – varying from the cultural and social projects Bank is supporting to even work environment at the Bank, employee policy. Third is Bank's governance and structure we are developing in frame of good governance principles. And basically all business processes in the Bank are viewed and evaluated from the perspective of these three factors. Starting with loans and investments, client service and development of banking products to economic issues, personnel management and marketing. It relates to everyone.
Please describe the implementation process of ESG approach?
First of all, it is work with our team as our employees are the one's implementing these principles in the daily activities of the Bank. All employees of the Bank have underwent training related to ESG approach and implementation process in the Bank. To coordinate the process, a special ESG approach implementation committee is established consisting of people from various spheres, virtually representing all directions of the Bank's operations.
As to time frame, – we are only in the beginning of the road. ESG approach was integrated in 2016 as part of the approved development strategy of the Bank until 2030. During the first stage, until 2018, we were evaluating what does practical implementation of the ESG approach mean to the Bank and started the implementation process itself. The implementation stage will last until 2020 and alongside that we will improve our information collecting methods as to effects regarding ESG approach implementation. We have started to monitor consumption of our resources to see what is changing and how. During the first year after ESG implementation we observed the reduction of the electricity, heating, water and paper consumption, – employees truly appreciate that what they see is not only a policy, something put just on paper, but tangible results.
What are the practical matters introduced in the environmental sustainability area?
First of all, I have to say that Bank is thinking about environmental matters for a prolonged period of time already, – it is not the case that ESG model has suddenly encouraged us to focus our attention on the environmental sustainability. Five years ago we started to participate in the Sustainability Index (evaluation organised in Latvia by the Institute for Corporate Sustainability and Responsibility), therefore we were already familiar with this area. With time sustainable development becomes a way of thinking impacting every aspect of the daily life. We are thinking how to reduce consumption of paper, water and energy in the banking operations – we are no longer purchasing bottled water, we started to print on the both sides of the paper, we are considering the environment before printing. We are sorting waste, properly utilizing batteries, light bulbs and electrical appliances. We are considering how and where to reduce consumption. There is a range of things we are already doing and planning to do differently with more responsible approach. Although we are not the manufacturing company, that with changing one step in the manufacturing process is able to obtain significant reduction of CO2 emissions, impact of the Bank can be slightly different but of no less significance. Educating employees and our partners, we are gradually moving towards the change of attitude, perception and also daily habits. As the responsibility does not end here in the office. It has to follow the employees to their home and we see it as our mission – be the initiators of change, good example.
These principles impose certain restrictions on the daily work. Don't you feel it as some business limitation?
We do not see it as the frame or box limiting banking business. Just the opposite. Yes, it requires time and certain investments to introduce ESG approach, but it will provide long-term benefits. It is a way of restructuring the business we all know well. You can say it means seeing familiar things through a new perspective – evaluating responsibility component also in the business of our partners and clients. We are not talking about mechanic sorting of clients observing their activities in the light of sustainability. We are trying to show advantages of this approach, to educate. Afterwards we evaluate the changes. Besides, you can't apply similar standard to all companies as, for example, currently not everyone is in the position to invest in some social or cultural initiatives. And it is fine. If we see that business is sustainable, we know that sooner or later also social activities will come into picture. You have to speak about it and explain it. As we all have a common goal – making a better future for our children. And this goal is worth fighting for.
What historical events triggered implementation of sustainability and responsibility principles into financial sector?
I think that historically one of the breaking points where global terrorism attacks on the September 11, 2001, tragedy in US. It paved the way for much extensive and better coordinated fight against terrorism financing, money laundering and players of the financial system, of course, where one of the first encountering these changes. Introduction of ESG approach or similar principles, sustainable investments and responsible banking operations are already the next development steps. It does not mean that everyone was irresponsible earlier and now are becoming more responsible. Undeniably, there is more structured approach to these issues and globally this tendency towards responsibility in all matters is very pronounced.
In Latvia we were one of the first banks that in recent years started to evaluate its operations in the light of ESG. Currently financial sector sustainability issues are on the agenda of the European Union. Maybe with time introduction of ESG principles and non-financial reporting could become a binding requirement for the industry. And our work in this area will be already accomplished.