Potential of the Bank in Synergy of People and Technologies - Bogdan Andruschenko
News
- September 22, 2019
Bogdan Andrushchenko joined Baltic International Bank in 2002 as a financial analyst.  Later, he worked as a risk manager and was appointed the Head of Consolidated Accounting, Statements and Risk Control Division. In 2008, Bogdan Andrushchenko took up the posts of the Head of the Risk Management Department and the Chief Risk Officer. He was also appointed a member of the Management Board.
Bogdan Andrushchenko holds diploma of higher education from Moscow State Industrial University (professional title as manager). Also, he holds diploma from Economics and Culture Higher School, Latvia (professional title as economist, with emphasis on economics and business administration).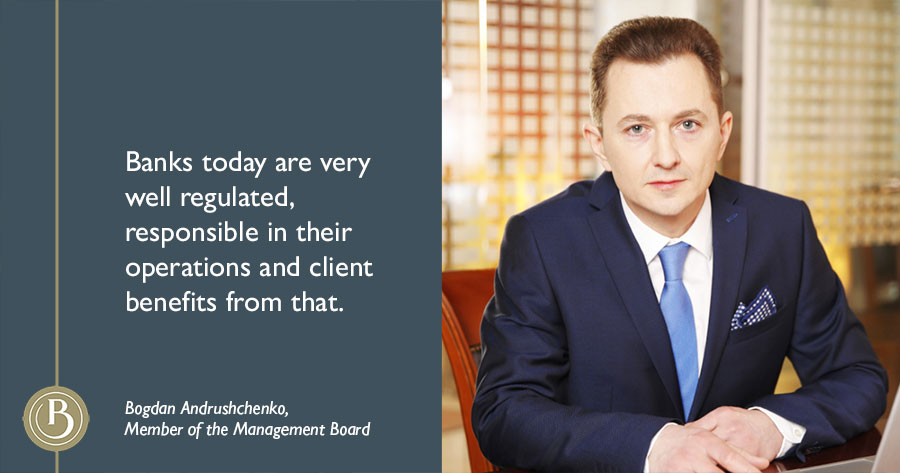 Please name some of the most important reforms in the financial sector regulations in the previous year?
Previous year can be characterised with series of changes in the financial sector regulations influencing operations of all European banks. One of the most significant are related to Adoption of International Financial Reporting Standard, the so-called IFRS9 that offers new approach in the evaluation of loans. Implying that savings should be made already at the moment of issuing of loans, not later, in case some problems arise. This is the new standard that can be attributed also to the acquisition of bonds. Therefore we have to develop a model that is able to evaluate the risk level and determine the required level of savings in each level. With the name "model" I mean automatized solution that analyses data and also involvement of the Bank's specialists in risk evaluation. If we talk about the future risk, evaluation of probability of occurrence of potential future scenarios. In considering that we are a small bank without having historical data on the very large number of outstanding commitments, we needed the help of third party consultants to develop this system. In 2018 we implemented this system into daily operations of the Bank.
Second significant reform that affected everyone last year was the General Data Protection Regulation (GDPR) that required significant resources also to identify where and how this regulation should be applied in the Bank's operations, as well as during the implementation procedure. I should also mention changes in the Law on the Financial Instrument Market that results from the requirements of respective directive. In considering that Bank works with different financial instruments, to us these changes meant tremendous alterations both in the reporting procedure, as well as agreements and other processes of the Bank. Last year new recommendations for the financial sector was introduced concerning the interest rate risk management and non-performing loan management. These novelties in the financial sector regulations are just a small part of the large body of amendments, additions, new requirements we are encountering on the daily basis.
It appears that banks are gradually turning into ministries working with introduction of laws.
Yes, we can say that to a certain extent. In my opinion, we should consider whether the same requirements should be applied to all market players – small investment banks with few hundreds of clients and large financial institutions with millions of clients. Yes, there are few things that large banks are asked to apply specifically and in detail but in total the amount of requirements are similar. But the resources in huge organisation, let's say with 10k employees, are different than in the company with few hundred employees.
Requirements for the financial sector help to organise the market and are rational in general but gradation should be applied in relation to different market players. As every new regulations requires implementation and this is not just a formality – it means development of new procedures in the Bank's operations, describing them, appointing responsible employees and undertaking control and reporting.
Are you feeling that a certain peak is achieved in the financial sector regulations and now the opposite process can be expected?
Not yet. We can see a snow ball effect here – requirements lead to new requirements, leading to more requirements. I am sure that banks of today are very well regulated, responsible in their operations and client benefits from that. To a large extent – due to the change of regulations, new perspectives on the sector. But it would be very valuable to stop and evaluate the number and content of requirements, which of them are working and which has maybe proven not to be so efficient. Also that is in the interest of clients as smaller investment in the administrative processes means that bank, for example, is able to reduce prices.
Second significant issue is related to implementation of international requirements in the national laws and regulations. Each country still takes into consideration its specifics and applies these global requirements to its market. This is especially important exactly for small countries where the competitiveness of the companies depend from effectiveness, from the costs. Therefore I consider the adaptation of international requirements on the national level as yet another topic for serious discussion.
What do these new requirements mean in the daily operations of the bank?
Large investment of resources. The amount of information we are asked to request from the clients of the banks has grown not a few times but dozens of times. If once an information required for the bank to issue a loan was measured in few tens of parameters, then currently these are several hundreds of parameters. And here we have to understand that we are not talking about static information, – business of clients are developing, changes take place and basically we are required to constantly introduce changes into all these parameters. This requires us to store and constantly update information about each client in order we could submit it immediately any time. We also require employees doing this job every day, as well as large investments in the bank's IT systems. We have significantly moved from the classic bank's risk management to data collecting, analysis and reporting.
What is the future employee of the bank in these new circumstances?
Future employee is the one who is constantly and systematically acquiring new knowledge and skills. Person who is able to understand operations of the bank from a broader perspective – perspective of economic and social processes, intertwined with global events. Person who understands what is happening and why it is happening, why the new regulations are adopted, what could be their consequences, will work in a much more focused and efficient manner. I can say that last year structural changes took place in the bank's team and there are many colleagues amongst us that could be placed in this category. They are willing to prove themselves and can do that as they have good educational background and also practical skills.
Aside from that bank also implements numerous technological advancements, support tools in its daily work. To make the work of people easier and automatize several processes. I think it is a huge resource allowing us to boost the abilities of bank's employees to work with new products, attract clients and operate in other directions significant to the bank. Both previously mentioned things – new employees and introduction of technologies in our work – makes me feel very good about the Bank's development potential.
What is the bank of today and the bank 17 years ago when you joined it?
It is a completely different world. Everything has changed completely as we are an organic part of the world. I think we have evolved more rapidly than others as today we can be proud of know-how and expertise exceeding the level of many European banks. We have more diverse experience and universal perspective, – currently we are not overly-specialized in a particular niche that would prevent us from seeing the world more deeply and from a wider perspective.