Ready for the New Development Phase - Guntars Reidzāns
We spoke with Member of the Bank's Management Board Guntars Reidzāns about the Bank as a responsible financial partner and educator of the market.
Guntars Reidzāns began working at Baltic International Bank in October 2017. He is one of the most experienced Private Banking specialists in Latvia – Guntars Reidzāns has held executive positions in the private banking sector in Latvia and abroad. He worked with large clients in Latvia and the Baltics, as well as with international clients.
Guntars Reidzāns has obtained Executive MBA degree from the Riga Business School and a master's degree from University of Latvia. In the course of his studies, he studied investment habits in the Baltic's and Scandinavia proving that business development potential in the Baltic countries are still limited by the lack of knowledge and insufficient understanding of capital and financial markets. Here Guntars Reidzāns sees the responsibility and task of the bank – to become the educator of clients.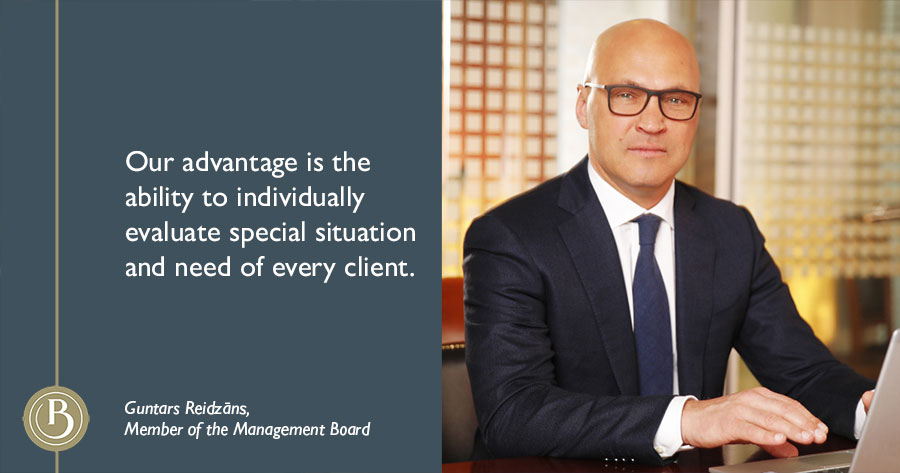 Since 2016 Bank is developing in frame of the new strategy that already required significant structural changes. What has caused and influenced these changes?
We live in the world where the environment of financial industry is experiencing dramatic transformation – it is a global and irreversible process. Regulations of the financial market are changing increasing the role of the banker as the source of information regarding the client's business. At the same time clients are also changing as they are perfectly aware and understand that us, bankers, will have to answer questions about their business. These processes are mutually connected all around the world. More detailed information is required from the banks and clients, for example, about the origin of funds. The above-mentioned changes have a very long history, meaning, a new type of requirements for the financial sector, – it is not something unexpected and new. There was a time and possibility to prepare, adapt. This is one of the main vectors and driving forces of the new business model of the Bank. Still we are speaking not only about external influences. I joined the Bank in 2017, but I know that decisions regarding the new development strategy of the Bank was adopted already several years ago and further the work with preparation of the strategy document followed.
Has the geographical origin of the Bank's target clients changed and how?
Amount of clients from Latvia have increased significantly. It relates both to the companies based and founded in Latvia and also companies that selected our country as a place to register and establish their business. I am speaking about sustainable and transparent business organisations. And yet once more I am returning to requirements set to the banks by the regulator – to a large extent these are cascading further to clients. It allows us to be better informed regarding activities in our client's business.
As to "geographical" origin of Banks target clients, – we are focused and will continue to be focused on the countries or regions having a historical bond with Latvia. Of course, the number of clients from Russia have significantly reduced in our portfolio, we have also closed Bank's representative office in Moscow, but our goal was not to terminate relations with clients only because, for example, they come from Russia. If client complies with all strict requirements related also to companies and private persons of other countries, if the business model is clear and transparent, if the so-called sanction lists or other limitations does not apply to this client, we cooperate. Of course, if we are seeing potential in this business. But our strategic direction is Western countries where we already have a quite large number of clients. In total around 75% of the portfolio of our clients consist of EU clients, including Latvian companies and private persons that form approximately one third from the total amount of clients. We are also considering to open representative office of the Bank in any of the capitals of large European countries. It could be Frankfurt, probably Paris or some other city that most likely with time will take over functions of the European financial centre from London.
How can you characterise the Bank's new approach in the client service?
I think that sustainability and responsibility in every activity of the Bank, every procedure are the key words here. Here I should mention work of the Bank on the implementation of the ESG (Environment, Social, Governance) approach in Bank's operations, we have chosen the path in making responsibility, sustainability, good governance part of our daily life. Most likely with time this model will be integrated also in the banking regulations on European level in frame of the Responsible Banking regulation. If it takes place we will have already accomplished this work in advance and implemented this system into our daily operations.
What are the main goals of the Bank's development?
Our strategic direction is capital management for our clients, therefore our overall goal is to offer financial solutions for the sustainable investment management, provide premium and modern business services for corporate clients, as well as individually tailored services for private persons. Additionally to above-mentioned, I also see a large role of the Bank in educating clients about possibilities of the financial markets. Study about the investment habits in the Baltic's and Scandinavia allows to conclude that we are still lacking knowledge on the capital market and available financial instruments. We are on a comparatively early stage of development, – yet until 2008 there was a domineering viewpoint that real estate is the best way of investing. There was an assumption that prices will only increase and increase. It did not happen and with time also other investment possibilities were "discovered". It is both our opportunity and responsibility – tell about financial markets and opportunities they provide as clients can obtain better development possibilities and we can expand our business.
Are there some new financial products you are already offering?
One of the examples where Bank has already embarked in offering of new possibilities to raise new capital, is issuing corporate bonds. Last year we received the licence of FCMC for issuing of these bonds, – in frame of it companies are issuing debt securities with certain profitability and maturity period. Bank organises the issue, offers to develop debt securities provisions for the clients, prepare necessary documentation for registration of the tranche in the responsible bodies, secure cooperation of the issuer with depositary and stock exchange, as well as provide technical base for determining of the debt securities settlements. We are jointly preparing analytical and informative materials necessary for funding, also we can provide investor relations during the tranche preparation stage and after the bonds are issued in the market. Here we have to emphasize that Bank's involvement in the issuing of corporate bonds is a very good sign for the specific company as it is a clear signal, evidence that we believe in this business, we see it's potential.
Where do you see the special advantages of Baltic International Bank in comparison to other banks in Latvia?
First of all, I have to say already that the competitive environment have significantly changed in Latvia, – we are feeling great demand, for example, for services for business clients. Starting from the current account to co-participation in joint investment projects. Our advantage is the ability to individually evaluate special situation and need of every client. It is a great advantage as we know that operations of other financial institutions can be very standardized. As to this regard, we are more flexible and able to make decisions much faster. In frame of the previously mentioned changes in the competitive environment we are making an adequate offer – both in terms of products and client service structure. We are working on the new internet bank version, providing special trainings to employees-private bankers with much more extensive and detailed know-how and expertise the digital channels are able to provide. Only combination of those two types of client services – digital environment and competitive professionals –allows to offer high-value service accommodated to the needs of every client.
What changes have the team of the Bank undergone?
Team has changed significantly in all the levels of responsibility of employees. Starting from the Bank's Supervisory and Management Board to the client service specialists, people in marketing and other areas. Already now the bank is a synergy of unique, extensive and versatile experiences as people from almost all commercial banks of Latvia have joined our team during the recent years. We need to know how to make the most of these experiences, also constantly invest in the training of employees. We operate in both directions as we understand that precisely these are the factors that will determine competiveness of the bank – know-how, expertise, professionality of the employees and willingness to achieve best results possible. Therefore, this is and will be a constantly evolving part of the Bank.
How the role of the Bank could change during the coming years?
I think that importance of the Bank will increase on the Latvian and Baltic market, also – in offering international projects, including investments in sustainable and high-value projects with our clients. Last year and this year we carried out very significant preliminary work for high quality preparation of the Bank for the new development stage. We will discuss it further in the following Bank's reports.
*Guntars Reidzān Guntars Repanans Member of the Board of Baltic International Bank from June 21, 2018 to September 1, 2019.