Responsible Succession - Viktors Bolbats
News
- September 22, 2019
Usually we remember one or two very significant events from every year. For me 2018 is marked with a very special visit to the Latvian National Library (LNB) – together with the colleagues we went there to donate books to the People's Bookshelf (LNB Tautas grāmatu plaukts). The visit turned out to be emotionally fulfilling and rich experience, – we felt sincerely welcomed and the donation of the Bank was appreciated and highly evaluated. To me this experience is of even higher value for the Bank as Succession is one of the key values of the Bank. Book – a source enriching our personality and individuality – finds its way to us and further continues its journey to our children or peers. Our responsibility is to acknowledge the value of books and make sure this journey continues. Similarly our responsibility towards value and its succession in business can be understood.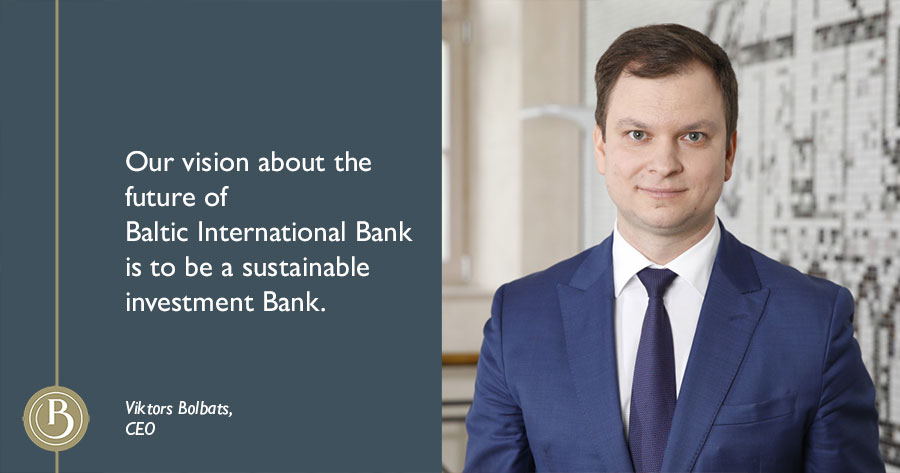 Bank believes that the responsible approach with perspective and regard towards future, forms basis of the sustainable development. Bank knows the importance of the environmental, social responsibility and good governance principles for the business environment and community the Bank operates. Also implementation of the approach grants competitive advantages – opens new business perspectives and new markets, expands the client portfolio and upgrades the brand. Therefore Bank has undertaken to implement the ESG approach, striving to ensure sustainability of the Bank.Viktors Bolbats, Chairperson of the Management Board, Baltic International Bank
2018 has been a year of new pace, new energy for the Bank. Afterwards the founders of the Bank developed concept regarding important structural changes and new business strategy marking the end of the planning period (2016), implementation of the changes begun (2017). It was followed by the adaptation of the initial concept and gradually we continued implementation of the strategy accompanied by both welcoming new colleagues to the Bank's team, changes in the client structure, and our range of services and daily banking operations.
We can say that last year was the first when Baltic International Bank started its operations in the new, advanced model with full speed and energy. All of us – Bank's employees, our partners and clients – took part in this process from the very beginning.
2018 is also important as it marks the fulfilment of ideas we planned, discussed, also criticized and reconsidered previously. Idea of the new Baltic International Bank. Things that were just put on paper now we can start to see in reality. The Bank transformation process we planned long ago continues and will continue further as it is not a question of one or two years.
BIB 2.0., – sometimes my colleagues, my team used this abbreviation to characterise the scope and depth of changes. As we are not talking about just changing some employees or refusing to service some clients. During 2017 and 2018 we changed the structure of the Bank and these changes were planned and prepared several years in advance. All the rest results from that – new type of client service, personnel recruitment, offer of Bank's products, daily operations, marketing etc.
You can see it as refurbished historical building where all load bearing elements are changed, communications upgraded, all possible safety risks prevented and attractive, modern interior developed. All of this on the base of historical foundations, without losing the key values of the Bank from the time it was founded in 1993, – they allow us to start something new. This is the time when succession of values takes place.
Our vision about the future of Baltic International Bank is to be a sustainable investment Bank. Bank that joins clients together, implements business projects, responsibly allocates assets of the clients. Bank that invests into environmentally friendly and sustainable projects together with its clients, as well as companies sharing common values regarding environment and positive long-term impact on the future. In light of this, Bank basis its operations on the internationally approved ESG (Environmental, Social, Governance) approach. Three basic pillars support the ESG approach – environmental sustainability, good governance and social principles – that were always significant to the Bank both as a business organisation and educator of our clients and partners. ESG approach is one of the bearing constructions in the new model of the Bank. In 2018 this approach became part of daily operations of the Bank.
When you have solid foundations and you see motivated, ambitious and professionally capable colleagues around you every day, you know that new development will follow this new beginning. In our case the word "responsibility" characterises this development. Our responsibility towards our clients and partners is being professional, knowledgeable, competent team that continues and advances its know-how and expertise in the sustainable investments and environmentally friendly technologies area. It allows providing most profitable solutions for all our financial needs. We express our responsibility towards environment we live and work by being reliable, open and honest long-term cooperation partner contributing our knowledge, skills and resources also to the society. As the valuable legacy now my generation is entrusted to develop, one day we will need to leave our children and grandchildren. We need to preserve and cultivate it.