Self-respect as the Source of Trust - Valeri Belokon
News
- September 22, 2019
Key word of the 2018 ESG Report of the Baltic International Bank is "change". This expressive word includes many various processes. You can find it in almost every page of the Report, apparently, characterising our Bank in 2018 the most. True, also this word described our operations the year before and in 2016 when we adopted the new Bank's development strategy and commenced restructuration processes. Many new colleagues joined our team and they share their vision about the Bank's development in this report.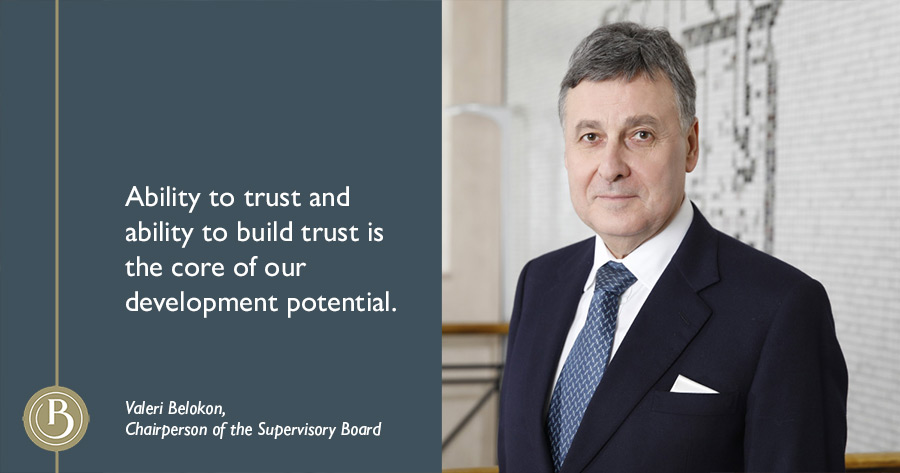 Nevertheless, there is one word of not less importance that maybe we do not hear so often every day. Still it forms the base of the entire financial industry. Trust. Ability to trust and ability to build trust is the core of our development potential. Without this core, we do not have a business. As the founder of this Bank, I know that we need to trust and I know that we are able to trust. It has been and will be our main driving force and disregarding shocks in the global and national world of finances it continues to raise. Currently we are a full-fledged member of the global financial system with great development potential.
At the same time, we need to remember that we should not take trust for granted, and consider that one's gained it will last forever. It can fade quickly and it takes a very long time to rebuild it. Besides trust depend on many factors, including the environment we are operating. Great advantage of the Latvian financial sector and other sectors is our deep integration in the global world. To use this potential, we need full cooperation between state and entrepreneurs based on mutual trust. In addition, we need change.
Today Baltic International Bank is able to attract customers from every continent as we can simply devote more time and attention to the genuine needs of each customer than, for example, a branch of huge US bank. I dare to say that we can also more profoundly understand problematic issues of every particular customer and find suitable solutions. This is the benefit of integration and our great advantage. As a local capital Bank we are well educated and experienced, therefore we can share our knowledge and profit on that. Successfully compete with financial institutions in Canada, Germany, Italy and other places. Moreover, today we are already doing that to some point, – we are able to attract investments of our customers, and we can finance sustainable investment projects abroad as we are a fully-fledged participant of the global financial system. True from the state interests' perspective, it would be more valuable to invest in the economy of Latvia, where we can also see a good growth potential if we apply a focused approach and put national matters first.
Above-mentioned issues are closely related to the ability to trust the state. It stems from the state reputation where every ambiguous communication concerning the financial sector can leave a deep mark. Fight against money laundering that is and will be one of the priorities of Latvia, at the same time is a matter of state reputation. Here we require cooperation and trust. However, we need to understand that one thing is joint progress towards the particular goal how to tackle illegal money flows but completely another thing is – constantly talking about it, emphasizing deficiencies and lack. Our common goal is the image of the successful Latvia aimed at sustainable development and it makes us carefully consider every step in communication. Why states have so different reputations? Probably, answer can be found in the communication manner and intensity, – while one person is speaking loudly about problems; another is quietly solving them and talking about success. I am convinced that Latvia has and will have many reasons to be proud about and create image of the successful, reliable country.
Money – banknotes, coins and electronic means – is nothing more than a mutual agreement. Trust. Still, also – nothing less. It is two-way process where you trust and the other party can (let us hope) trust you. When the person is strong, able to trust others, people call him or her self-assured, confident. It all starts with the ability to respect oneself, and with the ability of the country to respect itself, as it knows it is mature enough to trust its mind and its abilities. Here is one of our common challenges – learn how to trust ourselves.
Latvia has achieved so much – changes in the political environment, economy, culture, also solving of social issues, improvement of health care and other sectors. We need to trust our abilities more, be more confident. Have more self-respect. Historically we have been and will remain an organic part of Europe. Therefore, we can fight for the interests of the people of our state and businesses. We need to trust ourselves, and then others will trust us.
I would like to express gratitude to my colleagues, clients and partners for their trust!