Sustainable and responsible business requires continues investments into risk control and management - Anda Saukāne
News
- September 22, 2019
Anda Saukane started building her career at the Baltic International Bank in 2012, performing the duties of a tax consultant. Since 2013 Anda Saukane has been performing duties of head of Information department and since March 2017 duties of head of Security department. Before Anda Saukane took position in Baltic International Bank her career was related to the Customs Criminal department of LR State revenue Service.
In 2018 Anda Saukāne has received the prestigious Certified Anti-Money Laundering Specialist (CAMS) credential.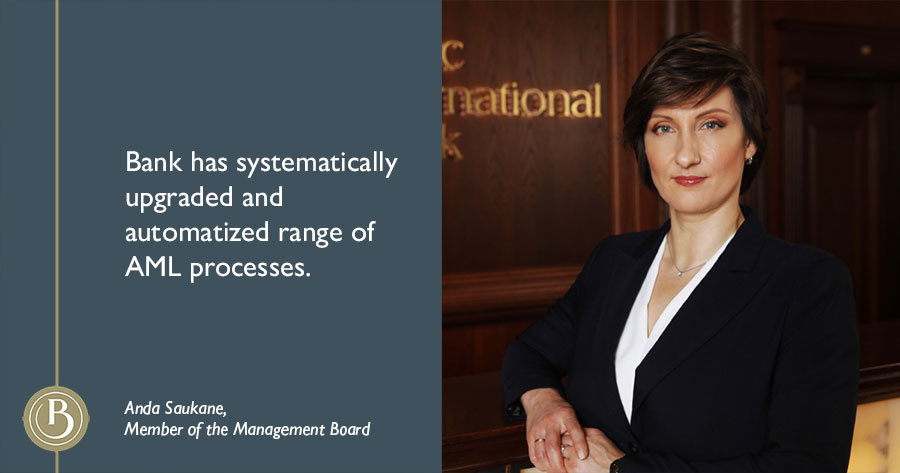 Investments in technologies and employees
In 2016 the anti-money laundering and combatting the financing of terrorism (AML/CFT) operations in the Bank underwent significant restructuring, – they are focused in three directions: initial customer research; customer monitoring and research during the business relations period; supervision of customer transactions.
Since 2016 significant changes in the external AML rules and regulations have been introduced also impacting the Bank's AML internal control system. Various new IT solutions were introduced to the system, for example, to manage AML/CFT risks Bank uses widely known FICO Tonbeller system solution that have been verified in the financial sector. Due to the technological novelties Bank requires less amount of time to process banking operations, being able to focus more on the customer service and service portfolio.
Still the technologies are not able to perform this task alone. Professionalism and qualification of Bank's employees are of equal importance. During the recent years we have made significant investments in the employee training: last year we conducted 79 trainings on various AML/CFT and sanction topics. Bank continuously organises training of employees regarding updates in this area.
Importance of high-performing employees and modern IT solutions will keep increasing in the AML area. To perform scrupulous customer research, AML employee should have a good knowledge not only regarding AML issues but also sanctions, taxes, legal issues, accounting, customs policy, transport services and many other areas. Also know not only Latvian legislation but foreign legislation as well. Therefore Bank will continue investing in the employee training and IT products.
Improvements in AML procedures
As legislation and requirements in the AML area are changing, and also business environment is undergoing constant transformations, Bank has systematically upgraded and automatized range of AML processes.
We started using the services of the company Dow Jones for the payment screening and customer research with sanction lists and PNP lists. It allows to quickly identify high-risk customers, as well as provides detailed updated data of persons and companies for more than 650 thousand persons and companies. Also information about national and international sanction lists and persons sentenced for serious crimes or having officially proven connected with these crimes. To perform further analysis of customers, Bank started using the SPARK Interfax data base. This base provides information about natural persons and companies of several countries (Russia, Belorussia, Ukraine, Kazakhstan, Kirgizstan, Moldova and Cyprus).
Internal reporting channel regarding unusual and suspicious transactions were introduced in the beginning of 2018 (internal AML reporting channel). It is used:
To allow the employees of the Bank notify identified unusual and/or suspicious transactions/occurrences;
Automatize processing and status control of all messages about established unusual and/or suspicious transactions/occurrences;
Perform base analysis in different sections regarding the established unusual or/and suspicious transactions/occurrences register (base).
We have also automatized the decision making process regarding commencement of cooperation with the customer. No need to sign excess documents as all information related to the initial customer research procedure is stored in the system. This allows us to save resources – both time and material –, as well as gradually move to the paperless record management.  
We have also appointed a special person responsible for the compliance of sanctions in the Bank - Sanction Officer. Bank has developed and introduced Sanction policy with the purpose to provide fulfilment of Bank's obligations in compliance with the Law on Sanctions regarding all sanctions directly applicable to Latvia (EU and UN sanctions, OFAC list of terrorists). Also in line with the internationally recognized best practice, we are taking into consideration sanctions applied by the partners of the UN member states, sanctions determined by the US OFAC and other binding regulations. Every customer is evaluated through the sanctions risk perspective with purpose to prevent the possibility for the Bank to get involved in the circumvention of sanctions.
Also reorganisation of procedures related to new legislative requirements in the AML area should be considered, meaning, customer transactions online monitoring and transactions ex-post control procedure is reorganized, notification process about unusual and suspicious transactions in state institutions altered, customer research procedures upgraded. 
Success will come with joint movement towards the goal
Law on International Sanctions and National Sanctions of the Republic of Latvia entered into force on 1 March 2016. Significant amendments were introduced into this law on 12 July of last year expanding the law operation area and indicating that also sanctions imposed by the member states of the North Atlantic Treaty Organisation (NATO) are to be applied. It should be noted that they also include sanctions determined by the US Office of Foreign Assets Control (OFAC). Also obligation to develop internal control system in sanctions area was determined.
Baltic International Bank sanctions risk management internal control system is an integral part of the internal control system. To guarantee complete observance of sanctions Bank uses risk based approach, combining it with inspection in the sanction lists and research of customers, their partners and operations.
Cooperation – between the state and private sector, as well as various business areas – are vitally important precondition for the attainment of common AML objectives. Threats of the modern world are territorially and methodologically dynamic and flexible demanding for almost all sectors to take part in AML issues. There are several other legal subjects apart from the banks with obligation to notify about unusual and suspicious transactions (for example, notaries, providers of accounting services, car traders, debt collectors etc.). Significant improvement of situation on the global scale can be achieved only with common efforts.