Baltic International Bank presents an ESG Report at the Non-financial Reporting Seminar organised by the Institute for Corporate Sustainability and Responsibility
At the end of September, the Institute for Corporate Sustainability and Responsibility (InCSR) hosted an experience exchange seminar and a discussion on non-financial reporting for Latvia's largest and most responsible companies during which Baltic International Bank presented its ESG (Environmental. Social. Governance) Report. Viktors Bolbats, chairman of the Bank's Management Board, shared his experience in implementing the sustainability strategy and presented the Bank's future goals. Good practice examples were also shared by the Institute for Corporate Sustainability and Responsibility, JSC Latvenergo, Coca-Cola HBC Latvia LLC, as well as the representative of Sustinere, a non-financial reporting expert from Estonia – Marko Siller.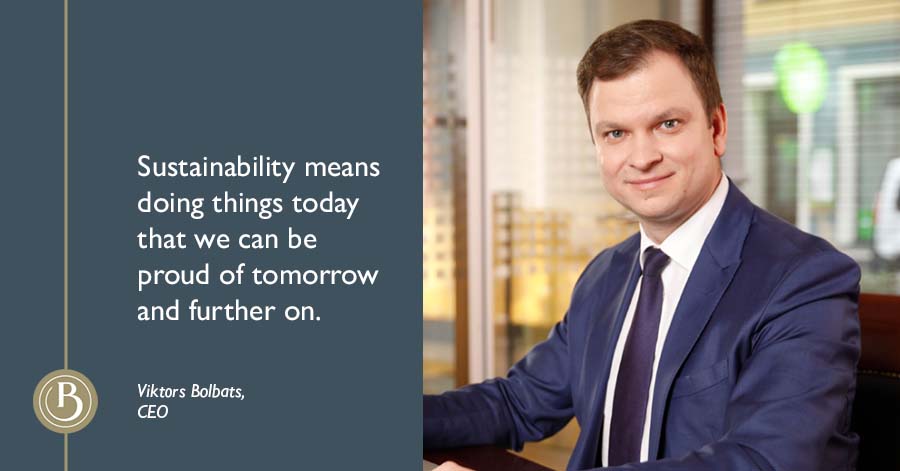 At the time of presenting the Bank's first non-financial or the ESG Report, Viktors Bolbats, chairman of the Management Board of Baltic International Bank, emphasized the importance of sustainability: "Nowadays, sustainability is no longer an option but a necessity. In my opinion, ESG (or sustainability) means doing things today that we can be proud of tomorrow and further on. The ESG approach is appropriate for us since it covers all three areas that the Bank already perceives as the pillars of its development. ESG has both environmental and social considerations as the Bank is not only a financial institution, a credit institution, but also a consumer of energy and other resources, a taxpayer, an employer. The ESG (Environmental. Social. Governance) approach pervades all of the Bank's core business areas; our ESG goals are not declarative, but implemented in all day-to-day processes."
We have to understand that in this age, not only we expect openness and transparency from our customers and partners – they also expect it from the Bank. The Bank is part of an ecosystem that must work responsibly with this system. Banks carry a heavy burden of social responsibility. They also have the opportunity to support and engage in responsible investment transactions that benefit the national economy as a whole. With this in mind, we have set the Bank's strategic goal for the year 2030 to specialize in profitable, environmentally friendly and sustainable investments,
adds Bolbats noting that the ESG approach is also a change in habits and mindset where leadership support, clear objectives are essential and indicators, employee engagement and effective internal communication are measurable.
"More and more companies, both in the world and in Latvia, are not only accountable for their financial performance, but also for their impact on the employees, environment and society. This is, of course, influenced by global developments, international regulation and the demand from civil society for greater openness and mitigation of the negative impact of business. In addition, entrepreneurs are beginning to realise that non-financial reporting helps improve risk management and long-term environmental and management performance thus contributing to competitiveness," explains Dace Helmane, CEO of InCSR.

After the attendees were interviewed on key criteria for a meaningful non-financial report, it was concluded that a meaningful non-financial report should be based on a completely fair approach (nearly one-third or 27.3% of the participants stressed it) while data was ranked second (19.5%). Among the topics covered in non-financial reporting, readers are most interested in corporate governance and business ethics (28.4%) followed by data privacy and protection issues (17.3%), and customer and consumer satisfaction aspects (14.8%).
Marko Siller, a non-financial reporting expert from Estonia, said: "All major companies need to look for the most effective ways to showcase their progress and influence. If a company does not do so, it no longer speaks the same language with the rest of the business community – customers, suppliers, investors. Today, beautiful, self-praising words must be proven with data, measurable goals, and real results."

Guntars Mikhailovs, international relations specialist at JSC Latvenergo, explained to the audience the involvement of stakeholders and their great role in meaningful reporting: "Stakeholder engagement is an essential part of good governance and sustainability for any organisation. It provides insight into issues of mutual interest, improves employee motivation, increases stakeholder confidence and, as a result, contributes to the organisation's value. The Latvenergo Group regularly reviews the views of stakeholders on past cooperation and aspects that are important to the Group's sustainability as well as discusses proposals to improve the Group's performance. The design of the sustainability report and the format in which stakeholders receive relevant information about the company are also important."
Dace Dricka, public relations manager at Coca-Cola HBC Latvia LLC, said she was very proud of Coca-Cola HBC Latvia's achievements in the field of sustainability, and also wanted to remind the attendees that sustainable performance never stops, so businesses must focus both on achieving their long-term sustainability goals and communicating properly to the public and stakeholders since only such an approach will be viable in today's corporate socially responsible environment.
The event was attended by more than 30 different companies and organisations from different sectors – finance, mobile, energy, logistics, manufacturing, etc.
Institute for Corporate Sustainability and Responsibility
The Institute for Corporate Sustainability and Responsibility (InCSR) was established in early 2011 with the aim of strengthening the sustainable development of the state and local community by educating the public and raising awareness of responsible and forward-looking behaviour and promoting the development of civil society. InCSR provides reliable measurements, supports and promotes civil society activities, organises and participates in various projects, seminars and campaigns on proactive and safe behaviour, and provides a platform for the exchange of experience and opinions.