Baltic International Bank Business Forum in London
Hosted by the Bank, a London-based business forum was arranged last week for the UK's clients and partners.
During the forum, the Bank presented its business concept and an array of financial products and services used by the UK's clients in Latvia. The programme included a discussion of the most significant investment events witnessed in the CIS / Baltic region and presentations of the Amber Sea Business Angel Club's investment projects.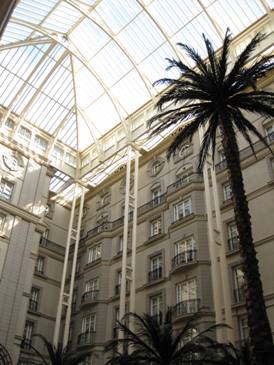 The forum is expected to become an annual tradition. It will provide an excellent opportunity for the UK's clients and partners to  meet face-to-face with the Bank's management team to discuss the key issues relating to business and partnership and foster establishing new business contacts.
The Chairperson of the Board Ilona Gulchak, Board member Dinars Kolpakovs, and our private bankers Intars Veberis and Sergey Kartashov were honoured to represent our Latvia-based Bank at the forum.
Presided by Anthony Christodoulou, Head of the Bank's London Office, the forum was held at The Landmark London Hotel. The hotel dates back to the reign of Queen Victoria (opened as the Great Central Hotel in 1899). 
Photo: Landmark, the Winter Garden