More than 300 youngsters will compete to win in Baltic International Bank Tennis Cup 2015 this week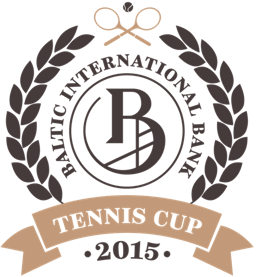 The solemn opening ceremony of the international tournament Baltic International Bank Tennis Cup 2015 for U14 age group was held on Monday evening, 19 October. This is the truly significant sporting event in Latvia. The main tournament will be held on 20 October, and the young tennis players will play both singles and doubles.
The indoor hard court tennis tournament will be held at the Adazhi Tennis Centre (recently enlarged) from 19 to 24 October. More than 300 players from 26 countries will participate. Latvia will be represented by Roberts Jaričevskis, Kārlis Ozoliņš, Patrīcija Špaka and Anna Jakovļeva, the talented tennis players that have already proven themselves abroad. They will play in a fierce competition against very strong players from Lithuania, Estonia, Germany, Romania, Belarus and Russia.
While addressing the participants, the Chairperson of Bank's Council Valeri Belokon thanked them for having arrived at Latvia. "Your talent, unbridled passion for work and the right attitude are decisive to achieve success in any area of your life, including sports and finances. In our global world, it doesn't matter whether the country you're representing is great or rich. We want to give the young tennis players a spring-board to a successful start, provide them with the opportunity to reveal their own personal strengths as well as to inspire them to believe in themselves," V. Belokon said.
While delivering his address to the attendees, V. Belokon emphasised the importance of patronage. By supporting Baltic International Bank Tennis Cup 2015, Bank gives a helping hand to the young tennis players on their path to the future success. "In the future, I wish you could win the largest world-level tournaments offering the largest prize pools and have the biggest ad contracts. Why? Because I wish you could one day become sponsors and support those in need," V. Belokon said.
As a bank, we're striving for and pursuing operational excellence. We therefore support excellent events, which are geared towards spurring professional growth, like the U14 European-level tennis tournament placed by Tennis Europe on the European Tennis Calendar. 
The General Secretary at Latvian Tennis Union Kārlis Lejnieks emphasised that they are happy that the grand-scale tournament would be arranged in Latvia. The strongest young tennis players from Latvia and several hundreds of players from different countries expressed interest in the tournament. "We highly appreciate Bank's initiative, support provided to the young talented players and the opportunity to prove themselves internationally. This year, our players have already shown their mastery and the good performance during various international tournaments. They therefore are well-positioned to achieve the good results this week," K.Lejnieks told.
On 17 – 19 October, 48 players competed in tryouts (qualifying tournament) organised for both girls and boys teams. The main tournament was held on Monday, with 32 players in each of the groups. All of the participants will receive memorabilia items from the main sponsor Baltic International Bank. The winners of the tournament will receive cups, smart phones and tablets.
The tournament will be held at the Adazhi Tennis Centre (Gaujas ielā 6, Ādaži). All stakeholders are heartily welcomed to attend free of charge. Please visit tenniseurope.org to see the list of the players.