Baltic International Bank Facilitating Partnerships Between Latvian, British Businesses
For the third year in a row, Baltic International Bank has been supporting a conference aimed at promoting co-operation between Latvian and British businesspeople.  This year the conference was held on October 26 in London.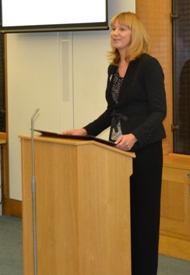 The event was organised by the British Chamber of Commerce in Latvia (BCCL) in partnership with the Latvian Embassy in Britain and the Latvian Investment and Development Agency.  The aim of the event is to promote export contacts, potential business partnerships, and investment opportunities.  For the first time, the conference also included an exhibition of products from Latvian companies.
"The stable partnership between Latvia and Britain is a good foundation for the further development of the international business environment," says Baltic International Bank board chairperson Ilona Gulchak.  "It is important for companies to engage in direct exchange of information and to establish new business contacts.  These annual business conferences in London offer one such opportunity.  We are pleased that this year we were joined by the new British parliamentary group for co-operation with Latvia, which is chaired by MP Christopher Pincher.  This has substantially expanded our mutual range of communications.  For that reason, we consider support for this event to be of particular importance, and it is also a matter of honour for us."
During the conference, Latvian Ambassador Eduards Stiprais joined with Mr Pincher in hosting a reception at the British Parliament.  Baltic International Bank board member Ilze Lase offered a review of Latvia's main economic indicators and the investment environment in the country.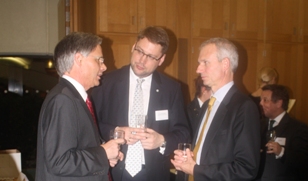 "We had great attendance for the reception of the British-Latvian All Party Parliamentary Group in the House of Commons. Over 100 guests attended. I was particularly pleased to welcome Europe minister David Lidington and BIS minister Edward Davey along with about twenty other members of Parliament from all parties. This marks another chapter in the development of a long standing relationship between Britain and Latvia," said Christopher Pincher.
Ambassador Stiprais, for his part, said that "the establishment of a British-Latvian All-Party Parliamentary Group in the British Parliament is a key step forward in strengthening the relationship between our countries.  This is particularly important at this time, when not just businesspeople, but also politicians and civil servants must actively seek out new opportunities for international economic co-operation.  Latvia has a number of business opportunities with which British businesses, particularly small and medium ones, are not fully familiar, and members of the parliamentary group now have an excellent opportunity to support businesses in their constituencies in terms of establishing business contacts.  I am pleased that the official reception of the parliamentary group was supported by two Latvian companies which already have a strong presence in Great Britain – Baltic International Bank, and Mottra, Ltd."
Baltic International Bank in 2009 was the initiator of the conference that was organised by the British Chamber of Commerce in Latvia and has provided important annual support for its organisers.  "The opportunity to speak to British parliamentarians in their own building is an important investment in popularising Latvia's positive achievements and in strengthening the relationship between the two countries," says member of the board Ilze Lase.
1.photo - Baltic International Bank board member Ilze Lase addresses a gathering at the British Parliament
2. photo, from the left - British Ambassador to Latvia Andrew Soper, Latvian Ambassador to the UK Eduards Stiprais, and British European affairs minister David Lidington.
 Photos:  Anglo Baltic News (Dace Gaile), LIAA archives