Baltic International Bank Once Again Named the Best Bank in the Baltic States and CIS
Baltic International Bank has been once again named as the best bank in the Baltic States and CIS which provides Russia's customers with private banking and wealth management services. The bank was nominated for the prestigious award in recognition of its 2010-2011 outstanding performance and service excellence.
"Awards given to the top industry performers not only recognise the excellence of their efforts but also encourage them to aim for perfection and to come up with new and innovative ideas. As a result, financial institutions and their clients benefit from working together. New aspirations are translated into higher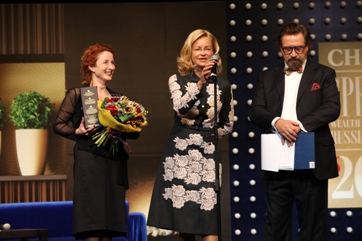 and broader array of banking services, while commitment to the time-tested principles ensures stability and continuity. Hence, all the efforts contribute towards the primary goal, namely, a concern about every client's long-term welfare. We are extremely proud and honoured that our day-to-day work and determination towards the betterment are highly recognised for the second year in a row", emphasises Ilona Gulchak, the Chairperson of the Board.
Overall, nine banks were nominated in the category "The best bank in the Baltic States and CIS offering individual services and private capital management services to clients in Russia" – Aizkraukles Bank, Baltic International Bank, Citadele Bank, Rietumu Bank, Trasta Komercbanka, ATFBank, Kazkommertsbank, PrivatBank and UkrSibbank BNP Paribas Group.
The SPEAR's Russia Wealth Awards ceremony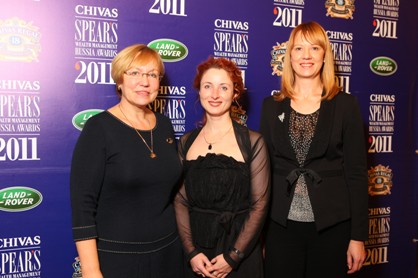 the first in Russia to identify and celebrate the highest achievements in the world of private banking services, family wealth management, and related sectors.  Already for the third time, the recipients of the award were chosen by SPEAR'S Russia (the Russian version of the British publication under the same name) in close liaison with PBWM.ru (the first Russian online portal specialising in private banking and wealth management industry coverage).  As in the past, there were 18 categories in the awards this year, focusing on corporate, individual and non-financial services.
The SPEAR'S Russia Wealth Management Awards ceremony is based on the best traditions of SPEAR'S UK, which is the most influential magazine for the world's wealthiest people.  The awards ceremony in Russia took place at the Et Cetera Theatre in Moscow on November 17.
1st photo: Eugenia Litovchenko, Director for Eastern European Markets, receives the award
2nd photo: Customer Service Director Irena Skobeleva (first from the left), Eugenia Litovchenko and Board Member Ilze Lase