Financing Sustainable Businesses – a Local Step with a Global Impact – Viktors Bolbats
Viktors Bolbats, Chairman of the Board of Baltic International Bank, Co-chairman of the Strategic Development Committee of the Financial Industry Association gives an expert opinion to the Forbes Latvia magazine.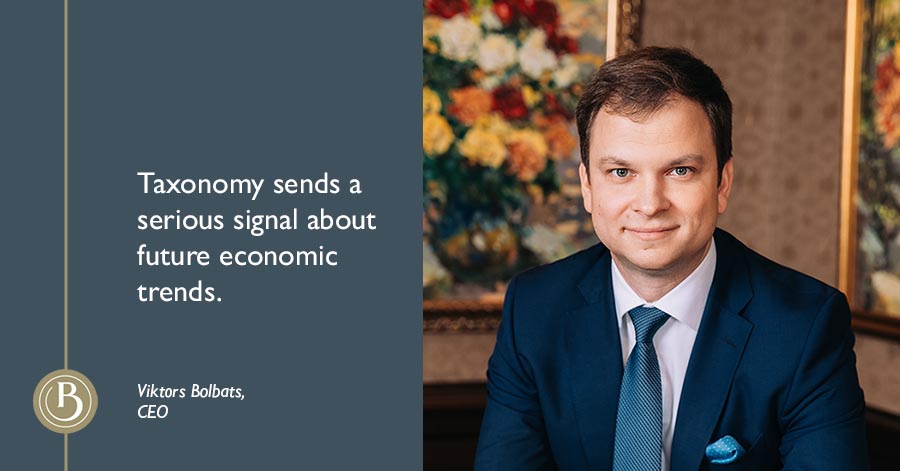 The word 'sustainable' is used very often now. So, what is actually meant by sustainable? Sustainable means to be supportive, to promote and increase; one that does not harm the environment or deplete natural resources, while promoting the ecological balance in the long run. This concept has much in common with the operating principles of our Bank – Baltic International Bank, which is in line with the ESG (Environmental. Social. Governance) approach, which provides for responsible actions in the areas of both environmental conservation and social responsibility and governance. Already now the Bank is supporting several sustainable projects, including in the advanced field of wind energy. Moreover, green funding is no longer marketing but a manifestation of the awareness of citizens; today it is also a practical consideration in terms of the possibilities and costs of raising funds. It is also expected that with time these principles will be set on a regulatory level. Thus, for example, banks that will have already introduced sustainable and green project financing will be acting proactively and will be one step ahead of the others.
One of the green financing manifestations is green bonds originating in Scandinavia. What does the green bond mean? It is the same form of securities that investors buy, but already initially tied to certain indicators of rating agencies that reflect the presence of the green factor. A company issuing the green bond is already immediately informing the market that the borrowed funds will be used for projects that are environmentally and socially friendly. In Latvia, examples of such companies are green bond issues by Latvenergo and Altum.
Scandinavian experience shows that green financing can also be beneficial. If two different bonds are simply put on the table – one green and one regular, then we conclude that a green bond can usually be released at a lower price, so funding is potentially cheaper. This is another sign that green funding is no longer simply a subsidised initiative, but a valuable and profitable project. Also in Latvia, the issuance of bonds – as an additional opportunity to raise funds for business growth – is becoming more popular.
In line with the strategic move toward a powerful investment bank, Baltic International Bank has obtained a licence to organise a bond issue that allows one to ensure capital raising for companies in the form of bonds. We are already offering our customers companies that are developing in environmentally friendly ways.
The currently very topical term, not much discussed in Latvia and directly linked to sustainable business financing, is 'taxonomy'. In the European Union, (ES) taxonomy is a classification tool to help investors and businesses identify environmentally friendly economic activities. Why is taxonomy so important? As Europe needs to raise private capital for sustainable activities, EUR 175 to 290 billion of private investment needs to be attracted additionally to meet the climate targets.
Taxonomy is applied to financial market participants with regards to financial products or corporate bonds traded as sustainable financial products. As I mentioned at the beginning of the article, the exact definition of terms is of great importance, so taxonomy aims to standardise the concept of environmentally sustainable investment across the EU, thereby making it easier to invest in environmentally sustainable economic activities. The establishment of a European framework and uniform standards can have a positive impact on the provision of services of "green financial instruments" (e.g. green bonds, mortgage loans for energy-efficient housing) and on strengthening the confidence of market participants in these instruments.
In order to include an economic activity in the EU taxonomy, it must meet at least one environmental objective without causing significant damage to the remaining five. Six taxonomy environmental objectives are climate change mitigation; adaptability to climate change; sustainable use and protection of water and marine resources; transition to a circular economy; waste reduction and recycling; pollution mitigation and control; and protection of healthy ecosystems.
Taxonomy sends a serious signal to corporations and other private companies, investors, banks and public authorities about future economic trends, investment opportunities and risks. The EU taxonomy provides more clarity to investors, issuers, policy makers and regulators. This combines international environmental objectives with investment practices and sends a clear signal on activities that are in line with environmental objectives.
Taxonomy will also affect lending policies of banks, and here is a home task for banks, educating clients about the availability of funding at local capital banks, both in the form of credit and bond issuance. The latest data from the Financial Industry Association regarding the lending index in the business segment shows that this year the ability and willingness of entrepreneurs to borrow has reached a record high level in Latvia, with the lending index rising to 114 points compared to 110 points a year earlier. Certainly, each bank has a different strategy, business models and opportunities, but at the moment local capital banks are entering the segment of lending to local companies increasingly more rapidly. It is also one of the most important opportunities for a new business model of Baltic International Bank, since lending to small and medium-sized enterprises is a way of generating profit that allows local businesses to be supported in a sustainable way. We are prepared to support the local economy in even larger volumes, so discussions of banks with the regulator are ongoing regarding options to review the capital adequacy ratios. Forecasts show that local capital banks can inject a total of around EUR 220 million into the national economy.
Taxonomy is currently in the form of guidelines, but in time these guidelines will form a framework for the EU legislation and regulatory rules, requiring additional standard criteria for corporate lending and financing to also assess the sustainability of businesses. In this case, Baltic International Bank has acted urgently, since the ESG evaluation criteria have already been met in terms of both investment and lending, so it will be easier for us to work with customers at a time when the principles of taxonomy are no longer encouraging, but mandatory, and we will not need to implement any reforms or rearrangements in a hurry, but we will simply be able to continue that which has been started. Companies will also have to report on their environmental impacts. To promote good practices, Baltic International Bank has already issued its first nonfinancial report this year to share its environmental, corporate and management practices. This includes factors and measurements according to NASDAQESG Reporting guide for Nordic and Baltic countries.
It should be understood that the financial sector – private capital – plays an important role in the rest of the climate-neutral economy. Taxonomy aims to provide practical guidelines for policy makers, representatives of different sectors and investors on how best to support and invest in economic activities that contribute to achieving a climate-neutral economy. A wide variety of sectors are covered, including energy, transport, agriculture, production, information and telecommunications technologies, real estate.
Read Viktors Bolbats expertise in the November issue of Forbes Latvia (LV).