Global citizens are welcome - Viktors Bolbats
In 2016, in response to geopolitical transformations, the shareholders and council of Baltic International Bank adopted a series of decisions that completely shifted the bank's priorities, business and prospects for further development, paving a way to a new type of customer. Viktors Bolbats, Co-chair of the Finance Latvia Association Strategic Development Committee and Chairman of the Board at Baltic International Bank interview in the annual magazine of the Finance Latvia Association.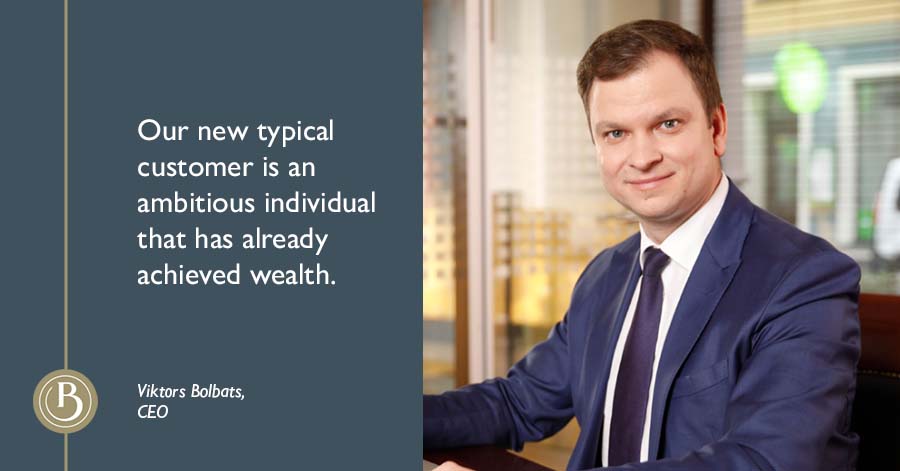 Our new typical customer is an ambitious individual that has already achieved wealth by successfully realizing their business idea or is currently developing their own enterprise. Our approach and tools allow us to actively manage and service clients all over the EEA and EU, but we, of course, are equally relevant and available to our Latvian clients – this is the market where we can also easily get customer feedback and pilot our services more quickly.
Transactions losing steam
In response to market demand at the time, in the years preceding these decisions, our previous customer base and other aspects of our business model relied on transfers, servicing trade companies and processing high-volume transactions. This way of doing business was characteristic of nearly every bank in Latvia, which provided services to foreign clients. Many Latvian banks had adopted this approach as our country became part of the global financial system, and we were able to offer customers a quality of service of private banking comparable to that of any western bank, in a language they could understand, at a more attractive price. So, many banks in Latvia expanded their transaction businesses by working with Russia and CIS states. However, the changing geopolitical and domestic political landscapes, as well as a growing risk awareness in the system, made the banking sector understand that high-volume transactions alone could not be a sustainable business model going forward. Back in 2016, Baltic International Bank was one of the first in the sector to decide on a business model change.
Investments take centre stage
Change of the bank's business model included the deliberate contraction of the transactions business, substituting it with services in asset management and investment as well as implementation of new risk-based approach in target customer areas. Up to this point in 2016, a large proportion of our bank's income came from payments and transactions fees; since late 2016 by 2018, we had observed a major change— servicing, brokerage and asset management fees already made up the major part of our commissions income. We continue to offer daily banking services to clients, but focus has shifted. We believe our new investment banking model will help achieve sustainability.
Services for global citizens
Fighting for new markets is challenging and ambitious but change has also brought undeniable positive effects— it helped us revise and adjust our customer base to bring it in line with the bank's strategy. Under our old business model, the bank's target audience was based in the CIS countries. In 2016, we introduced dynamic changes to our client portfolio by rejecting certain customers after diligent analysis and began to actively engage with clients in the EU and the EEA. Most of the new customers we have attracted in the past twelve months come from our new target markets: Latvia, the Baltics, and the EEA.
Meetings move online
Along with the model transition, Baltic International Bank needed to introduce changes to bank governance and structuring. We recruited people with a progressive fresh vision, skills and knowledge in good governance and responsible banking in general. We also made staffing changes to our executive employees— managers and specialists. We made our meetings more effective and more work is now done online. We rely more on our intranet to communicate ongoing changes as well. The content of our communication has also changed. We speak more openly, fairly and transparently about the bank, about our future development. Of course, our work goes on— completely implementing the bank's business model will take another one to two years. At least another twelve months will be necessary for us to see how our changes have improved our governance model, and how it generates the profit that we expect.
Article published in annual magazine of the Finance Latvia Association, Issue §2, August 2019, page Nr.8.