Baltic International Bank Issues a Commemorative Medal Showing a Bowing Servant, an Artwork from Ilmars Blumberg
In honour of its 20-year anniversary, Baltic International Bank has issued a silver commemorative medal showing a Bowing Servant, an artwork created by a famous Latvian artist Ilmars Blumberg. It is the first commemorative medal in Bank's collection. With the medal, Bank starts a new tradition of commemorating significant events in Bank's life through the prism of artistic imagination and the works of world-renowned artists.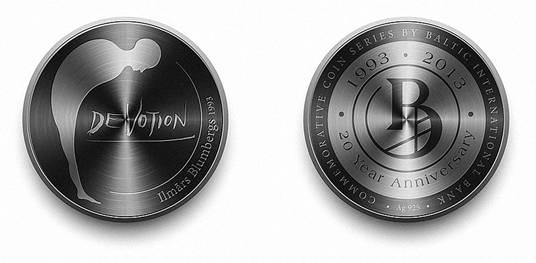 The decision to immortalise one of the most recognisable artwork by Ilmars Blumberg on the first commemorative medal came quite naturally. Ilmars Blumberg had created the figure of a Bowing Servant while working on the great cycle of artworks known as "Signs" (Zīmes) in 1993, a year when Baltic International Bank was established.
When commenting on the choice of the artwork, the Chairperson of Baltic International Bank Ilona Gulchak said: "The image seen on the medal symbolizes the deepest respect and is particularly noteworthy for Bank. The Servant's figure represents everyone who is dedicated and committed to work he passionately believes in and thanks everybody with whom he can walk together through this road of life."
The issuance of the commemorative medal signifies a continuance of parthership with Ilmars Blumberg. Originally, fundamentals of the parthership were laid down by the Chairperson of the Board and the principal shareholder of Baltic International Bank Valeri Belokon in 2009. At that time, Bank sponsored a triumphant return of Verdi's epic AIDA to Latvian National Opera's repertoire, and Ilmars Blumberg presented a splendid visual interpretation of the performance. The artist celebrated his 70-year jubilee in autumn 2013. Baltic International Bank sponsored Blumberg's solo exhibition titled "I Will Not Die" and the edition of the eponymously-named book about the artist's life and art.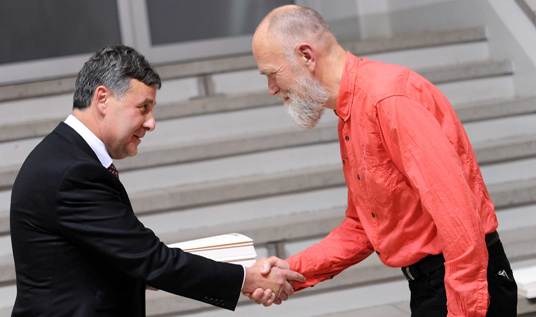 Ilmars Blumberg is a canonical figure in Latvian culture, an acknowledged scenic designer, illustrator, graphic artist, and author of paintings, installations and cinematographic works. His art bears a touch of the specific mystical thinking. Also, Ilmars Blumberg is a distinguished author of graphic design of many commemorative and jubilee coins issued by the Bank of Latvia.
Baltic International Bank celebrates its 20-year anniversary in 2013 and is one of the most experienced Latvian banks in providing services for private and corporate customers. Bank-offered advantages include a bespoke approach, stable partnership and top-level services targeted specifically towards preserving and growing customers' wealth. Bank operates its overseas representative offices in London, Moscow and Kyiv.
The silver commemorative medal showing I. Blumberg's Bowing Servant will be released in limited edition (500 pieces).