The book How to Prosper in Latvia was published with the support of Baltic International Bank
One may come across people with extensive life experience and outstanding achievements in our country too. This message has for the second time been passed along to the readers of the book "How to Prosper in Latvia". Courage, daring and the ability to stand up and attempt again even after a severe stroke of misfortune is what describes each of 14 successful characters of the book. The authors of the book – Kārlis Ozols and Laura Vanaga-Mickeviča – compiled the stories about the characters' experience in the book the publication of which was supported by Baltic International Bank.
"Baltic International Bank has for many years been supporting different major events in the cultural, literary and business life of Latvia, and I believe that the publication of the book "How to Prosper in Latvia" is one of them", tells Jekaterina Kuznecova, Head of Strategic Planning of Baltic International Bank.  

From left - Jekaterina Kuznecova, Head of Strategic Planning of Baltic International Bank, authors of the book Laura Vanaga-Mickeviča and Kārlis Ozols
"This year, Latvia will celebrate its centenary, and today, just like one hundred years ago, knowledgeable, professional and enthusiastic people are in demand. I am convinced that the book "How to Prosper in Latvia" will help to enrich our country's culture, art and business with young and talented people who will find inspiration for new achievements in this book!", continues Jekaterina Kuznecova.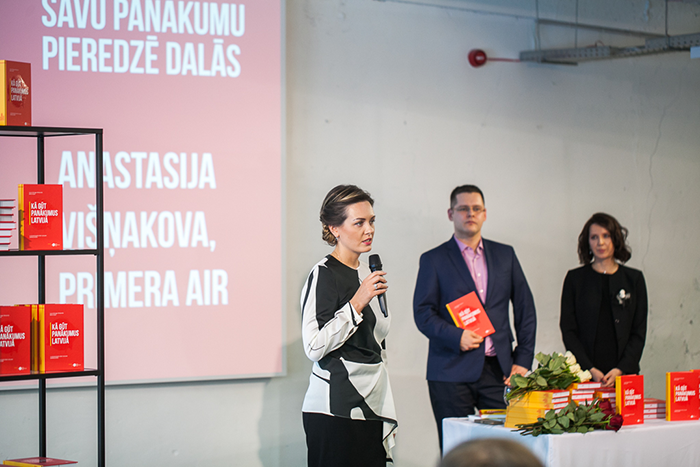 Every story from the book "How to Prosper in Latvia" is special and makes the reader come to the conclusion that there is no finished formula for success – everyone has to find their own formula. However, having seen behind the curtains of the characters' life, plunged into the world of their personal feelings and reflections, we come to realise that even simple, everyday steps will take us to success – all we need to do is just start taking these steps, and success will find us. 
One of 14 success stories included in the book "How to Prosper in Latvia" is the story of success of the businessman and auto sportsman Daniel Belokon. Daniel is the son of Vilori Belokon, co-owner of Baltic International Bank, who has proved by his experience that the values of nepotism and succession are passed down from generation to generation.  
In his story, Daniel Belokon confides in readers that it was in his childhood when he developed financial thinking and gained confidence in the fact that family values play a key role in each person's life. His story about the father and his role in the shaping of Daniel's life is very touching: "My father gave me money for education but I spent it on the establishment of a company. At first, he was very disappointed but after seeing the first results of my activity he accepted my choice". 

From left -   Viktors Bolbats Deputy Chairperson of the Management Board of Baltic International Bank, Jekaterina Kuznecova and Danila Belokon, owner of Crypto Baltic
Daniel Belokon's company Crypto Baltic deals with cryptocurrency and blockchain technology, and D.Belokon is confident in his achievements: "I have set myself the goal of making my company one of the leading companies not only in Latvia but also in the Baltic States. I understand that the goal is rather ambitious but I do not think it is unachievable. We are young, knowledgeable, purposeful and enthusiastic people, a small and dynamic team capable of making fast and optimal decisions; also, we have good stress tolerance. Yes, we might be exuberant but I am confident that if this energy is focused on something specific a lot can be achieved!". 
Apart from Daniel Belokon's story, the book also narrates about how Līva Jaunozola, founder of Andele mandele, opened her store before the company was even registered; how Ieva Treija, owner and head of Gemoss, checks utensils in every restaurant; how Lauris Liberts, co-owner of Draugiem Group, had hired the first American; how the owner and head of the marketing agency New Black organised the famous Zemene's run onto the football field, etc. 
After the first book "How to Prosper in Latvia" was published in 2015, it seemed to me that the contribution to the creation of Latvia rich in achievements would suffice for a long period but time has proved otherwise', says the author of the book Kārlis Ozols. "The book was a hit; that is why I was motivated to continue collecting success stories and I am grateful to Baltic International Bank for the possibility to bring that motivation to life. I involved Laura into the work on the second book, and she made a very valuable contribution as a result of which the second book turned out to be more many-sided and more complete. I wish everyone had the possibility to learn from our enterprising and daring people since their efforts contribute to the development of Latvia".  
The book celebrating event dedicated to the book How to Prosper in Latvia was held on 21 February in Riga in a family-like and very friendly atmosphere. Let's read the book and get inspired for new achievements each in one's own field!