Baltic International Bank becomes a partner in a real estate development project in Old Riga
Baltic International Bank has become a partner and investor in an ambitious real estate project at 16 Smilšu Street, Old Riga. The project will be implemented in cooperation with partners, the brand A&B Apartment Inn Balticum of the company A Consulting SIA.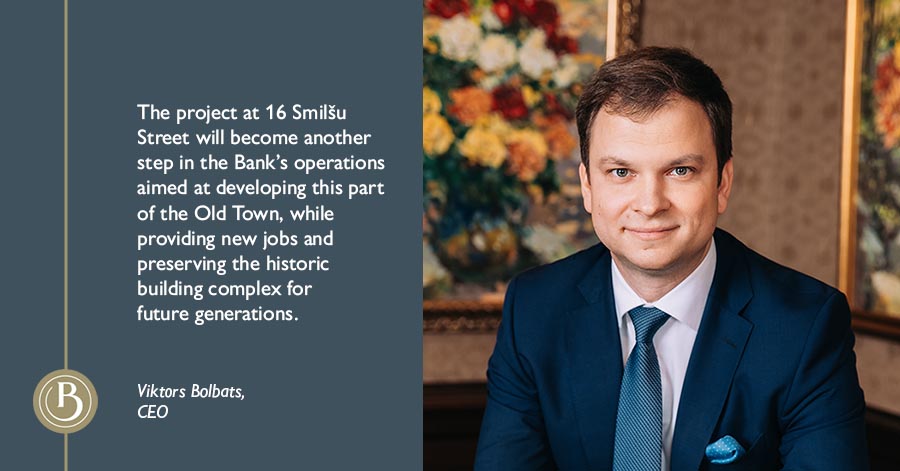 Both small and larger apartments will be available for rent and purchase, depending on the interests and needs of the clients, after the renovation in the complex of three buildings, located on one of the main streets of the Old Town.
In the words of Viktors Bolbats, Chairman of the Management Board of Baltic International Bank: "The real estate segment, especially the development of Old Riga, is a close concern of the Bank, since our office buildings are located here, and we are also working on the reconstruction of Kalēju Quarter. At the same time, the project at 16 Smilšu Street will become another step in the Bank's operations aimed at developing this part of the Old Town and real estate together with partners, while providing construction specialists with new jobs, as well as expanding and supplementing the real estate market with a quality offer. This is a very beautiful complex of buildings, and after the completion of construction work, we will be able to offer a renovated, tasteful residence near a park, with all necessary urban infrastructure to anyone interested".
During the implementation of the project, Baltic International Bank will work in partnership with the entrepreneur Aleksandrs Zindmans, owner of the A&B Apartment Inn Balticum brand: "Riga and Old Riga play a special role in my life, and I am glad that Baltic International Bank has become a partner with which we will be able to carry out work on the renovation and reconstruction of this property. We estimate that after the completion of the work, the market will be supplemented with apartments ranging from ​​27 square metres, which are more suitable for young and ambitious people, for whom this is likely to be their first home, to spacious apartments of up to 100 square metres."
After reconstruction, the building will be available to those interested at the end of 2021.
Baltic International Bank is currently actively implementing renovation works in Old Riga between Kalēju Street and Vecpilsētas Square – in Kalēju Quarter, where it is planned to invest EUR 12 million over five years.
[{"Smilsu-iela-16-Projekts-1.jpg":0,"Smilsu-iela-16-Projekts-6.jpg":1,"Smilsu-iela-16-Projekts-5.jpg":2,"Smilsu-iela-16-Projekts-2.jpg":3,"Smilsu-iela-16-Projekts-4.jpg":4,"Smilsu-iela-16-Projekts-3.jpg":5}]