Baltic International Bank is awarded the Platinum Category on the Sustainability Index for the third time!
For the third consecutive year, Baltic International Bank has been bestowed a high-level Sustainability Index award, winning the Platinum Category on the Sustainability Index 2020.
Baltic International Bank is the only domestic capital bank to receive this prestigious recognition, and one of the three banks, alongside Swedbank and SEB Banka, to be awarded the Platinum Category.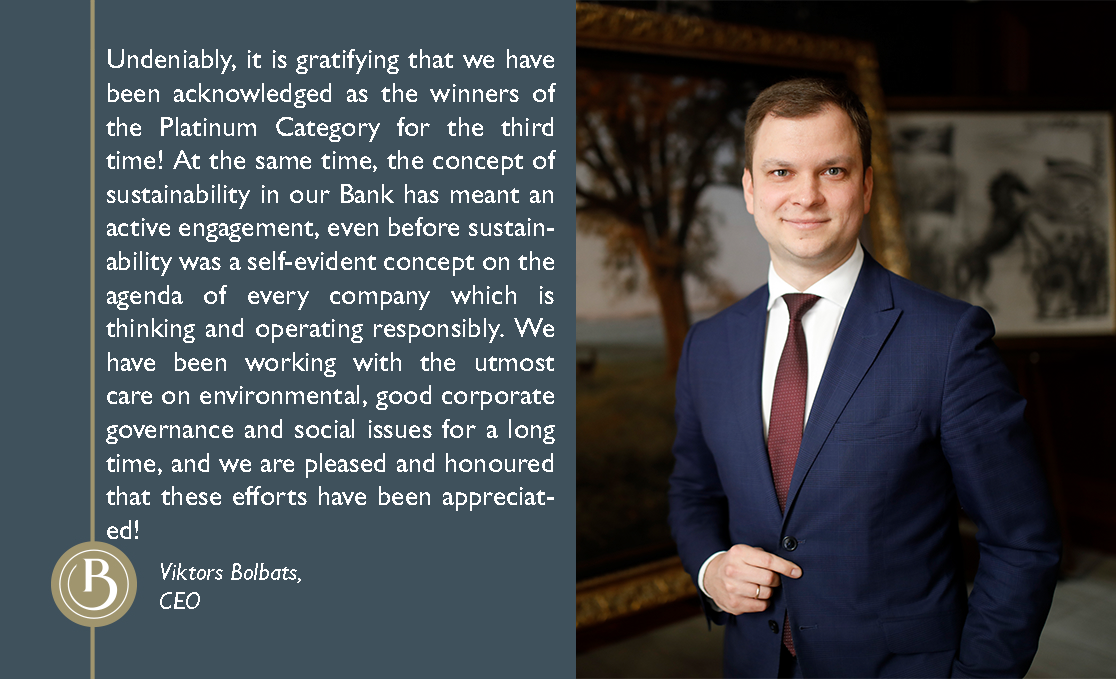 The Platinum Category is awarded to companies that have fully integrated corporate governance into their operations and in which responsible persons have been appointed at both the managerial and executive levels. These companies systematically collect data and assess impact. They report on their activities with a high level of transparency and engaging stakeholders, and their published data was approved by the external auditor.
Twenty-three companies qualified for the highest – Platinum Category in the assessment for 2020, and the total performance of the participants under evaluation this year has reached 79.5%, which is 31.6% more than in the first evaluation in 2010, when the average performance of companies was 47.9%. Last year, the total performance of the participants under evaluation was equal to 75.4%.
"It has been a long time since sustainability ceased to be a fashion trend in the corporate environment. Recent Eurobarometer data demonstrate that nine out of ten Europeans are concerned about sustainability issues, and that means only one thing: companies which adhere to the principles of corporate sustainability and responsibility in their daily operations are the leaders of the future. Therefore, it is encouraging that more and more organisations in Latvia are starting to think about sustainable and responsible business practices," says Dace Helmane, CEO of the Institute for Corporate Sustainability and Responsibility and Coordinator of the Sustainability Index.
The Sustainability Index is a strategic management tool which uses the principles of the internationally approved methodology to assess the principles of the risk and process management of organisations. The results of this assessment show that over the 12 years of its existence, the understanding of Latvian organisations about the principles of responsible business has grown significantly.