Baltic International Bank SE joins the instant payment service
Baltic International Bank SE has started its participation in the instant payment service of the Bank of Latvia, becoming the seventh bank in Latvia to join the pan-European instant payment settlement system or SEPA Instant Credit Transfer scheme.
The Bank's instant payment solution means that customers themselves do not need to choose the transfer type: the Internet Banking payment solutions will automatically redirect the customer's payment to the fastest transfer type possible and select the instant payment option if the beneficiary's bank involved in the transaction is also connected to the pan-European instant payment system.
 Instant payments enable customers to make payments in seconds 24 hours a day, seven days a week, all year round, including weekends and public holidays. The service has been established by the Bank of Latvia, thus providing banks with the opportunity to transfer money from an account in one bank to an account in another bank in a very short time.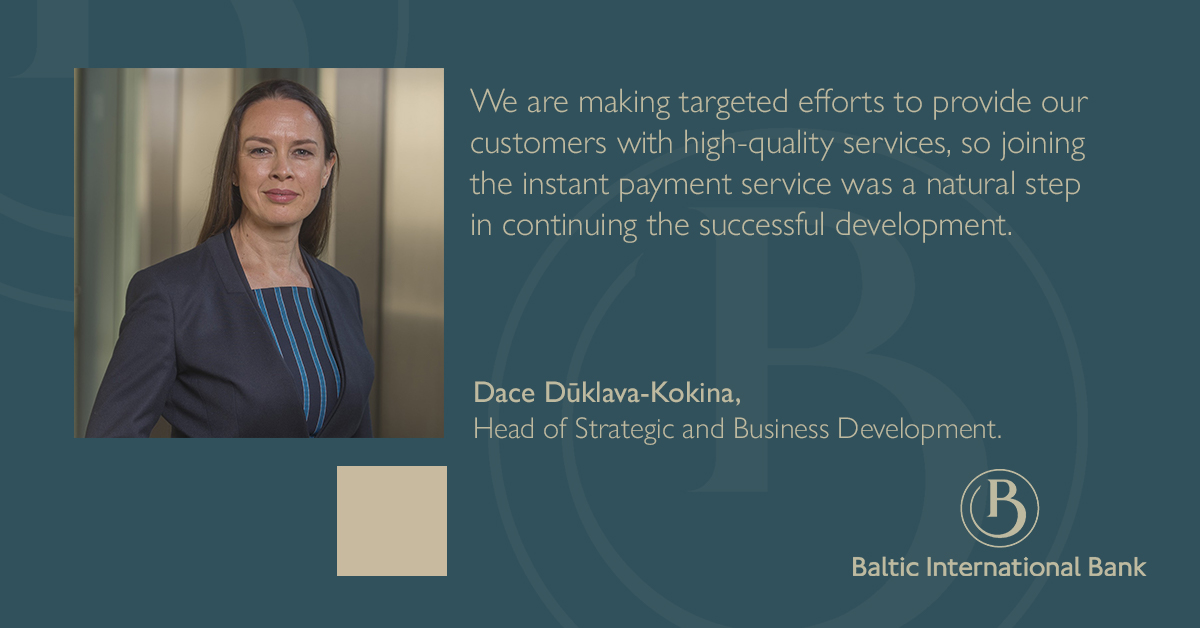 "We are making targeted efforts to provide our customers with high-quality services, so joining the instant payment service was a natural step in continuing the successful development," Dace Dūklava-Kokina, Head of Strategic and Business Development at Baltic International Bank SE, points out. "They say that time flies on the wings of the wind, and making or receiving payments instantly is already a common practice. The Bank provides its customers with individual service and approach and this also means efficiency in the execution of orders upon their receipt."